Not much to talk about today.  Been trying to contact people on some art shows happening in town and hope to have their info posted soon.  I'm in process of updating the calendar right now for the next couple weeks, trying to add more info as I get it.  I'll be adding an interview I had with Kilby Court's new owners Will & Lance about the transition and how things are going for them over there later this week.  Tower Theater's next Open Mic Night will be happening in May for all you film makers out there.  Also I'll hopefully have a greater idea of what I'll be doing for Gallery Stroll this month soon.


--- Random thoughts from me... and remember, these are just my opinions and not news stories. I'm tired of being harassed by the yellow jackets in downtown SLC.  No, I don't want your 10 page, watered down, day-old version of the Deseret News.  I appreciate the idea of trying to bring back street corner paperboys, but if it didn't work for Newsies, it won't work for you.  If I want a paper I'll pick what I want to read out of a plastic stand, not what you try to force on me every half a block.  Please stop wasting trees.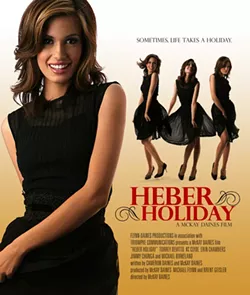 Also, while it isn't part of the underground, it does involve Utah entertainment.  There's a film coming out soon about a Utah city called "Heber Holiday" that revolves around the current trend of renegade stars who don't know how to drink properly coming out to Utah to rehab, and in this case fall in love.  Nevermind the shameless tactic of putting the Writer/Director/Producer's name in the title as if it will make you want to watch it more, or the trailer that makes it look like a Disney Channel movie, or the fact that Chunga plays a leading character (no, seriously, he does). The main problem I have is I really can't believe someone would stoop so low as to reinforce the old idea that Utah is nothing more than mountains and back country roads with barns everywhere. Especially Heber, which in the trailer looks like the town is made up of just the rehab center, a hospital and a 7-11. Where's Tom Servo and Crooow when you need them?
[image-x]
We'll see what happens during the week.