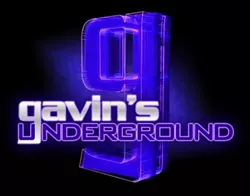 Would you believe that one of Image Comics' most popular titles right now is being drawn up by a local Bountiful artist?

--- Comic artist Ryan Ottley has been working hard on
Invincible
since 2004, bringing his unique polished style to a series reminiscent of the Silver Age. All while contributing artwork and covers to the popular
Brit
series, as well as the fantastic
Fablewood
Anthology. I got a chance to chat with Ryan about how he got his start, the many series he's contributed to, his thoughts on comics today, and some other questions that came to mind. And check out the fan support he got at this year's ComicCon in the photo below!
Ryan Ottley (with Atom Eve)
http://ryanottley.com/
Gavin:
Hey Ryan. First off, tell us a little about yourself.
Ryan:
Hi, I'm Ryan, I live in Bountiful Utah and I'm a comic book artist.
Gavin:
For those who don't know your work, tell us about some of the titles you've worked on over the years.
Ryan:
Since 2002 I've been drawing some fun crazy stuff, that's when I really got into the whole comics world. I've done lots of small stories for anthologies, I've done a webcomic about a delusional bicycle delivery boy, I've done a book about Oz re-imagined as a more super-hero type book. and now I'm on
Invincible
, a super-hero book that is the most fun I've ever had drawing anything, I've been working on this one for the last 5 years and I see no end in sight, which is fine with me!
Gavin:
What were some of your favorite comics growing up, and are there any specific comic artists who influenced your work?
Ryan:
I started reading comics in '88, super-hero books were all I read. My favorite was Spider-Man, the artist on that book was Todd McFarlane at the time and he was my biggest influence back then. I would copy his art and sign it with my name and tape it up on my wall all proud.
[image-x]
Gavin:
I read you actually got into drawing comics as a career after being fired from your job. What's the full story behind that, and what were some of your first breaks?
Ryan:
I worked at a medical supply warehouse for 6 years and luckily I got fired from that job because I was stuck in some kind of trance or something, thinking life would be too hard if I left. Anyway, I got some nice unemployment checks for a while and instead of looking for regular work I jumped online and decided I would try to get my dream job. It didn't happen right away, I collaborated with a few writers doing small stories, and also the
Ted Noodelman
webcomic, all of it was work I was doing for free. I looked at doing all that work as my actual schooling since I never did the college thing. After about a year and a half of doing free work with a few small paying gigs I finally got the job I have now. Robert Kirkman saw my webcomic and many things I would post on messageboards online and he contacted me, so we started working together. And that's really my first big break, and I've been drawing this book ever since.
Gavin:
What was it like seeing the stuff you did on
Ted Noodleman
featured on Kevin Smith's MoviePoopShoot page?
Ryan:
That was a lot of fun. I drew as stretchy and weird as I wanted and people liked it. I'd recommend any artist trying to get into comics to start off with a webcomic. Its fun, it's easy, and it's cheap.
Gavin:
I've seen some of the stories you did for
Digital Webbing Presents
, loved the Care Bears in the D&D roles. What got you to contribute to that series, and why haven't you gone back and done more for recent issues?
Ryan:
That's the first stuff I ever did was those short stories, I collaborated with a few different writers and did quite a few of those things. I don't do them anymore because it is a lot of work for no pay, these days I try and do mainly paid work.
Gavin:
How did the opportunity come about to work on
Invincible
?
Ryan:
Like I said previously, mainly by posting art online, that's how Kirkman discovered me. The first artist was having a hard time keeping the book monthly and it was going to be canceled, so they got me on and I kept the book coming out on time and it was holding on by a thread for a while but eventually it all worked out.
Gavin:
Did you think it would only be for a stint, or did you know you'd be working on it for a while?
Ryan:
It started out as I was only going to be doing a fill-in issue, only issue 8. But I did it so fast that the writer decided to keep me on full-time. I still thought it was only going to be for a few issues and maybe I'd move on to something else but I enjoy this book too much to leave.
Gavin:
If you had to pick a single character from both the heroes and the villains, who is your favorite to work on from both sides, and why?
Ryan:
Omni-man. He was a hero AND a villain. So there's two answers right there! And the reason I like him is he's just fun to draw especially when he's messing up his opponent.
Gavin:
What's your take on the success the comic has come into over the past few years?
Ryan:
I think that it's the fans spreading the word; people read this stuff and basically get addicted to it all. The story is pretty catching; you'll want the next issue as soon as you get done reading one. Robert knows how to tell a story with some great cliffhangers.
Gavin:
I saw the picture on your website from this year's ComicCon of the fan dressed as Atom Eve. What does that feel like to see people dressed at the characters you draw? And also what do you think about the fanbase you have out there?
Ryan:
Yeah that Atom Eve was the first time I've seen someone dressed as one of our characters at a con. It was pretty cool, she did a great job. Our fans are amazing; I meet a lot of really cool and enthusiastic people at conventions. They love the book, they never want it to end so we'll definitely try and make it never end.
Gavin:
What was it like working on the
Batman/Superman
Annual, and how did you get that opportunity?
Ryan:
It was hard because I had to juggle the work load of keeping
Invincible
on a monthly schedule and doing the DC book. It was nice though to get a chance to draw those old characters, I really enjoyed it. Ed McGuinness was the current artist and that was the coolest thing ever to have him request that I be put on for part of that book, since Ed is one of my favorite artists. So that was a nice moment for me.
Gavin:
Did you find it difficult to keep to the standard DC version of the way that world is supposed to look without putting your own spin on things, or did you enjoy working with the designs and having some creative control over what it looked like?
Ryan:
Editors were on me pretty hard, especially with how I drew Superman. He has to look a certain way. The head has to be a certain shape; the curl has to be a perfect curl. But I just re-drew what they asked of me, it was an interesting process, I'm glad I got the chance.
Gavin:
How did you get involved with the
Fablewood
Anthology, and what was it like working with that set of talented people?
Ryan:
I was contacted and asked to do art for a very short story for it, it was an Achilles tale, only 3 pages long and it had some fun violence in there so I couldn't say no! It is nice to do small things here and there in-between my regular comic job, it mixes things up a bit. There is enough variety in
Invincible
to keep me happy but still it's nice to play with other characters from time to time.
Gavin:
You've done a number of covers for different series. What one would you say is your favorite to date?
Ryan:
I've been doing covers for
Brit
. I've been getting to work with a very talented artist who did colors for me on those colors, Kelsey Shannon. The guy really takes my art to a new level. I'd say the cover to 12 with Brit holding the baby is a fave of mine, a lot of people really connected with that cover.
Gavin:
On series like
Brit
, do you ever feel left out by not working on the inside art, or do you prefer working on the cover since that's the first thing the reader sees.
Ryan:
No, I don't feel left out; I'd prefer to just do covers for other books especially when
Invincible
interiors keeps me busy enough.
Gavin:
Going a little more national, what are your thoughts on the comics today, both good and bad?
Ryan:
Well I guess my answer for comics is the same for any form of entertainment. With Movies, music, and comics, the best stuff ever created is coming out these days, but also the worst stuff is coming out at the same time. Good luck finding the best.
Gavin:
Is there anything you believe could be done to make it better?
Ryan:
The thing I think that makes any entertainment better is when someone creative decides to stop doing other peoples work or ideas and do their own thing.
Gavin:
Who are some of your favorite comic artists out there today?
Ryan:
Stuart Immonen, Mike Mignola, Arthur Adams, Joe Maduriera, Geoff Darrow, and many more.
Gavin:
If you had to make a top five, what are your most favorite comics currently out?
Ryan:
Walking Dead
,
The Goon
,
Next Wave
(the hard covers are out),
Shaolin Cowboy
, and
Hellboy
.
Gavin:
What can we expect from you for the rest of the year?
Ryan:
More
Invincible
! Covers on
Brit
, one cover for
Noble Causes
. I have a short story I did like 5 years ago that is in
Popgun 2
through Image. That's about it for me!
Gavin:
Anything you'd like to plug?
Ryan:
Carl's Jr. Jalapeno burgers. I dig 'em.