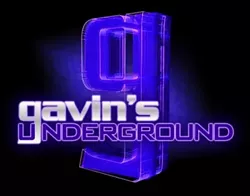 With the hundreds of thousands of blogs circulating around the net that die off pretty quickly, it seems unlikely that one of the longest running ones is maintained right here in Utah. But its true! Jesse Walker started up New City Movement in 1998, born out of a party theme and transformed over the years into a place to promote things in the scene that appeal to him, from music to fashion to even design. And now after hitting the 10 Year marker, as well as the One-Million Visitor tally this year, it doesn't look like the Movement is going to stop. I got a chance to chat with Jesse about the site, his impact on the scene and some other questions that came to mind. ---

Jesse Walker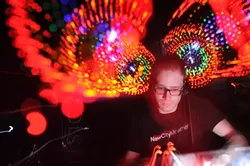 http://ncm.newcitymovement.com/

Gavin: Hey Jesse. First off, tell us a little bit about yourself.

Jesse: Well, I'm a graphic designer by day and DJ by night. I've been obsessively into music since I was very young and got into designing when I had to make my own flyers for concerts and dance parties I organized in high school growing up in Idaho. I moved to SLC around 1995 promoting clubs with Jared Gold and continued to DJ here and there. I eventually started my own collective called New City Movement and the rest is...

Gavin: For those who don't know, what is New City Movement?

Jesse: It started as the name of my first party at the old Manhattan Club. The idea behind it was us trying to imagine and then enable a kind of 'futurist' version of Salt Lake City. A place where we were in tune with some of the deeper, underground dance music that has existed in bigger cities since the 70's and 80's. Not to say that other SLC promoters and artists haven't done their part, but we had particular vision and felt the need to realize it in our own way.

Gavin: What were some of your early influences from music and art?

Jesse: Oh boy. I guess I got introduced to dance and electronic music through pop culture and the radio like the Jacksons, early Madonna, Beastie Boys and Wham! ( I know...). That quickly segued into New Wave, Brit Pop and Shoegaze and then Acid House and Rave. It was always about melodies and rhythm with a hint of sex and drugs for me. I'm a huge closet Depeche Mode fan to this day, they did amazing things with samplers, synthesizers and white jeans. As for art, I love color and mixed media. I'm really into mind bending installation work as well as intelligent architecture. Anything that twists art, architecture and music together is where it's at for me.

Gavin: In your teen years you started making an impact on the Idaho scene. Tell us about some of the things you did up there before coming to Utah?

Jesse: My high school band The Kirkyards put together a few Alternative Music Festivals in Idaho Falls at with bands from SLC and Seattle. After that I really transitioned to dance music, helping with a few of Jared Gold's early raves and continuing to do them once he moved to Utah. In hindsight these were pretty far outside the normal activities for kids our age.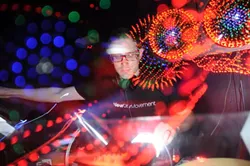 Gavin: What made you want to come to Utah of all places?

Jesse: It's the Crossroads of the West! Actually, it was like my second city having grown up in a Mormon family coming to church conference and visiting relatives here so it felt quite natural. It always had a hint of the 'big city' but retained a sense of community... oh, and values, I'm big on values. Plus the weather here was ten degrees warmer all year round.

Gavin: You've played a number of events as a DJ here. How did you get involved with Sundance's Opening Night Galas?

Jesse: I was asked the first time by my friend Gary Vlasic, an amazing event planner and local artist who was handling the event. Different people from the organizing board contacted me in the years following that. I got to meet Todd Oldham last time in Park City which was fun.

Gavin: You also performed for the 2002 Olympics. How did that opportunity come about?

Jesse: Again, wonderful people who knew me and and liked my music pushed for me. It was a great opportunity, and a cold one.

Gavin: You also participate in a lot of local events like Gay Pride and the Utah Arts Festival. How do you keep up with all the events that come though?

Jesse: Ha! My close friends know how stressed out I get when I have more than three things going at once. But I guess I feed off the excitement and the challenge of making things come out just right. I love exposing people to the music I love.


Gavin: How did it feel winning the Best DJ award from City Weekly this year?

Jesse: I felt like going to Disney Land. I love the City Weekly!

Gavin: How do you decide what you're going to write and post about?

Jesse: It has to be something that I really want to share with people and 'pass on' if you will. The website revolves around my love for music, design, art and fashion, but I try to stray away from the predictable. I also love to highlight things that are making Salt Lake a more dynamic and interesting place to live. In my Art Crimes Against Humanity section I get to publicly flog the more embarrassing and quirky things we have around us in Utah.

Gavin: Has it been a struggle to keep it going over the years?

Jesse: I wouldn't call it a struggle. I lose interest for short periods - like with anything. Also, XMission stepped in a few years back to provide hosting for which I'm eternally grateful. Buy XMission services today!

Gavin: You hit the ten year marker this year, which is impressive how most sites like yours don't make it past five. Why do you think it's remained so popular over the years?

Jesse: I guess I just stuck it out somehow. Because I'm a giver. I give and then I give some more.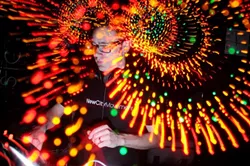 Gavin: Were you ever tempted to quit on it, or was there always a drive to keep it running?

Jesse: Yes, but this is the world we live in. Interwebs are the future and NCM is all about that.

Gavin: Now that you've hit this milestone, are there any plans to add or change what you normally do with it, or keep doing what works for you?

Jesse: Who knows? Maybe I'll get off my butt and learn to program again but I doubt it.

Gavin: What can we expect from you this next year?

Jesse: I'm going to be working on some music with my friend and music producer Dan Morris soon. And at New City Movement will keep promoting the music we love for people who want to hear it. House music will never die!

Gavin: Is there anything you'd like to plug or promote?

Jesse: Our NiteLite parties at W. Lounge are on the 3rd Saturdays of every month. If you haven't been you betta axe someone. Joe DiPadova from Montreal, Canada is my guest on December 20th. Thanks for the opportunity.