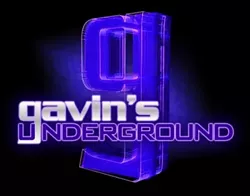 Who needs to bring Broadway to Utah when we've got our own quality theater happening as we speak?


Plan-B Theatre Company has been giving new life and changing the local standards for nearly eighteen years, making a mark in the performing arts on both a regional and national scale. The company has brought us many compelling and thought-provoking works that both entertain and challenge the status quo, with no apologies and always looking ahead to the next project. I got a chance to chat with Producing Director (and recent Mayor's Artist Award winner) Jerry Rapier about Plan-B, his history with the company, thoughts on local theater, and a number of other topics that came to mind. ---

Jerry Rapier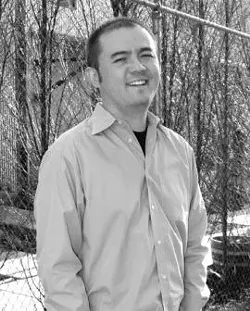 http://www.planbtheatrecompany.org/

Gavin: Hey Jerry. First off, tell us a little bit about yourself.

Jerry: Not really much to tell. I've been in Utah for 15 years. When the cold hits I wonder why I'm here. But then I look at the mountains...

Gavin: For those who are unaware, what is Plan-B and how did it get started?

Jerry: We're the smallest of the five Equity theatres in Utah. If you think of Pioneer as Broadway and SLAC as off-Broadway, then we're off-off-Broadway. Tobin Atkinson and Cheryl Ann Cluff started Plan-B in 1991.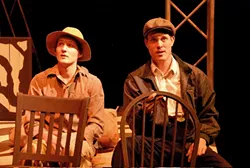 Gavin: How did you first get involved with it?

Jerry: I was hired to direct "Molly Sweeney" in 2000 and by the time rehearsals began I was the Producing Director of the company.

Gavin: What became of Tobin? And what is Cheryl doing with Plan-B these days?

Jerry: Tobin has been all around the world, literally, since leaving Plan-B in 2000. He moved back to Salt Lake City earlier this year - in fact, he was in our last show, "Radio Hour: Frankenstein". Cheryl has been the constant with Plan-B since day one - she's currently the Managing Director of the company and our resident sound designer. She also directs "Radio Hour" for us each Halloween.


Gavin: How did you come about doing "The Laramie Project"?

Jerry: I had read about the Denver Center/off-Broadway production and something in me clicked. I got my hands on a draft of the script (it wasn't published yet) in late 2000. I called Dramatists, which had just agreed to represent the show, at least once a day from the first week of December through the middle of March. They finally agreed to license the show to Plan-B - I'm not sure if it was faith in us as much as it was to shut me up. Our production in the summer of 2001 was the first licensed production worldwide.

Gavin: I read that was a changing point for the company to go another direction. How so?

Jerry: It solidified our work as a socially conscious theatre company. It opened doors to donors. It put us on a firmer financial footing. And the presence of Jedadiah Schultz in the cast as himself reminded us every rehearsal, every performance, that it was more than a play.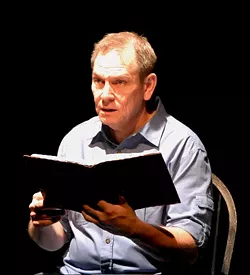 Gavin: You've done a lot of inspiring and provocative plays over the years since then. Do you have a personal favorite?

Jerry: That's very nice of you to say. Hmmm... favorites? I can honestly say that I have been passionate about every Plan-B production since I've been involved. I loved working on "The Laramie Project" because of its power. I loved working on "Hedwig & The Angry Inch" because it's just a helluva good time. I learned a lot about myself as a director with "Animal Farm". And over the past few seasons, I've really thrown myself into the development of new plays by Utah writers--it's been beyond rewarding to take "Amerika" to Canada, "Facing East" to New York/San Francisco and to tour Utah with "Exposed". The next project, however, is the one I've been wanting to do for years--"Block 8", about Topaz, the Japanese internment camp in operation just outside Delta during WWII.

Gavin: A good majority of your audience is in a younger age group, mainly people in high school and college. What's your reaction to having an impact on them, who themselves are mostly involved in performing arts?

Jerry: "Facing East", "The Alienation Effekt" and "Gutenberg! The Musical!" each drew a lot of younger people, but we still struggle to draw young people consistently. When we do, it's equally exciting to see them connect to the issues presented or as students of the arts.


Gavin: What was the story behind putting on Pearson's "Facing East", and how did it feel to have it become such a success?

Jerry: Carol Lynn sent me a play that I didn't think quite fit Plan-B, so I passed on it. She then told me she had an idea for what would become "Facing East". I said to her, "That's the play I want." And that was that. We spend a year developing the play and then things just snowballed. Now it's being produced all over the country!

Gavin: Recently you did the "Frankenstein" Radio Hour show. What was it like putting that together in the old style of radio play and performing it?

Jerry: "Radio Hour" is the lovechild of Cheryl Cluff - she's directed all four of them! We met with Doug Fabrizio in early 2005, about doing a radio drama in partnership with RadioWest. That Halloween we did our first "Radio Hour" (Radio Poe) in the KUER studios, no audience, just live on the radio. The next year it was "Zero Hour" & "The Hitchhiker" and last year was "Lavender" & Exile". After three years we decided we wanted to move it into the theatre and still offer the live broadcast component but we also wanted the theatre audience, which is what we did with "Radio Hour: Frankenstein".


Gavin: Down the road, would you ever like to own a specific theater for just Plan-B shows, or are you more comfortable being an acting company just residing?

Jerry: We love love love the Rose Wagner and have no desire to take on the headaches of maintaining our own venue. Thank you Salt Lake County!

Gavin: A little state-wide, what are your thoughts on local theater, both good and bad?

Jerry: Things get better each season. I am constantly amazed, however, at how many people consider themselves theatre professionals that don't read plays, don't see theatre, don't see the need for continued training.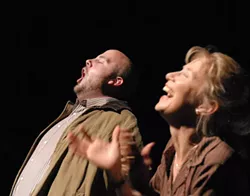 Gavin: Is there anything you believe could be done to improve it?

Jerry: I wish more local artists would pursue work outside of Utah for perspective.

Gavin: How do you feel about the recent move from cities to "bring Broadway" to Utah?

Jerry: I am completely, 100% opposed to building larger venues in Utah. I see a lot of theatre in New York - I see myriad Broadway shows each season in New York - and I would never purchase a ticket to see a show in a venue of more than 2,000 seats.

Gavin: Do you feel like local high schools and colleges do enough for their performing arts departments as of late?

Jerry: Honestly, no. My observation is that the focus in Utah is more on performance than training. And I'm not interested in working with performers - I am interested in working with actors. Thank God for people like Beverly Sorenson, who is willing to bridge the gap in arts funding in our schools.


Gavin: What can we expect from you the rest of the season?

Jerry: I can't wait for people to see "Block 8" and "Di Esperienza", two world premieres by our resident playwright Matthew Ivan Bennett!

Gavin: Aside from the obvious, is there anything you'd like to plug or promote?

Jerry: We're doing a free event in partnership with Juniper Press/Oxide Books at The Leonardo on December 10 - details are on our homepage - sharing excepts from our book Plan-B Theatre Company: Plays From Behind The Zion Curtain. Did I mention it's free?!