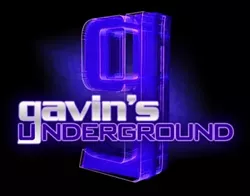 Just a bit of warning in advance, this interview will be a tad... awkward.

--- Brian Staker has been one of the premiere writers and champions of the Salt Lake scene since the late 80's, having a hand in many of the well-known zines and weekly papers both past and present, giving the art and music scenes grand exposure and then some. Also contributing to music with bands such as Hassel Power Ride and Get Stakerized, while currently writing freelance to this day for several publications. Most recently Brian started hosting "The Awkward Hour" podcast in which he interviews friends, local celebrities and interesting people in general, giving the city one of the few interview-based podcasts available. I got a chance to chat with Brian about the podcast, his career, thoughts on the scene and a few other awkward questions that he replied to just as awkwardly.
Brian Staker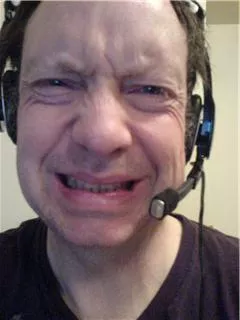 http://theawkwardhour.mevio.com/
Gavin:
Hey Brian, first off, tell us a little bit about yourself.
Brian:
Introductions are always so awkward. Hi, my name is Brian. (To the readers) What's your name? Whew, I feel a lot better now we got that out of the way.
Gavin:
What first got you interested in the local scene?
Brian:
I grew up in the suburbs of Salt Lake, where life was unbearably bland. After high school, when I started at the University of Utah and finally made it downtown for the first time, I was excited to see the seedy underbelly of the town, and punk clubs with their drunken mayhem. I was always painfully shy, and alcohol helped me achieve a modicum of sociability. I even almost got laid a couple times. I had gotten tired of the overproduced, boring music on the radio, and the first wave of punk rock had so much energy! Local bands like the Stench and Massacre Guys carried the banner proudly. Also, punk rock originally was music for social outcasts, and I've always felt like an exile.
Gavin:
You grew up here long before a lot of what we have now was even thought of, let alone conceived. How would you compare the scene community then to now?
Brian:
Wait, isn't 'conceived' the same thing as 'thought of?' Unless you mean in the sexual sense. Did I make you feel awkward there? The question makes me feel so old, just because the phones had to be cranked by hand. The scene then was just like SLC Punk, except there was nobody here as douche-y as Matthew Lilliard. It was before punk rock sold out, before crap bands like The Used made it big. And thankfully before emo, but there was hair metal, which I've heard still exists in West Valley. Former
Event
and
SLUG
colleague Rebecca Vernon and I had a long talk (Awkward Hour #10) about the curious 'hipster nerd' phenomenon. The biggest difference is people used to dance at shows instead of standing there awkwardly. And cool places like Raunch Records are gone. There was no Kilby Court then either. But looking back at stuff like the 'SLC Freaks' group on Facebook makes you realize things can never really be the same.
Gavin:
What made you want to take creative writing in college? And was it difficult getting your MFA?
Brian:
My high school teachers encouraged my desire to write poetry, which I didn't 'get' the symbolism of until I started smoking marijuana--briefly! Then I wanted to study at the U with Mark Strand, the arch pope of poetic modernism, a style that used intellectual concepts like alienation and ironic detachment that appealed to my awkward sensibility. Returning to graduate school in '89, I was under the delusion that I actually might make a good professor, of which I was quickly disabused. I was fired from a teaching assistantship for being so nervous I appeared completely disorganized. I'm even too geeky to be a college instructor! But as far as completing my MFA, it wasn't that difficult to get into the program, and the 'thesis defense' was mostly a formality, maybe more so for me, since it was a given that my poetry would be awkwardly good. The PhD candidates were the people they really had high expectations for, and was the real grind. I did have to write papers, but literary theory isn't exactly brain salad surgery! I got into more experimental writing, so my horizons had expanded greatly by the time I left. Brian Kubarycz (Awkward Hour #4), a friend of mine from the U who teaches humanities, confirmed my suspicions that deconstruction was invented by Frenchmen under the influence of hallucinogens. Also, I presented a paper at the first and only Festival of Postmodern Piracy & Transgendered Identities.
Gavin:
How did the zine
Arrested Development
come about and how well did it do until you ended it?
Brian:
I got into mail art as an offshoot of getting into the local poetry scene in the 80s, and picking up the local zine
Gajoob
at Grunts & Postures, learned about other zines all over the world. It was before the Internet and making a zine was a way to connect with people all over and share art and writing. Besides poetry and short fiction, it included surreal collages in the style of Robert Rauschenberg, my favorite artist. How 'well' did it do? Prisoners I assume on 'good conduct' ordered copies of it, and mentally ill people sent me art and poetry for it. That was the mark of zine success. Good times! It ceased when the band stole my name, but I have donated copies to the zine dept of the downtown library.
Gavin:
When did the opportunity come up to start working for
The Event
?
Brian:
You wanted to interview me about my podcast, then you bring up all these earlier traumatic periods in my life that I had up till now repressed very successfully!
Gavin:
Sorry man. A lot of people viewed it as one of the better publications over the years. What was it like there during its heyday?
Brian:
Let me think, did it have a heyday? We had some good times; on press night publisher Jim Major would treat us to Free Wheeler pizza. It's where I started my journalism 'career,' if you can call it that, and I appreciate being given the chance. And it was a great experience working with Editors Barry Scholl, Shan Fowler, Marian Nash, Jason Smith and Clayton Scrivner, each of whom had their own vision for the paper, and being Associate Editor I watched in bitterness as they all ascended past me to the heights of the local writing community. Yeah right. Actually I did learn the valuable lesson that surfing porn is an activity that isn't just to be kept at home.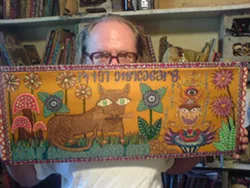 Gavin:
What do you think was the downfall of
The Event
? And if it were able to make it past that last year do you think it would still be doing well today, or was it only a matter of time?
Brian:
JM was becoming tired of it, even with all the 'prestige' of being a newsweekly publisher. I don't mean to speak for him, but he was more a businessman, and didn't seem like he had ink running through his veins. The last I saw him he was writing a book on harmonicas, and his office was stacked to the ceiling with them. Also, we were really losing the 'war' with
City Weekly
by that time.
Gavin:
How did the Associate Editor job come up for
SLUG
?
Brian:
Bill Frost (City Weekly Assoc Ed) and I discussed this (Awkward Hour #8); the Assoc Editor gig is like the Associate Producer title in movies; a glorified flunky with little actual authority. Although Frost is much more talented at avoiding work than I am: answering phones, running errands, compiling the calendar and doing paste-up fell under the purview of my tasks.
SLUG
was expanding, and Angela needed help editorially and in managing the office. I had been looking for opportunities to stretch out and write more extensive features, and she also gave me more input in the content of the mag. I created columns about zines and an indie label spotlight.
Gavin:
How long were you there for and what was that experience like, both editing the mag and working with that set of people?
Brian:
Are we up to the current decade yet? I was there from 2000-2004. Angela Brown is both an astute businessperson and extremely talented editor to take
SLUG
from being a local punk newsletter of a few pages to a full-color publication with features on national acts and coverage of everything from extreme sports to local politics. She is excellent at motivating people, and the kids that work there are really excited, not only about the local scene but to be a part of the mag. I got to interview people like Robert Pollard of Guided By Voices, Stephen Malkmus and Genesis P-Orridge.
Gavin:
What brought about the decision for you to leave?
Brian:
There was a silly misunderstanding about my song on the Death By Salt #2 comp that was only included as an excerpt, but I came to realize that I was lucky just to be included at all as a representative of the best local music. Then later still, I realized I was an example of the worst local music! Egotistically, I got tired of being second fiddle, not that I was treated that way at all, but came to feel less invested in the publication.
Gavin:
You wrote a lot of freelance material for
Salt Lake Magazine
,
Utah Business
, currently do some for
City Weekly
and Blurt-Online. What's kept you going as a writer for so long for so many different publications?
Brian:
Needing to pay the rent! The
Weekly
lets me pick most of my own subjects: local art exhibits, and doesn't edit my writing very much. As a fan of good writing style I try to make every sentence stylistically elegant and eloquent. If I'm awkward in real life, I can be somewhat smooth on the page. It's wonderful to be a part of the only real alternative journalistic venue in town. Blurt is a new online magazine by the publishers of the recently-defunct
Harp Magazine
, one of the best indie music mags in the country, so it's a great opportunity to write for them. I interviewed Robert Pollard and Todd Tobias in the latest issue about their newest project Circus Devils.
Gavin:
Do you have any advice for starting writers, or even current ones who want to make it a career?
Brian:
Unless you have the amount of compulsion to write that only comes from intense psychological damage, don't do it; it mostly doesn't pay enough unless the non-monetary rewards of expressing your 'deepest innermost feelings' are worth it.
Gavin:
Have you found it difficult to work a steady day job and still be involved?
Brian:
'Involved' is a good word, because I really do feel involved with the people I write about, in becoming passionate about their work. I'm not an investigative reporter; I admit I mostly write what amounts to puff pieces. But that's all right, because it's always things I really believe in, even in business writing, it's somebody who's doing good things in the world. With a full-time day job, it does take a lot of energy and (legal, I swear) stimulants to come home and write. Hmm, I need my own journalistic equivalent of a 'puffer…'
Gavin:
Just curious, what are your thoughts on other publications like
Catalyst
,
15 Bytes
,
In Utah
, etc...?
Brian:
15 Bytes
is a wonderful resource, in some ways the best local arts publication if only because they can devote more space than
City Weekly
. The only thing I really read in
The Catalyst
is that hokey Swami Beyondawhatever. Their horoscopes are pretty accurate. I don't know much about
In Utah
, except I am still waiting for their 'Sexy In Salt Lake' column to dial up my phone…!
Gavin:
You're also involved in the music scene with your own bands. How was your time with the multi-member Hassle Power Ride?
Brian:
One word: noisy! We could clear any space of spectators: that was our guarantee! We appeared on the first
SLUG
local band comp, my song "Smoke The Sky," which GS still performs; and we opened for Bardo Pond and C Average. Clayton Scrivner went on to the Rodeo Boys, and Jeremy Smith went on to Alchemy, Vile Blue Shades and other bands... Once they were unencumbered by my special 'abilities.'
Gavin:
How did you form Get Skaterized, and how have you guys done over the years?
Brian:
It's 'Get STaKerized,' exclamation point, but leave your question the way it is because it's awkward and I assume your spell checker did that. The '
Get Stakerized!
' character is kind of my rock star persona that I take on when performing. I ham it up, and become quite a rocker on stage, with enough alcohol. Rebecca Vernon called me the 'anti-rock star.' How have we done? Get Stakerized has become like some kind of mythical unicorn, or Loch Ness monster or something… very seldom 'scene'… but the subject of folklore…
Gavin:
What are your plans for an album down the road?
Brian:
I plan to start recording next month, with about half a dozen old songs and five or six new ones I'm working on. I've had the perennial problem of getting anyone to play with me for any length of time, due to my personal and musical eccentricity, so my plan is just to ask different people to help on each song, short term commitment. Tentative title: 'Songs In the Key of Me.' Of course it's a concept album. A 60's-style supersession of local musicians, to indulge my megalomania it would have me in the Eric Clapton role.
Gavin:
Just curious, what are your thoughts on our current music scene, both good and bad?
Brian:
Like anywhere else, it tends to be a bit of a clique, but we have some extremely talented bands, as much as anywhere else. Some of my favorite bands period--Red Bennies, Tolchock Trio, the Furs and the Wolfs--are local. Thankfully we don't have as many jam bands as Boulder or even Portland, but we have a lot of silly emo and Goth and a few metal bands that don't serve much purpose.
Gavin:
Anything you think could be done to make it bigger or better?
Brian:
I don't know if bigger=better. More and better venues is always a problem, especially all-ages venues. Someone to open up the Zephyr again, for Christ's sake.
Gavin:
Agreed! You recently started a podcast called The Awkward Hour. What inspired you to do that?
Brian:
My day job is data entry, and the only way to get through the day is to listen to something on earphones. I discovered podcasts about two years ago, and found that a lot of 'regular' people were doing them. Two friends at work who did them were especially inspirational to me: Lynn Willis, who did "The Podcast Junkie", and Brendan Wilson's "Professional Freeloader". Most of the shows I listened to had some personal element to them; the ones I enjoyed the most. I found my sense of humor attracted to just everyday occurrences rather than crazy skits or shtick, although Monty Python was an early fave. I wasn't even that sure what kind of show I wanted to do, except interviews like I had been doing for the
Weekly
, only in extended format. I conducted a survey among friends over about ten prospective titles, and "The Awkward Hour" won overwhelmingly! I had sensed that awkwardness would be a big part of it, like Tony Weller (Sam Weller's Bookstore) noted (Awkward Hour #7), I'm 'playing to my weakness' in choosing a vocal medium. When the verdict came in, I decided to make that the focus. I had recently ended a relationship not long before, in which my awkwardness was a key issue in our conflicts. I had entered a new relationship, but that one also faltered several months ago. I have been at somewhat of a crossroads, examining aspects of my life that are not helping me be very happy or even functional. The show in a sense is trying to make lemons into lemonade: to laugh at these foibles, and not take them too seriously, but understand them better.
(
Charles Jensen
)
Brian:
It's a reality show in the sense that I try to be as honest as I can and put my life out there in the public eye for the most part, without exposing anything that could hurt other people. It's a way for me to relate to people, of engaging my online 'persona' (a concept from postmodern Identity theory that I gravitated towards--not an alternate identity but a dramatic, public facet of personality) with the world, when in day-to-day situations I have an incredible amount of difficulty interacting socially. The show is an experiment and somewhat of a risk, in making myself vulnerable. I believed that awkwardness could work as a show theme, since it seems everyone has some and can relate to awkward experiences in some way. And the stories are usually very humorous. The challenge is, almost paradoxically, to talk about them in a way that my guests and I can be comfortable with. I don't like mean-spiritedness in comedy. I poke fun at myself much more than any of the guests. I just tried this out and who knew, I can be pretty hilarious! I even sing the theme song. No one else is doing a show quite like this. (Note: the Awkward 'Hour' usually clocks in at about 120 mins)
Gavin:
How do you decide who you talk to on the show?
Brian:
I started out trying to talk to people who I've known and been friends with over the years. Part of my neurosis is an obsession with death, and at somewhat close to probably half my lifespan I really wanted to start documenting my life through discussions with people close to me. I always talk to them about how we met, and share awkward experiences I've had with each one. I have mentioned that it won't take long to expend my small circle, and that compels me to meet new people. Ironically, doing the Awkward Hour may help me to become less awkward, but at least I find it therapeutic to discuss. I am also trying to talk to people who I think will draw listeners and be interesting conversationalists, which is why I've featured
SLUG Magazine
's Angela Brown (#6) and Bill Frost from
City Weekly
: two local celebrities. Also fascinating local artists, like folk artist & musician Bob Moss (#9) and the Miklavcics of the performance art group Another Language (#5), to give them a longer forum to talk about their work; making art can be a very awkward pursuit. And local characters in the scene like Leif Myrberg (#12).
Gavin:
Equipment wise, what's your setup like and what's it like taking it around to do the interviews?
Brian:
Just a laptop and headset mikes connected through a splitter to the one input on the pooter; it sounds okay after I correct the mix. I bring my 'Awkwardmobile' to you to do the equivalent of field recordings. Somehow it's always an awkward moment when I start recording; I get a bit tongue-tied, but it's a thrill, and that's why I do it.
(
Todd Roberts
)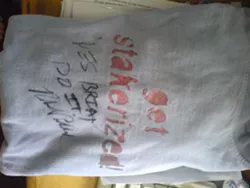 Gavin:
What's the response been like to the podcast since starting it?
Brian:
It's been growing slowly, but I haven't promoted it has heavily as I'd like. The fantasy is to be able to do it for a living, or at least become successful in terms of being an 'internet celebrity,' like top-rated pod casters such as "Keith & The Girl". National shows like KATG and the old CBS radio show "Don & Mike" were role models to me since they just talk about their everyday lives in humorous ways. For now, I want to let it go where it wants & grow organically & see where it goes. I have an outline of questions but mostly the show is freeform conversation. I am lucky to have
SLUG Magazine
's very generous sponsorship, which I think exposes the show to a younger, alternative audience. Emotionally I see myself as about 25 or 30 in a lot of ways, so I delude myself into thinking they are my target market. I am considering trying to attract more sponsors. The listeners I've heard from find the show very addictive.
Gavin:
Are there any major guests down the road you'd like to interview?
Brian:
Crispin Glover is the big one, since he has been in a lot of ways the ultimate 'awkward celebrity,' and of course if Andy Kaufman was still alive. My latest episode is with Stefene Russell from cult films "Plan Ten From Outer Space" and "Delightful Water Universe", and I'd like to get her director Trent Harris, which is not so unlikely. He is friends with NPR contributor Scott Carrier, who I'd love to talk to. The world is like a big game of 'six degrees of separation,' if you network properly. But in 'Awkwardia,' it's six degrees of awkwardness. We're all awkward on some level though, and I am trying to look at something even highly successful and self-confident people can relate to. Literarily, I would have liked to talk to David Foster Wallace, a brilliant writer and awkward person. Also William T. Vollmann, perhaps the greatest fiction writer going right now. I hope he'd take me on a tour of the rougher parts of San Francisco, and I wouldn't consider it a complete success unless my life was endangered at some point.
Gavin:
What do you think of podcasting as a media and the state its in today?
Brian:
I think it's really in a state of flux, and that's what fascinates me about it. It's still evolving and we don't know what it will emerge as, sort of like the early days of radio. Like most everything online, people are still trying to figure out how to make money from it, aside from advertisements that just annoy people. Podcasting is largely a forum for self-absorption, so I hope mine is interesting to people.


Gavin:
Are there any other local podcasts you listen to in your spare time?
Brian:
"
A Damn Podcast", brilliant movie reviewers up there with anybody even on a national level talking film, and it doesn't hurt that they are fans of my show. "The Geek Show" can't help but be funny with Kerry from X96, Burt's Tiki Lounge bartender Shannon Barnson and others, though it's not exactly my awkward sense of humor. I guess you have to have a room full of Star Wars action figures. "The Fanboys Lunchcast" is entertaining, but it's more for gamers, a culture I'm not really a part of. Also "Pinpoint SLC" Podcast, on UtahFM.com, an interview show partly produced by KRCL DJs, and that online station has plenty of great programming all through the day.
Gavin:
Big question for you, don't know how you'll respond but I still wanna ask. You've been involved with our community and the scene for so many years and seen it grow into what it is today. What are your overall thoughts on it now as a whole, and where do you see it going in the next couple of years?
Brian:
As anti-social and unhip as I am, I feel awkward being placed in the position of spokesperson for the scene, but here goes. The local 'scene' isn't just one thing but a combination of local music, visual arts, literary and other scenes. Go out on Gallery Stroll night and see some of our amazing artists, or go to a poetry slam for vibrant word worlds, or you can even attend a roller derby match now! We are always growing, and yet always slightly behind the rest of the country, largely because of the heavy hand of the LDS Church's influence on local culture. For a religion that claims to embrace freedom of choice, and enjoys a tax-exempt status, influencing political issues like gay marriage is just despicable. I agree with one of my literary heroes, Christopher Hitchens, in thinking organized religion the cause of many ills in the world, and at the very least, if they are going to behave the way they are, give up being tax-exempt! They do make it more awkward for creative people to live here!
Gavin:
What can we expect from you going into next year?
Brian:
Big plans for
The Awkward Hour
: move to a new hosting site and full-on bloggy blog. Thinking strongly of streaming live programs, video or at least audio. But most of all, more opportunities for listeners to
participate
, from live call-ins (I tried a couple recently--typically disastrous yet funny) to different ways to comment, to contests and even opportunities to appear on the show.
I
am playing local bands during breaks, and looking for more to submit. I can't afford to pay licensing fees to play national bands, and I'd prefer to play locals anyway. Also schwag like t-shirts and stickers no 'Awkie' (similar to Aspergers' nickname 'Aspies,' of which I am one) will want to be without.
Gavin:
Is there anything you'd like to plug or promote?
Brian:
I'd just like to say I am thrilled and flattered just to be interviewed. I do a lot of interviews in which I give wonderful local artists exposure for their work, but I often feel like my own voice and aesthetic vision gets lost in the mix. It's a long-time dream for me to be interviewed since, with super low self esteem, it makes me feel like I am important and what I have to say is actually valuable. Thanks Gavin, it's been awkward!