With so many looking for meaning behind photographs, one local artist changed pace for viewers to examine the art itself.
--- Matt Glass has been working on his craft for over three years now. Taking the conventional form and turning it around for others to see in a new light, focusing on the narrative of the photos he creates. While in his spare time has been a drummer in two popular bands and a third growing everyday, showcasing his creative talents in more than one forum and helping two very different scenes grow in style and substance. I got a chance to chat with Matt about his time at Weber State, his photography, the bands he's performed in and a few other topics that came up.
Matt Glass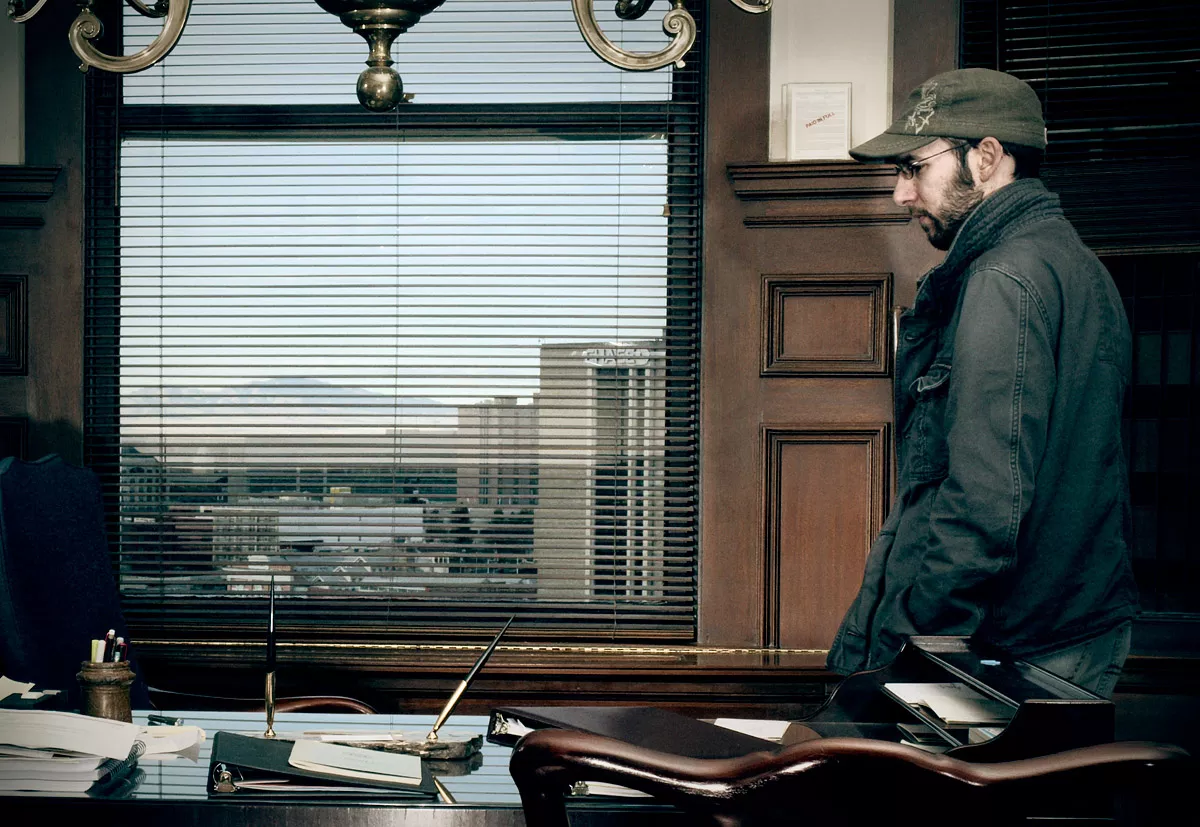 http://www.glassbrain.com/
Gavin:
Hello Matt. First off, tell us a little bit about yourself.
Matt:
My name is Matt Glass. I was born in New Jersey and raised here in Utah. I watch a lot of TV and movies. I make photographs. I can't do backflips.
Gavin:
What first got you interested in photography, and what were some of your first inspirations?
Matt:
I got my first camera when I graduated from high school. It was a pretty crappy little point-and-shoot film camera. I still have it. My biggest inspiration definitely comes from movies. I always imagine that my photographs are little movies. Each photograph has a story and a soundtrack.
Gavin:
You're going to Weber State to earn your BFA. What's their program like up there, and are you finding it difficult to earn your degree?
Matt:
By the time people read this, I will have graduated (December 12th). Weber State has good photography facilities. I haven't had any trouble. It has been very good for me. All my photographer teachers have been really great and have let me explore and experiment with my own style of photography.
Gavin:
Being there you've become a part of
The Signpost
. How did that opportunity come about, and what has that experience been like?
Matt:
A reporter from
The Signpost
named Maria Villasenor (shout out!) interviewed me back when I was in The Brobecks. We stayed in touch and became friends. She eventually became Editor-In-Chief and offered me a job when I decided to go back to school. It's been a good experience in that I've learned a little bit more about interacting with people through the lens.
Gavin:
A lot of your work is a set of images in a certain theme. What's the process for you going from idea to final product?
Matt:
It usually starts as just an idea in my head. I let it stew up their for a while, then I'll sketch it. At this stage, I'll try to think up some interesting lighting ideas and locations. Then I'll take the photograph. Add in a touch of photoshop and you've got yourself a photograph. Some ideas will branch off into other ideas and they will bloom and a series is born.
Gavin:
Two questions at once, what is your favorite set to date, and what was your most difficult set to date? And why?
Matt:
The answer to both of those would be my "Apocrypha" series. It has required the most preparation, locations and actors. My friend Cynthia Loveland (shout out!) has been nice enough to help me coordinate all that sort of stuff for most of the photographs in the series. She's also been filming behind-the-scenes videos of each of the shoots for me. Each of the photographs in this series has been meticulously lit and the actions of each actor is explored. I've been very happy with the results so far. They're cinematic, baroque, apocalyptic and cool.
Gavin:
Do you prefer traditional film or digital, and why?
Matt:
I love them both. Most of the time, I use my digital camera and it works out great. On my most recent series, Apocrypha, I've been using my medium format film camera. The final images are printed at about 40 inches by 55 inches and I needed the high resolution that film offers. I think both film and digital have their uses and I'm happy using both.
Gavin:
Since were on the subject, what kind of equipment do you use for your shoots?
Matt:
Depending on the shoot, I'll use either my Nikon D300 digital SLR or my Mamiya RB67 Pro-S medium format camera. I have a few Alienbee strobe lights, and I use my friends as the models. I often end up putting my friends in uncomfortable positions for my photographs. Cynthia, for example, has been covered in chocolate sauce, had tree branches taped to her face and hand, done a back flip out of a box, had fabric coming out of her face, and many more fun things. That's the good thing about working with friends. They're willing.
Gavin:
Your work has earned some nice recognition at Weber and elsewhere. Tell us about your achievements.
Matt:
A photograph of mine is on the cover of the November issue of "American Photo On Campus." It's available on most college campuses for free. I'm pretty excited about that. I got an honorable mention in American Photos Images Of The Year contest in 2007 and just got another honorable mention in their 2008 contest (The issue will be on shelves sometime in the next few days). I won an SLR in some Nikon imaging contest a few years back. I'm still pretty new. I need to get myself out there a bit more. Hopefully, this list of achievements will grow.
Gavin:
Touching on music a little, you've been the drummer for a number of bands. How did you get involved with each band?
Matt:
In high school, I started a band with a few friends and eventually it became The Brobecks. I was in that band for a few years before I decided to quit to go back to school in 2005. While I was in school, I began recording a few songs with Mike Gross (who was in the Brobecks at the time). We recorded an album in my basement and bedroom and decided to call ourselves "Let's Become Actors." After he left The Brobecks, Let's Become Actors became his focus and we got Dave Chisholm (also from The Brobecks) to play keyboards for us and Ben Johnson to play bass. We recorded another album, this time in a studio with Andy Patterson. During that time, Mike and I recorded a few side-project songs in his girlfriends house. It eventually became his album "Tales From A Country Home". I also made the cover art for that album. The transition from band to band has been very organic. Every time I leave one band, end up in another one. I enjoy it.
Gavin:
How does it feel being a part of so many different bands that have made such an impact on our scene?
Matt:
I don't know how much of an impact they've had. I'm not very hip to the scene, but I've always been proud of the music we've made. And I hope that other people have liked it as well.
Gavin:
Down the road would you be interested in forming your own group, or are you happy just being a member of a group?
Matt:
I've recorded my own music before. I'm just not a very good songwriter, but I'm pretty good as a supporting guy. I like thinking up keyboard parts and drum parts and experimenting with effects and samples and such. I'm pretty happy being a member of the group.
Gavin:
Once you finish college and have that degree, what are your plans down the road as a photographer?
Matt:
That's a good question. I'm applying to a few grad schools and we'll see if that pans out. I'm also beginning to show my art in Salt Lake. I have a show in January at Palmers Gallery and a show in February at GalleryUAF. Be there!
Gavin:
A little state-wide, what are your thoughts on the local art scene, both good and bad?
Matt:
There's some really great artwork out there. In all areas. I'm a fan of several local photographers, painters, sculptures and so forth.
Gavin:
Is there anything you feel could be done to make it bigger or better?
Matt:
Remember in the movie "Honey I Blew Up The Kid" the sequel to "Honey I Shrunk The Kids" Rick Moranis invented a ray that made is kid huge. That would certainly make the art scene bigger.
Gavin:
What are your thoughts on Gallery Stroll and how its developed over the years?
Matt:
I like it quite a bit. I'm actually pretty new to the whole art world so I haven't been aware of it's development. But so far it's the bees knees.
Gavin:
What can we expect from you over the next year?
Matt:
Hopefully, my art will be seen a bit more around Salt Lake and other cities as well. I also plan on doing a few more photographs for the Apocrypha series.
Gavin:
Is there anything you'd like to plug or promote?
Matt:
My shows in January at Palmers Gallery and February and GalleryUAF. They should be fun. And fun is fun to have. Also my
website
where you can see all my photos, behind-the-scenes videos and music. And heck, take a look at my current band, good ol'
Michael Gross & The Statuettes
. Thanks again for the interview.