"Hey Ma! Look at me, I'm a beach bal-aaaahhhh!"
--- Last night was one of the best farewell shows I've been to in a while. Vanzetti Crime ended their run in the punk scene with a final show at Boing! Well over 100 people wishing them farewell, singing almost every single lyric they could to the entire album they recently put out. Ah... that was fun.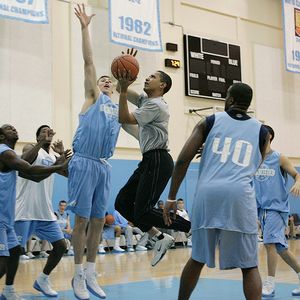 I don't delve into politics too much, nor do I really promote what our station puts on air. That's just pathetic pandering.  But Tuesday is shaping up to be the biggest media teacup ride of the year. For those of you who are a little curious, we'll be airing Obama's entire Inauguration session from start to finish and then some. From 7AM until 3PM. That's right, an entire eight hours worth of coverage, from the time he finishes his breakfast until he's sitting in the chair, and then some! And there I'll be for the whole thing in all its HD glory.  So yeah, one of the few times you'll hear me ask, but tune in Tuesday morning to watch history unfold.
Over the past couple weeks I picked up a few new venues I'll post up events for.  Including Mo's Bar & Grill and The Heavy Metal Shop downtown, Mojo's in Ogden, and 5 Monkeys in Murray.  The calendar will be updated for that first week of February over the weekend. As for the near future I'll have interviews for Tromadance, Gallery Stroll (seen above), The new CWMA's, Hooka Lounge, Regal Seagull and more... not necessarily in that order. Planning to cover show and will be taking photos for a number of other show I can make near the end of the month.  As always, we'll see what happens!