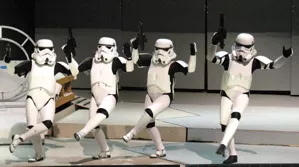 It's amazing what you can find on the Interwebs these days.
While I was conducting an unrelated search, lookie what I stumbled across: Images from a 2005 MIT production Star Wars: The Trilogy: The Musical.
A geek musical: Looks like it was either really, really funny, or really, really terrible. I'm guessing funny, though. And what could be gayer than a chorus line of tap-dancing Imperial Stormtroopers?
The OBT could do really well with shows like this.