Harry Reid is busy campaigning for reelection this coming fall. Yesterday, with the support of President Obama, Bette Midler, Sheryl Crow, and others, Reid kicked off his first big political fundraiser at Caesar's Palace. But it doesn't look good for the current senate majority leader. Recent polling shows that 45 percent of Nevadans would definitely vote to replace him, while 17 percent would consider another candidate. It seems that Reid is in danger of losing his office.
It is interesting that Reid has such poor ratings in his state, and even worse nation-wide. One would think that his moderate positions would make him more palatable across the political spectrum, especially toward his state's conservatives. For example, although a democrat, Reid is pro-life, pro-gun, and against gay marriage. This certainly gives him a lot of conservative qualities, though he adheres to liberal views on everything else. So what's the deal? I though moderates were all the rage now.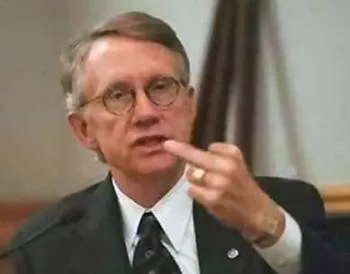 Reid's low approval ratings are because many view him "As dry as the martinis he never drinks," as Las Vegas Review-Journal political columnist Steve Sebelius has put it. It may be true that Harry Reid is not very good at projecting charisma like other politicians. But boring? Not really.
A closer look at Harry Reid makes one realize that he is actually pretty cutthroat. For example, some parts of the movie Casino are based on Reid's experiences as the Chairman of the Nevada Gaming Commission. During that time, a man named Jack Gordon (who later married LaToya Jackson) tried to give Reid a $12,000 bribe. Reid let the FBI videotape Gordon offering him the bribe, and then, according to Las Vegas Review-Journal, he "put his hands around Gordon's neck and said, 'You son of a bitch, you tried to bribe me.'" His toughness on the mafia in Las Vegas even led to a bomb being strapped on his car, which, fortunately, his wife saw before anyone entered it. That seems far from being 'dry'—I wish I had stories like that.
Senator Reid also had a very confrontational style with President Bush. He didn't like the guy, and didn't hesitate to criticize him. He once said "President Bush is a liar. He betrayed Nevada and he betrayed the country... All Americans should be concerned, not just because he lied to me or the people of Nevada and indeed all Americans, but because the President's decision threatens Americans' lives." Such candor from a politician is a refreshing break from the usual self-interest based hesitancy to make such remarks. Reid has also called the move to put a nuclear waste repository at Yucca Mountain the "Screw Nevada Law." That's not 'dry'—that's pretty funny, and shows the concern he has for the state of Nevada.
Senator Reid's hope for reelection doesn't look promising. His boring demeanor and refusal to be phony apparently rubs many people the wrong way. But choking a dangerous mafia man, getting a bomb strapped to his car for daring to act against the mafia in Vegas, and not withholding punches from former President Bush make him a bad-ass in my book.