It's official: Miss California has lost her tiara. Now, it wasn't the way most tiaras are lost (down the toilet in some nightclub stall--oops!), nor is it a result of
the Evil Gay Conspiracy
that, by expressing its view that she's a dumb, closed-minded fool, has apparently been violating Carrie Prejean's constitutional right to be a dumb, closed-minded fool.
Nope. She just wouldn't get off her ass and appear on Larry King Live and attend red-carpet events as required by her contract.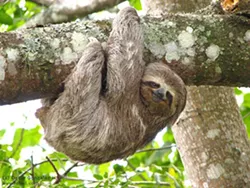 Maybe Prejean should spend less time reading what the Bible may or may not say about gay marriage and spend more time reading what it says about sloth.
We hope her predecessor successor Tami Farrell will do a better job of upholding the honor of that proud tiara.