The first official day of summer kicks off on Sunday, and what better way to bid adieu to the spring than with a summer sport leading the charge.


SLUG Magazine brings back the Summer Of Death competition series this Saturday, challenging the best Utah has to offer to several contests of skill and showmanship amongst ramps and obstacles in the middle of a steaming parking lot in downtown SLC. And that's just the first of the series. Definitely an event that no boarder should miss. To gear up for it I got a chance to chat with one of the men competing in this year's comps, and one of the top skaters around the state, Eric Hess. ---

Eric Hess


www.myspace.com/erichessrememberit

Gavin: Hey Eric, first off, tell us a little bit about yourselves.

Eric: My name is Eric Hess, I am a sales rep for Quiksilver, Libtech and GNU Snowboards. I skateboard, I rap, and I love to party haha

Gavin: How did you first take an interest in skateboarding?

Eric: I first started getting into skating when I was sixteen. All my friends around me started skating and I was the kid that played basketball all the time. So with nobody to play ball with I started skating my and 1 sneaks.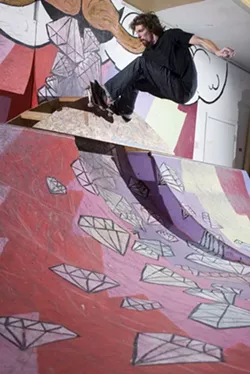 Gavin: What was it like for you first learning to board and hitting up skate parks?

Eric: Man, learning skating is probably the hardest thing you can do. You go to parks and get hated on when your a newbie to the game but ya just gotta keep on doin' it. If you've got true passion for it then you'll get it. It's really all up to the skater how good they wanna get just put the hours in. Ya know.

Gavin: What made you decide to come out to Utah?

Eric: Well I have pretty much grown up here. I lived in West Valley for my younger years then moved to Sacramento for like a year and a half when I turned eighteen. Then came back because really "this is the place", hahaha! But really Salt Lake's vibe is awesome. I love it here.


Gavin: What draws you to do local competitions or demos, ad what's it like for you while participating?

Eric: Ah, the energy. I love going to the comps simply to feel the vibe of everyone trying. And I mean trying to their fullest. And especially with the SLUG comps, kids come get broke off then just chug a couple beers (secretly) then just get back in the game. As for when I'm competing, I just try to do my best and try and get people hyped so they can preform.

Gavin: Did you ever try to become professional on a national level, or did you decide to avoid the mess?

Eric: Nah, never really tried to go pro or anything like that. I just like to take my skating as it comes. I don't really go out everyday and force myself to do new tricks, or do bigger things. If I see something that I have to do, I do it.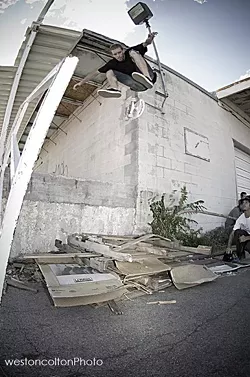 Gavin: How did you get into retailing boards and equipment?

Eric: I got into slangin' goods just about a year ago. I was working retail at a local shop and was given an opportunity of a lifetime so I hopped on and never looked back.

Gavin: What kind of gear do you prefer to use when skating?

Eric: Um well here is what I use, I'm pretty picky about my setup. I skate 8.5 Odeus boards (board sponsor killing it) they are the same wood as toy machine and toy was always my favorite back in the day. Indy 149's to fit my boat, Bones Street Techs or Satori either way as long as they don't flatspot, and Gawky Throng bearings (my own bearing brand) keep and eye out for them. They are pretty much the best bearings ever. Literally!


Gavin: For people who might be interested in boarding, how do you suggest they get started?

Eric: Everyone that is starting up needs to first not be afraid to fall. You will do that and you will get scabby, if you can handle that then I'd say skate a mini ramp or flat ground for years. You'll be hooked from then on, haha.

Gavin: What do you think of Summer Of Death series, both as a skater and spectator?

Eric: Seriously, the Summer Of Death comps are the best comps in the state. We always try and make the comp as raw as possible and every year it seems to get better and better.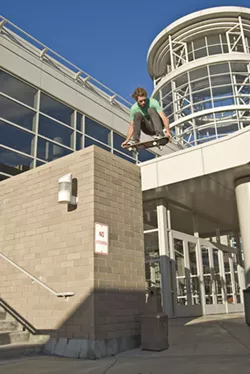 Gavin: You got any thoughts going into it, or do you tend not to think it over before hand?

Eric: Ah... no thoughts really going into any comp. That just sykes me out if I think to much. I just go and feel it out and go for it.

Gavin: A little state-wide, what's your opinion on the way skateboarding is handled by the city and state? And is there anything you wish you could change?

Eric: Well being that we have a park in almost every city I think our state is pretty much killing it. But I do wish that street skating wasn't as illegal as it is, haha. God, I hate cops. Well, just the ones that have hard-ons because of that stupid badge.


Gavin: Do you see anything on the horizon changing for snowboarding or skateboarding, or do you think things will remain the same for a few more years?

Eric: In snowboarding the new thing as of late is reverse-camber boards. I see that sticking around for a long time but for skating the only thing that is gonna change is what is possible. Everything is possible on a skateboard, it just takes time. Progression is constant.

Gavin: What's your take, both good and bad, on the way "extreme sports" are presented nowadays with the X-Games and time on ESPN?

Eric: Ah, I think it's rad! When I see those comps the pros always proceed to take it to the next level. And it is good for the hobby of skating because it is being more accepted by normal people. Oh, and let me clear this little thing up also skateboarding is a sport when you are competing, when you and your homies are just pushing around and kickin it it's a hobby... they are separate.


Gavin: What can we expect from you the rest of the year?

Eric: Video part in "Weastinfection!!" Best vid of the year coming soon. I got some bangers in the mix and you can expect me to be at the local pubs tryin' to pick up on some fancy dames, hahaha! Also I will be having a solo rap album droppin' independently in about a month or so. So check that out for sure. Hit me up on the MySpace for details.

Gavin: Aside from the games, anything else you'd like to plug or promote?

Eric: Odeus skateboards, Quiksilver, OH and Switch Krooks, that's me and my homie C-Dubs rap thing we got going on.