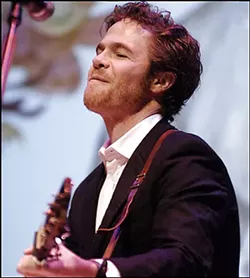 First, if you've never seen the great Josh Ritter and his band live, you need to haul ass over to the Urban Lounge on July 22 to do so (w/Langhorne Slim supporting). --- Ritter is Springsteen-esque in his songwriting/singing talents and this Moscow, Idaho boy is one of the most positive, enthusiastic and energetic performers I've ever seen. You will not be disappointed. He brought down the house at his Gallivan Center show last summer.
Second, The Historical Conquests of Josh Ritter is one of the best albums you'll ever hear -- 100% solid from start to finish.%uFFFD Go buy it. You can listen to it in full for free here. It's worth the price of the CD for the tune "Right Moves" alone -- one of the catchiest tunes I've heard in years, with great blasts of kitschy horns.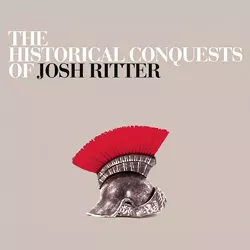 Third, if you're a horn player yourself, you might be able to play a few songs live with Josh and his band at the Urban Lounge show. Here are the details from Josh and the band:
PLAY WITH JOSH & THE BAND!%uFFFD HORN PLAYERS SOUGHT

Now THIS oughta be fun....

There's been too many times during past tours when we thought, "Wouldn't it kick ass if we had some horns tonight?"%uFFFD Well, no more just talking about it .%uFFFD We know there's a lot of talented musicians out there.%uFFFD

We're looking for several horn players in each town to play with Josh and the band during 2 or 3 songs at each show.

REQUIREMENTS:

1.%uFFFD Must read music!
2.%uFFFD Must have a Myspace/Youtube/Website link to you playing your instrument.
3.%uFFFD Brass, saxes preferred...but we'd be down with violin, accordion, flute.
4.%uFFFD No singers - unless you are a legitimate opera singer.
5.%uFFFD Must be available for soundcheck on day of show

If you're interested, please send an email to Doug at playwithjosh@gmail.com.%uFFFD%uFFFD Subject should be "HORNS FOR _______(concert city)".%uFFFD Include your instrument played, credentials, links to see and hear you play - plus your full name and phone number.

If you're what we're looking for, we will be in touch with a schedule for the day, as well as the music to learn.%uFFFD On the day of the show, you'll arrive early to play during soundcheck, and for the show...

Do not reply to this newsletter; be sure to email playwithjosh@gmail.com.

Cool, right?%uFFFD Let's hear from ya!