Utah fashion has been on the rise in the past couple of years, not just making strides as far as prints and brands, but with solo-designers as well.


--- And one of the fine people leading that charge is Jordan Halversen. His designs and creations have started to redefined the fashion scene beyond the simplistic, giving appeal to both the keen-eyed tailor as well as the night crowd, and has remained a constant name to watch for the next bold creation. I got to chat with Jordan about his career and designs, as well as his thoughts on Utah fashion and business.

Jordan Halversen


http://jhalversen.com/

Gavin: Hey Jordan, first off, tell us a little bit about yourself.

Jordan: A little about my self, I'm from Salt Lake city born and raised. I am twenty-seven years old and I make clothing.


Gavin: How did you first take an interest in clothing?

Jordan: I find myself wearing a lot of clothes and a lot of my interest speared from that. At some point I decided that what my mom was trying to dress me in just wouldn't cut it. I have found it easier to make my own clothes than to find an abundance that I would want to buy. All though I wish some one would just buy me clothes now a days.

Gavin: What were some of your first designs like? And what do you think about them when you look at them now?

Jordan: My first designs were in junior high school, mostly this would be pants I made and old shirts that I embellished. I still have a few pieces from back then. From the first runway show I did my design and construction had evolved leaps and bounds from my junior high stuff.


Gavin: On education, why did you choose to go to SLCC, and what did you think of their program?

Jordan: Oh, the Salt Lake Community College, that was a fun five years in a one year program. I keep going back, I have just signed up for another class in the sewing program. I love school if it weren't so expensive I don't think I would ever stop going.

Gavin: How did the opportunity to inter with Jared Gold come about? And what was that experience like for you?

Jordan: Working with Jared Gold was great! This was arranged through my school and took very, very well. I would dare say it has been my most valuable learning experience to date. I actually still have the pleasure to say I work with Mr. Gold, and had done so within the last month. Calling this work though makes it sound like a chore, it could be related closer to a labor of love. Very rare is the case you work in the field you are passionate with someone as creative and talented as Jared Gold.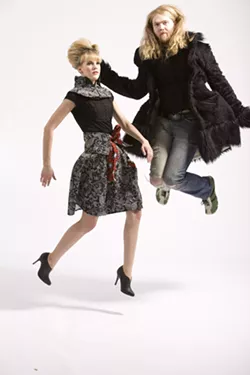 Gavin: How did the idea to start your own clothing line come into play?

Jordan: The clothing line I have created, "Halversen Design" has always been a quite aspiration for me. I love the idea of being solely in control of the design, fabrication and construction of clothing. It came into play when I had found a few places that would graciously carry my designs. Thank you Jen and Matt!

Gavin: What's the process like in creating a piece, from design to final product?

Jordan: My process can vary from time to time but lets say it starts as an idea or a feeling. I take that and mold it into a garment I would want, either to wear or see someone wearing. It may start with a color or a pocket and then this can transform into a suit or a dress maybe a succession of outfits.


Gavin: Do you ever have rejected ideas or do you continually work on a piece until its right?

Jordan: It's to be sure I have plenty of ideas that could be considered rejects. I however try not to look at it like that, I think 'in process' is a much nicer term. One would try to hone and perfect a design before its brought out to meet the world. I defiantly try to work out all the kinks till I feel a piece is right. I don't think I have let too to many through the cracks.

Gavin: How has the reaction been like to the products from both shops and buyers?

Jordan: I think people have had quite a positive reaction to my line. I have yet to hear anyone say they didn't like it at all or rag on it. I like to try to sway your feelings with my design one way or the other. I figure if you love it or hate it either way you will remember that piece. At any rate people are buying and I couldn't be happier about this, and please come on back plenty more coming soon.


Gavin: A little local, what's your take on the local fashion scene, both good and bad?

Jordan: I rather enjoy Salt Lake City, from what I gather we have a nice budding fashion scene. With quite a few goings on about to dress up and go to I think our town has some fine people watching. That is to say, a wide and diverse margin of people about, I can think of no part of that as bad. I find the "good" and "bad" style line to be thin and fuzzy at times which come on, that can get really fun and interesting really quick.

Gavin: Is there anything you believe could be done to make it bigger or better?

Jordan: I think steps are being taken to make fashion as an art in Salt Lake more apparent. Anything that gets people out and more involved the better. Working with local organizers I have participated in some great events to further the craft. Perhaps the tougher part is keeping the interest once you obtained it. Bigger can be better but if events can remain free I don't think it would be hard to get anyone out. I know for myself that can be a catalyst to go out, free entertainment.


Gavin: What's your take on Fashion Stroll and what its done for both designers and local business?

Jordan: Fashion Stroll and I will add Gallery Stroll to the list, these are great events and an amazing showcase of local talent. Not many events around put as much effort and heart into the idea of fashion. I believe that this has done quite a lot for local businesses, designers and for shoppers craving something a little more. For me this is an essential venue to show in, it is the closest thing to a fashion week Utah has.

Gavin: Do you have any personal favorite clothing shops you like to work with or shop from?

Jordan: I work with two local shops, model.citizen and Stars & Garters, these are splendid stores with helpful and knowledgeable staffs. Salt Lake seems to not have any shortage of great shopping if you know where to look.


Gavin: What are your thoughts about local retailers and how they deal with local products?

Jordan: The local retailers that carry local products I know of seem very excited to do so. They carry these products with a passion you may not find at larger stores which brings something intangible to a shopping experience.

Gavin: What's it like for you both being a designer and doing business in this current economy?

Jordan: Being a relatively new business in this current shaky economy so I don't have a large base knowledge to wax from. My position is an interesting one, things seem to be going well and I'm still working, that, I love.


Gavin: Do you have any plans to expand beyond the work you're doing now?

Jordan: Plenty of plans for expansion yes, new products, more sizes and options to choose. I started a line of lapel pins; the first release is a 'tomato head monster'. I am re-releasing my website; it may be up even now at jhalversen.com which will link through an etsy.com account for ordering purposes.

Gavin: What can we expect from you over the rest of the year?

Jordan: On September 25th I will be showing my fall collection in Fashion Stroll, which I am very excited about. I have some collaborative photo shoots coming up, I will be working with some exceptional people on these. This is what can make countless hours of sewing so very worth doing.


Gavin: Is there anything you'd like to promote or plug?

Jordan: Yes, I would love to plug Style Wars this is a design competition between fashioners, models, hair and make-up artists. It will take place on Sept 25th at Fashion Stroll in the Henries Dry Cleaners in the 3rd and 3rd shopping district. Posters will be up soon for the event, sign up at model.citizen. I urge everyone and everyone to sign up, this will constitute good times. Plus there are prizes for the winners. Then look for Halversen Design for sale at Stars & Garters and model.citizen at Fashion Stroll and online.