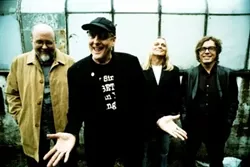 Cheap Trick is America's greatest rock band. There, I said it. --- Now, before you come at me with the straitjackets, hear me out. I have not taken leave of my senses.%uFFFD
Sure, with Creedence Clearwater Revival, The Beach Boys and The Eagles all in the running, this was a tough choice. But CCR was really John Fogerty, in much the way that The Beach Boys was mainly Brian Wilson. Plus, the original CCR ceased to exist decades ago. Ditto The Beach Boys. As for The Eagles, what would you rather rock to: "Tequila Sunrise" or "Surrender?" Of course, there is Steppenwolf, but they really haven't done anything worthy since Monster. And, I haven't forgotten The E Street Band. But as great as they are, they're really still just a foil for Bruce Springsteen. Sorry.%uFFFD
Actually, to me the biggest challenger for the America's Greatest Band trophy comes from Los Lobos. Granted, Cheap Trick and Los Lobos are American bands of very different stripes. And both have given me much, much much pleasure over the years. But I've been with Cheap Trick the longest, and so my fidelity goes to CT.

Cheap Trick is now in their 35th year -- they formed in 1974 in America's heartland -- Rockford, Illinois. They've been making records and touring with the same original lineup (Robin Zander, Rick Nielsen, Tom Peterssen and Bun E. Carlos) for almost all those years, minus a brief Peterssen hiatus. Like the Beatles, who greatly influenced Cheap Trick, it's nearly impossible to imagine the band without all of the original members.
Also like The Beatles, Cheap Trick are so iconic as to be cartoon-worthy. It's easy to imagine a cartoon series or comic books based on these larger-than-life rockers. Rick Nielsen and Bun E. Carlos, in particular, always look like they just stepped off the pages of Mad magazine. I say that with love, fellas.%uFFFD

American bands who cite Cheap Trick as an important influence include Smashing Pumpkins (Billy Corgan is a huge fan and has performed with CT), Green Day, The Datsuns, Everclear, Fountains of Wayne, Guns N' Roses, Nirvana, Stone Temple Pilots, Weezer and Motley Crue, to name a few.
Cheap Trick has never stopped touring and to this day their live shows are sensational. Few bands are more fun to see live.
With time-honored tunes like "Surrender," "Hello There," I Want You to Want Me," "Southern Girls," "Dream Police," "If You Want My Love," "Ain't That a Shame" and their uber-anthem "The Flame," Cheap Trick has been providing the soundtrack to our lives for three-and-a-half decades. And Cheap Trick at Budokan has been cited by virtually every rock critic and fan as one of the best live albums of all time.
Unfortunately, too many people think that Cheap Trick hasn't done anything since Budokan. They couldn't be more mistaken. Cheap Trick has made a slew of great albums since then, including 2006's Rockford. And their latest, called The Latest, is as good as anything they've ever done. You really should check it out.

This is a killer record and worth the price if only for "When the Lights Go Out," which, if there were any justice in the world, would be blasting from every car radio in the country this summer. It's Cheap Trick at their very best.%uFFFD
"Miss Tomorrow" is classic CT, followed by an out-and-out guitar screamer: "Sick Man of Europe."
"Miracle" is a gorgeous, Lennon-esque tune reminiscent of "Imagine," while "Everyday You Make Me Crazy," is another high-energy rocker a la "Surrender." And so is "California Girl," a Paul McCartney-sounding thumper which is destined to become another Cheap Trick classic.
"Everybody Knows," "Times of Our Lives," and especially "Closer, The Ballad of Burt and Linda," sound like they might have been recorded circa 1969-70 at Abbey Road, with nods to the psychedelic-era Beatles. The album closes with "Smile," the latest in a line of Cheap Trick stadium-worthy anthems. Get the lighters ready.
But, as satisfying as listening to Cheap Trick CDs or albums like The Latest are, they never quite stack up to hearing the band live and in person. Luckily, you can do that this summer, on August 25, when Cheap Trick performs with Poison and Def Leppard at USANA Amphitheatre. Cheap Trick is the opening act for the concert, so get there early. I can guarantee they'll be the best band of the show and a very hard act to follow. After all, how would you like to have to follow America's Greatest Band?