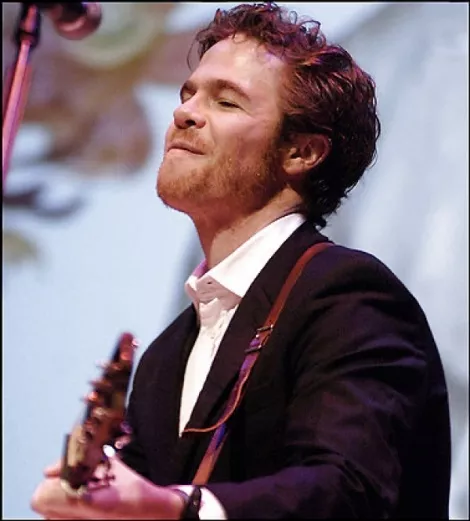 When Josh Ritter took and stage last night with his ace band at the Urban Lounge, his first comment was about how "hot it is in here." Tell me about it. --- I had already sweated out a gallon or so during Langehorn Slim's high-energy opening set (that guy has pipes!). And, by the time Ritter came on the Lounge was packed to capacity and teaming with sweaty, but enthusiastic bodies. At only $15 a pop, I'm not surprised that the show was sold out. "Holy shit!" I exclaimed when I drove up and saw the line outside stretching to the end of the block. I guess I sort of thought I was going to have a private audience with Josh... The last time I remember being so sticky was at Tipitina's in New Orleans.
It takes a very special performer to capture and hold the attention of an audience in those crowded, uncomfortable and steamy conditions. But Ritter was up to the challenge. From his first song, Josh Ritter had the crowd in the palm of his hand. And, he seemed to embrace the heat and humidity, playing and singing with maybe just a little more vigor even than usual. I've written this before, but with the possible exception of Bruce Springsteen, I've never seen a more happy, generous and enthusiastic performer. He beams a broad smile throughout the entirety of every show and it's infectious.
He's also funny, naming SLC's City Cabs as "the worst cab drivers in the world" during a rant about being driven around the city. The night was peppered with great tunes like "Mind's Eye," "Kathleen," "Good Man" and, my all time favorite sing-a-long song, "Right Moves," as well as a few tunes I didn't recognize -- hopefully the signs of a upcoming new album.
Maybe it's just show biz image, but I really believe in Josh Ritter's sincerity and authenticity; he is a good man who puts on a great show. Here is Ritter doing "Good Man" at last night's Urban Lounge show. DO NOT miss him the next time he comes to town which, hopefully, will be soon.

And, here is a shaky partial video I took of "Right Moves."