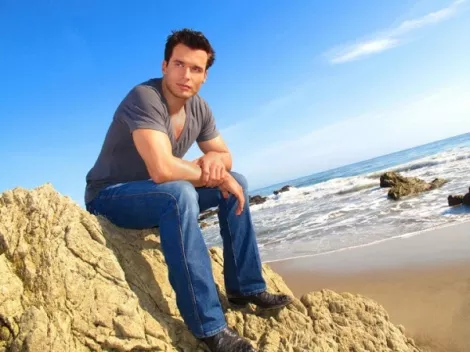 The Vacuous Hits keep coming: Just when it looked like VH1 had bottomed-out on the reality "romance" front, along comes ... Antonio Sabato Jr.? ---
From VH1: "Premieres August 16 - New series My Antonio follows General Hospital soap star, former Calvin Klein model, and notorious bachelor Antonio Sabato Jr. on his search for true love. In this 10-episode series, 13 beautiful women will be competing for the affection of one of the most desired men on the planet. This real-life soap opera also has a shocking plot twist when Antonio's ex-wife shows up, pleading for Antonio to take her back. Antonio, along with the help of his scrutinizing mother, will attempt to find a new leading lady to love by the end of this dramatic journey."
Most desired men on the planet? Ex-wife? Scrutinizing mother? What the fucking fuck what? Nothing left to do here but play the ever-popular Caption Game:
Antonio Sabato Jr:
"Greetings! Join me on a personal journey of love, self-discovery and a whole lotta puta-porking. I mean, come on--look at all this hot desperation behind me!"
Women:
"Like, when did Freddie Prinze Jr. get so old?"
Now it's your turn--dazzle me with your own caption below.