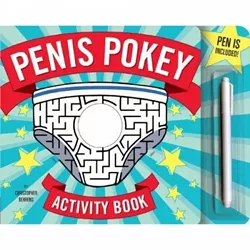 The long-awaited follow-up to last year's
Penis Pokey
is almost here:
The Penis Pokey Activity Book
from Quirk! Not turgid with anticipation? Then you're not ready to play our game ... ---
Coming Sept. 1, Christopher Behrens' Penis Pokey Activity Book includes a dry-erase pen for even more interactive fun, including Connect-the-Dots, personalizing your own framed masterpiece and more, as well as straight-up visual gags the snake dance, the sausage-factory escape, and a couple of bizarre dragons and UFOs scenarios. For safety's sake, the book contains this disclaimer on the back: "Do not put your penis through the holes in this book or any other unfamiliar holes. Death, severe injury or papercut may occur." Death?!
Oh, the dangerous shit that arrives at the City Weekly office. To be safe, I tested the book out with a different appendage--nothing fatal, so someone's getting a very special Secret Santa gift come the holidays (perhaps even unsuspecting Eric Peterson in the background there) ...