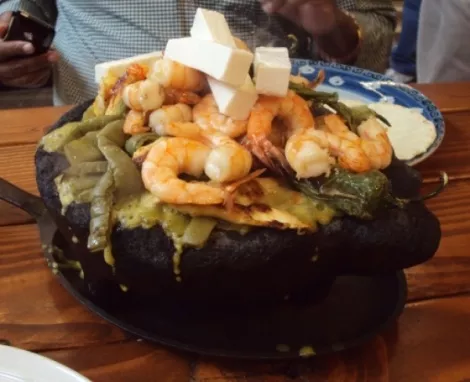 We came. We saw. We ate that thang! --- A couple days ago, longtime food informant Mick Huerta led me and a handful of other hardcore eaters to the Promised Land, in the form of a dish called El Molcajete.
First things first: a molcajete is a stone mortar and pestle used throughout Mexico, typically made from lava rock. You've probably been served guacamole in it at one time or another.
Well Mick, via Facebook, tempted us with a description of a dish called El Molcajete and, almost before Joy Tlou could say "Let's EAT that thang!," we did.
Don't try this at home: To begin this dish, a dry molcajete is placed upside-down, directly onto a grill to get it red hot -- as in, molten lava rock hot! Next, it's turned right-side up, and the goodness begins. First, a layer of Oaxacan cheese (similar to mozzarella, I believe it's called queso asadero) is placed into the bottom of the molcajete. It melts immediately, creating a beautiful, brown, cheesey crust. Next, strips of napolitos (cactus), cooked shrimp, boneless chicken, and thin strips of beef are placed into the hot molcajete, along with whole charred jalapenos and plump Mexican-style green onions. Finally, the whole thing is topped with thick strips of cheese, somewhat similar to feta, and delivered to your (picnic) table hot enough to cause concern.
Where do you get an El Molcajete? Well, I was sworn to secrecy, but I've decided I must share my good fortune in discovering this dish.
There's a "restaurant," of sorts, in the front of the big supermarket at the Rancho Market in the Latino Mall (there's also a Vietnamese pho eatery there): 2470 S. Redwood Road. They also serve tacos, quesadillas, menudo, pozole and much more. That's where you'll find El Molcajete. It's $19.95 and serves about 4 people. It comes with fantastic refritos, Mexican rice and outrageously good, fresh, handmade tortillas. An encounter with El Molcajete will change your life.