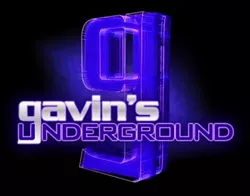 On weekends you can find many an outdoor marketplace going on throughout the city. The main two being Farmer's Market in Pioneer Park and The People's Market over at the Peace Gardens. But for those who can't always make the drive to downtown there is one market up in the hills that's grown into a must-visit event.


--- The Park Silly Sunday Market has been running strong for three years now in Park City, bringing in food, crafts, artists, musicians and performers together to take over Main Street for six hours of entertainment and local goods. Putting on a unique program and display that sets them apart from the events happening across the state, while still remaining inviting as a friendly alternative for those interested or just adventurous. I got to chat with Jewels Harrison, one of the co-creators of the market, about its brief history and what it has to offer, along with her thoughts on local entertainment.

Jewels Harrison (pictured with executive director Kimberly Kuehn and musician Brian Ernst)


http://www.parksillysundaymarket.com/

Gavin: Hey Jewels, first off, tell us a little about yourself.

Jewels: I am a mom and was a therapeutic exercise specialist before I got silly. Kimberly Kuehn was getting ready to have her first child, Dayla and had been working with the Olympics and Tommy Hilfiger before she got silly. And Julie Doerr-Arenson was and is still designing amazing homes that she and her husband build before they started dressing up their dog Dozer as the Doggie Lama for the Park Silly Sunday Market. We are the co-creators of Park Silly.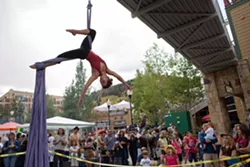 Gavin: For those who don't know, what is the Park Silly Market?

Jewels: An eco-friendly open air market, street festival and commUnity forum where neighbors and friends come together to celebrate our commUnity of fun and funky Park Sillians.

Gavin: How did the idea come about for the Market?

Jewels: We just wanted to create something to bring the community together, we were thinking much smaller scale, like throw a blanket down in the park for a community yard sale/flea market kind of thing. But it became clear early on it wanted to be bigger. When we realized how much work was going to be involved we wanted to do more than have a market. We wanted to create a positive impact on the community so we decided to make it a Zero Waste event to create a blue print for other events to follow to create a smaller foot print. We wanted to provide a forum for non profit and sustainability groups to have better outreach for the community to really understand their missions.


Gavin: Was it difficult convincing the city to let it happen or did they jump on board?

Jewels: We worked with the city for almost a year before it got approved. We got a lot of support from Mayor Dana. He loved the Zero Waste concept, but it is hard to sell an idea no one has seen before. Even now, people just think we are a farmer's market until they come and participate in the day.

Gavin: What was it like for you guys setting up and organizing the first year?

Jewels: Stressful. We were like little babies learning to walk. I almost think it was better that we had not done anything like it before because we worked so hard to get it right. We get a lot of compliments from our vendors and visitors for running such an organized event.


Gavin: How was it getting sponsors and vendors from around town, or to come up to Park City, to participate?

Jewels: We are so appreciative of our sponsors, because we could not keep this a free community event without the support from sponsors like The Shops at the Village on Main Street. It has been challenge to express to sponsors the value they get from joining us. They are so used to sponsoring events that are only a weekend long, but we are 15 weeks or 4 months of exposure to almost 100k people. They are starting to catch on and Kimberly has done an amazing job rallying this support. In three years we have only lost one sponsor and that was due to them going out of business. In terms of vendors, it took a lot of leg work the first year but people were grateful to have an opportunity to sell their stuff. We are unique in the sense that we don't require vendors to participate every week. In fact, we like to rotate the product at the market to keep it fresh. It is our tag line, "Each Week Unique." Different vendors, different music, kids activities, performance art...

Gavin: Do you encounter a lot of difficulties keeping vendors and sponsors all organized, or do things usually fall into place?

Jewels: We are a tiny little team but people are always surprised that we work full time, year round on this project. Being "Unique Every Week" for 15 weeks, doesn't happen by accident. It requires a lot of planning and attention to detail. This year we have an awesome Green Team of environmental studies students and our production crew (a.k.a. Burly Men and Freekishly Strong Women) that help pull it all together.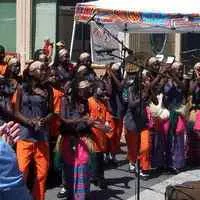 Gavin: Was the decision to have live music a plan from the start or something you did down the road?

Jewels: We knew we wanted this from the beginning. We wanted to create a venue that welcomed all levels of talent so we have veteran pros, closet and up and coming performers, musicians and artists who might be showing off their stuff for the first time. We love supporting kids too. We have a few kids like the Park Spinny girls and the KGEK boys and it's a joy to see them grow up with us.

Gavin: How do you choose who comes in to play every week?

Jewels: Mainly first applications, so people should apply to get on our email list. We look for music that's unique and fits the time of day. We start mellow and build the energy to carry us through the afternoon. A huge factor also with vendors as well as musicians is following our golden rule "Be Silly." We love to work with people who really understand and appreciate the workability and joy that comes from having this attitude.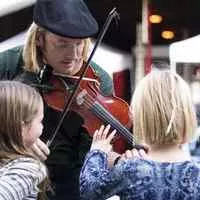 Gavin: When the first year was done did you know you'd be back for another?

Jewels: Yes, because we invested our own money and time into getting this project off the ground, we are committed to it for the long haul. Trust me there have been times that I would have been happy to pat us on the back and say, "Great job everyone! I am going to Mexico."

Gavin: This is the third year of the Market. How have things gone for you so far?

Jewels: It is always challenging but so rewarding. People are finally starting to understand the depth of what happens each week and support us as a non profit, part of that is due to the economy. We are a FREE weekly event. A family can come enjoy music on three stages, performance art, taste what the featured chef has created, get your face painted, see a fainting goat or pet the baby llamas, make ceramic animals with the featured artist, learn about the importance of bees and how to be a better recycler or how to compost and learn about the different local non profit groups and how to get involved and meet with friends and browse the creative variety of vendors, you get my point it is a really full, fun day and you wouldn't have to spend a dime unless you chose to. I am convinced our attendance is a third higher than it has ever been because of this. And people are spending, it is amazing to see, there is real commerce taking place on Sundays.


Gavin: With about a month left, what have you got planned for the final few weeks?

Jewels: We are gearing up for the last day of the season, September 27-Cirque De Silly Fest. It is a long-gorgeous, autumn day, 10am - 10pm. This year we will have fire dancers, ribbon aerialists, incredible music and for the first time ever, we will execute our own fundraiser "Chicken Sh-Poop Bingo". It is just what it sounds like. Where ever the chicken does his business on the bingo board, if you are holding that luck number, you win! We have some awesome prizes for the winners.

Gavin: A little local, what's your take on events like the Farmer's Market and People's Market, and how they've done over the years?

Jewels: I think they are essential to every community and we have some very good ones in our area. We offer free space to our farmers to fulfill the requests we got from the community over the last two years. It's been a good turn out and the farmers are happy with the support they get each week.


Gavin: What's your take on the local art scene we have here in Utah?

Jewels: I think we are an incredibly talented and creative state, but I would prefer more and more colorful public art projects. Our state needs to support art in the schools. We have it here in our Park City schools but only because the parents make it happen.

Gavin: Same question, but about the local music scene.

Jewels: There is so much great music and great venues for music. I wish there were ten of me just so I could see it all. I am astounded by the talented youth in our state. The youth jazz is off the hizzy and I am not talking about basketball.


Gavin: Is there anything you believe either could do to become more prominent?

Jewels: Tolerance and loving kindness. People need to let themselves be silly at least once a week. It is great to see a middle aged executive in his khakis and polo shirt hula-hooping in the middle of the street with a bunch of kids.

Gavin: What can we expect from all if you and the Market the rest of the year?

Jewels: A fun, unique experience every week.


Gavin: Aside the obvious, is there anything you'd like to plug or promote?

Jewels: Want to make sure just because fall is in the air and school is back in session that people know we will be going strong through the end of September.