Amanda Hart is following the first season of new Utah Jazz pick Eric Maynor. Read her introduction to this series here.
%uFFFD
As the preseason is winding down, the question of who the backup point guard will be gets more and more intriguing.
--- No coach will give you an answer, no player can give you an answer. All we can do is analyze every game and possession until the regular season actually starts and we see who won the minutes.
%uFFFD
Eric Maynor has been doing very well, and I think has surprised a lot of people. He is definitely giving Ronnie Price a run for his money. Since they haven't been televising the away games, I can really only judge by what I saw at home against Portland last Thursday. Both played 23 minutes (on the floor together a lot of the time) with Price starting at the 2 guard position in place of injured CJ Miles. Price shot 50% and had 10 points while Maynor shot 44% for 14 points. Eric definitely had the edge on assists with 5, but keep in mind Price was playing 2 guard most of the night. He ended up with 2 assists. Looking at just stats, for just one preseason game, it looks like Eric may have a small lead over Ronnie, but don't get your hopes up just yet VCU fans.
%uFFFD
Considering Ronnie Price is a strong combo guard, I think he will get more minutes than Eric, whether it's in his favorite position or not. He gives the team a great boost whenever he enters the game. I love watching him on the floor, he's all over the place. I'm proud to say I was one of those "I told you so" people watching game 5 last year while Ronnie closed the gap to avoid another blow out in LA. I don't know what the coaches saw in Brevin Knight the whole season, but thats a different topic. Cons, he can get a bit sloppy sometimes and struggles with turn overs.
%uFFFD
When looking for consistency, I think Eric would be the better choice to replace Deron. Because their styles are so similar, if the system is being executed well and the starters are doing a good job of staying above the opponents, I would put Maynor in. When the Jazz get into the flow of things, launching Ronnie Price might throw off our groove and hurt us more than anything. Eric is very poised and confident for a rookie, but he is still a rookie.
%uFFFD
This season, I get the feeling Coach will stay more with the experience of Price over the risk of a rookie. Whatever coaches decide when the regular season starts, having 3 point guards wont be a bad thing for the team. Two very talented guards competing for minutes behind Deron Williams will be awesome to watch and will strengthen our team.
For the record, we are now 5-2 for the preseason, losing to the Clippers this weekend (The Clippers!) Here are some photos from game #4 vs. Portland.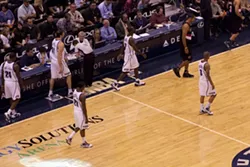 %uFFFDLeading the troops onto the court.
Creating plays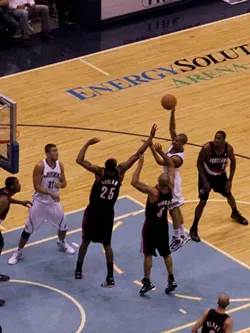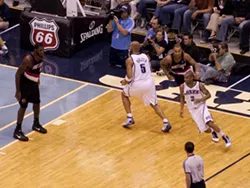 Here you go Ute fans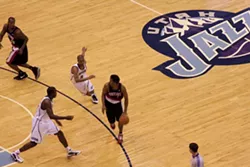 Chasing Andre Miller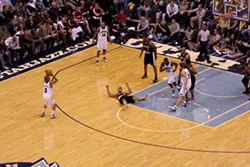 MAYNOR! THREEEEEEE!
Good hustle
Inappropriate physical contact....
... jump ball?