While clothing design is the main attraction to any fashion scene, the accessory is still an artistic attraction that can't be ignored. Most who design think of them as simply add-ons to their collection and casually make a trinket or two with their design on them, but some focus all their attention onto it and do their best to make those small pieces stand out from the rest. Much like the ones we'll look at today.


--- The Broken Record Vinyl Collection is the brainchild of Jesse Amaya, the man behind InVidious. Taking classic rock albums from their vinyl format and turning them into various accessories like belts to bracelets, and even their own displays. The items caught the eye of several shops around the valley and became particularly hot with the crowds at Sundance. I got to briefly chat with Jesse about his career so far, the vinyl works he creates, and his thoughts on local fashion.

Jesse Amaya



Gavin: Hey Jesse, first off, tell us a little about yourself.

Jesse: All right lets see, I'm from here in Salt Lake, and grew up here.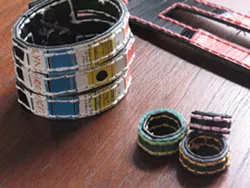 Gavin: How did you first take an interest in clothing and design?

Jesse: I've always had a interest in anything artistic, so drawing, ceramic, some paint, design, and the construction of anything. Pertaining to clothing my interest mainly started after I got out of high school, and got sucked into the whole "premium" denim concept and whatnot. Since that time I've always had interest, but nowadays I am way more interested in creating and making items over just keeping an eye open for different new brands.

Gavin: Did you seek out any education for it, or was it strictly hands-on experience?

Jesse: I worked for a while on bringing some companies that did not have a presence in Salt Lake in without actually creating or opening a store. After a while I got to the point where I was looking into opening a store or start exploring the idea of creating my own ideas. At that point I came up with InVidious.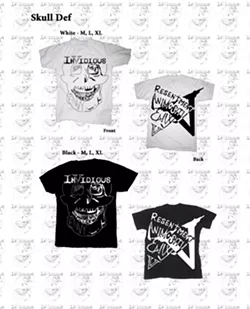 Gavin: How did the idea to start InVidious come about? And what was it like for you first getting started and working on the early designs?

Jesse: InVidious, causing or tending to cause A.nimosity, R.esentment, or E.nvy. This idea/concept was just a compilation of my thoughts on what seems to be going on in clothing and fashion. It wasn't a knock on anything, it was more my curiosity to the driving forces behind actions. So my ideas is the overall InVidious being chopped up into three categories A.nimosity, R.esentement, and E.nvy. So which A.R.E. you? Who A.R.E. you? People have underlying reasons for doing what they do. I chopped and gave my interpretation of the categories, such as R.esentment, basically causing others to have significant ill will towards you for what you have and they don't. So our product in this category would be the stand out, in your face, I have something to prove, and when I walk I want to steal the scene. Where E.nvy is the clean, sleek more black and white toned down items. More tailored for the people who aren't really out to prove anything to anyone in particular, but just want everyone to be jealous of them, and think they're beautiful, or what not.


Gavin: During that time, what inspired that Broken Record Vinyl Collection works?

Jesse: I went down to Vegas looking for some potential stores to carry InVidious. When I went into the Hard Rock I got captured by all the music, and posters and all, and I realized how back up here I had about 300 vinyl albums that I wasn't doing anything with. So I came back up to Salt Lake and chopped up all the album covers and created boxes as packaging with my shirts. After that I just had a big stack of vinyl sitting in a pile and there has been a lot of people who have explored with vinyl, but I wanted to do a little more. I wanted to create accessories such as cuffs, possibly belts, and more. So after polishing out the way I wanna make everything I decided to break up say the cuff vinyl into 18 pieces, contact to leather, drill holes and hand stitch it all. I've also moved into using rivets or eyelets as an option other then stitching. Belts have the option of stitching plus rivets. I belt is the similar process except instead of 18 pieces, it ups it to an average of 75 pieces so I am able to capture the whole album label on a belt.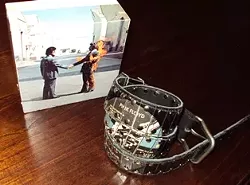 Gavin: How do you decide on the albums you intend to use for each project?

Jesse: Album selection is like any other piece of artwork, it all depends on what the people are going to like. So in the case of say a store, I tend to lean towards recycling out albums that are big classic mainstream artists such as Beatles, Doors, Rolling Stones, Queen, AC/DC, Bon Jovi, Madonna, Grateful Dead. In some cases such as my display down in the Hard Rock Casino down in Vegas, more Santana, since he has a show there, they have rushes of large amounts of Santana fans. It all depends on possibly a special event, or depending on the area. I also do several special order pieces, because even stuff I normally wouldn't grab, well someone could specifically want it. I do grab random stuff as well though because you never know, and say when your doing a trunk or something you always get people asking if you have any of "X" and its something you never would have thought of grabbing.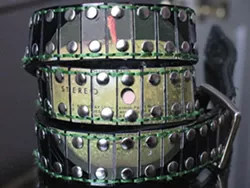 Gavin: What's the reaction been like from the public and the shops that carry them?

Jesse: Thus far the reaction has been great. A few shops I've had them in downtown, I believe the traffic hasn't been as high, but we still consistently went though product, and up in Park City, as well as Vegas, where the traffic is a lot more the positive reaction has been great. I was up at the store a bit on the weekends during Sundance and we did very well. I'll be down in Vegas in the Hard Rock down on the 17th so we'll see how that all turns out, but I'm confident it will be a great time.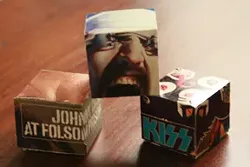 Gavin: You recently started doing belts as a part of the series. Are there any plans to expand the line into other areas?

Jesse: Yes, we started with only cuffs. Belts have just been available for a couple weeks now, and the response on those has been great. Additional items for BRVC, hopefully in the near future will be some watch bands. Occasionally I do rings, and am currently exploring a few more ring ideas possibly out of 45's since they are thinner and the ring can possibly focus on the recycle album title alone. Ideas are always flowing, so we'll see what turns out.

Gavin: Going a bit local, what's your take on the local fashion scene, both good and bad?

Jesse: I haven't really been all that involved in the affairs that go on with it. I did have a display in Model Citizen, which turned to SLCitizen, but I pulled out, hopefully temporarily, about the time Matt sold it. I'm hoping to get in contact with the new owner soon to discuss the possibility of re-entering.


Gavin: What's your take on Fashion Stroll and what its done for the scene?

Jesse: I haven't made it out to one personally but I do have a few friends whom have, and they have had good things to say about it. The timing of the Stroll and my schedule just always seems to conflict, but if there are any planned in the near future I am hoping to attend.

Gavin: Do you have any favorite clothing shops you like to work with or shop from?

Jesse: Slowtrain carried some cuffs for a bit. We also had them in House of Sick, but they were all techno albums that Peter asked me to make for them. We also have a display over at Studio Salon up in Sugarhouse, and they currently have more of a hip hop selection such as Jay Z, Outkast, Funkadelic, etc. Upstairs at Muddy's up in Park City currently carries our widest selection in Utah at the moment. Its right above Mary Jane's on Main Street.


Gavin: Aside the obvious, is there anything you'd like to plug or promote?

Jesse: If anyone is looking to clear a little closet space and can part with there records, or knows anyone who is, come or send them my way. You can reach me and j.a.image@gmail.com. Also be sure to check out Upstairs at Muddy's, they have a great display up there, as well as Studio Salon. Also if anyone is going to be in Vegas be sure to check out the Hard Rock, and if anyone happens to be there on the 17th come and and say "what's up?"