With podcasting growing locally and new content sprouting up all the time, our own network of locally produced shows are turning heads and bringing in listeners across the board. Literally becoming their own brand of talk radio without boundaries or regulation, and developing into a growing force of entertainment inside the earbuds.


--- One of the more recent local shows to catch the eye of that audience is "Groundbreaking Shit". Slamming pop culture of TV and film with all the force they've got while embracing it and celebrating its influence, the trio dissect their favorites as well as their most hated references to both revel and understand its relevance... and then dismiss it all for a battle royal between stars. I got a chance to chat with the three minds behind the show to talk about how they met up and formed the podcast, as well as their thoughts on the medium in general.

Lydia, Matt & Nichole


http://groundbreakingpodcast.tumblr.com/

Gavin: Hey guys, first off, tell us a bit about yourselves.

Lydia: Hi I'm Lydia and I have a film degree from the U. I work for No More Homeless pets in SLC and volunteer at Ching Farm Rescue and Sanctuary. I'm a lover of animals and the proud owner of 3 dogs (with only 11 legs total) and an ever rotating group of foster cats. I am happily married.

Nichole: Hi I'm Nichole and I'm a Middle School teacher for children with special needs. Also happily married, and a proud mother of one, I regularly volunteer my time watching NBC (somebody's got to do it!). I'm also an avid and VERY skilled snowboarder.

Matt: Hey I'm Matt. I work on the supply chain side of a huge, big box corporation and often feel bad about my lack of societal contribution. I'm the least qualified to co-host a podcast about TV and movies as I don't even hook my television to an antenna. I used to play guitar in two local bands you've never heard of. I also attempt to be an avid and somewhat skilled snowboarder. I'm the only member of the cast who is single and can often be found hanging out with hot babes (Lydia and Nichole).


Gavin: Let's start with Lydia, you got your degree in film at the U. What made you choose that area and what was your time like there?

Lydia: As an aimless college freshman, a friend of mine invited me to sit in on some of her film courses. I learned that you can actually major in watching movies and I was hooked! I had a great time learning the art and craft of filmmaking. I gained profound respect for people who do it well.

Gavin: Have you been working on films and projects since, or shifting focus into another area?

Lydia: I have worked on a few--a political documentary that never came to fruition and a few short narratives. I'm working on another project to film this summer. But I also work a lot in the animal welfare community, which takes up much of my time.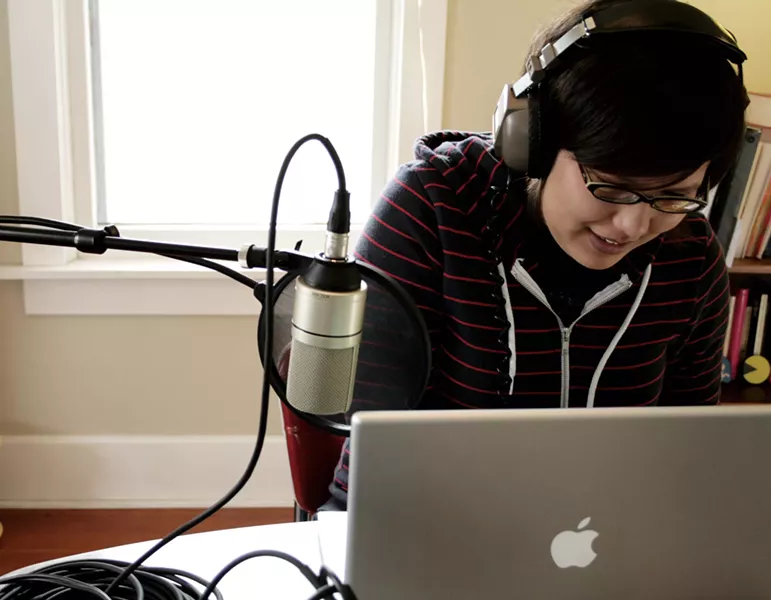 Gavin: Matt. You've been involved with the music scene for a while. What was your time like performing around?

Matt: I got involved in the Salt Lake music scene when Kilby Court was just opening up. It was an exciting time. SLC has always had one of the best music scenes. I remember going to three shows a week. My friends and I definitely were more of outside spectators. At the time, I felt a little alienated from the scene because I didn't grow up in Salt Lake but that wasn't anyone's fault but mine. I was in an obscure band for eight years. We played a couple shows a year and had ridiculously long songs… twenty minutes and up. It was fun but we were definitely more on the outside of the indie scene. The other band I was only played a couple shows. Both bands were literally comprised of my best friends so it was fun to spend time with them and I wouldn't trade that time for anything in the world.

Gavin: Since both bands broke up, what have you been up to lately?

Matt: I'm looking to play bass in a band. I think that'd be fun as I normally play guitar. Unfortunately, I don't have as much time to devote to playing music as I used to but I listen to an eclectic mix of music as possible and am always looking to expand my collection. I also have a house that I'm constantly working on that takes a lot of my time and attention outside of work. Other than that, I lift weights, obsess over the contents of my fridge and anxiously wait for the day Henry Rollins will become my lover. An exciting life to be sure!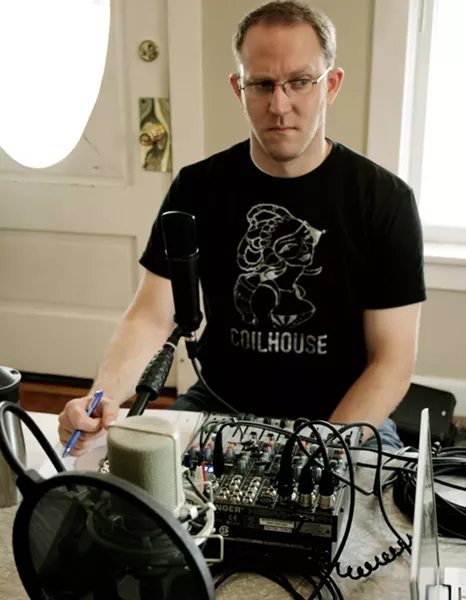 Gavin: And Nichole, you're time is kinda split between teaching and snowboarding. What drew you to want to teach for a living?

Nichole: A complete and total fear of growing up coupled with a desire to do good in the world made teaching an obvious choice. Teaching, although it's sometimes very challenging, can be incredibly rewarding. And, it sure doesn't hurt that I get my summers off!

Gavin: Are you looking to be more professional in boarding or is it more of a pastime for you?

Nichole: Ha, ha! I'm going to answer this question by saying that I wouldn't turn down a sponsor if I was approached. That said it's pretty safe to say that only my mother would think I'm good enough to go pro.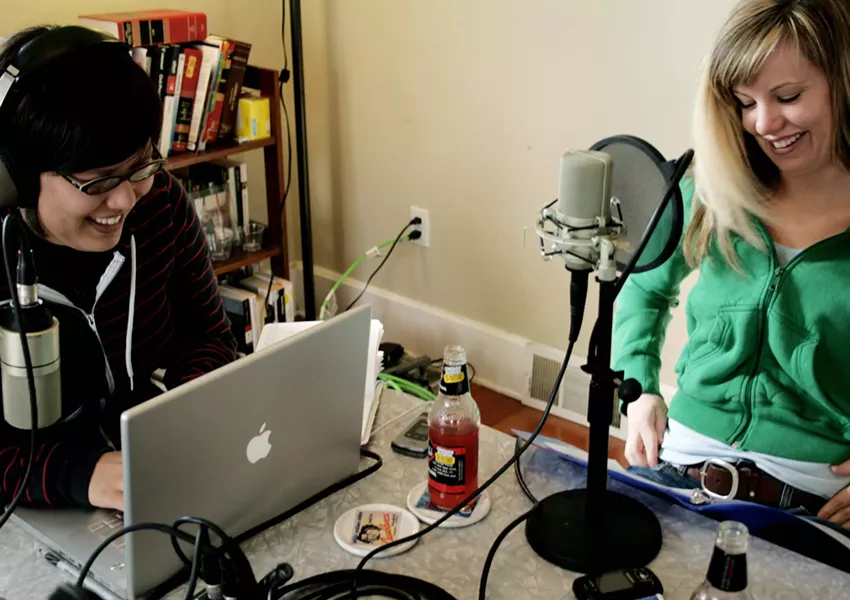 Gavin: How did all of you meet each other and become friends?

Lydia: We were the only survivors of Oceanic Flight 815.

Matt: I've known Lydia since High School. She and I kind of hung around in similar circles on the island of misfit kids. She's always been a big supporter of my time playing in bands and used to go to almost every show. Nichole married one of my best friends and instead of never seeing the two of them again, as sometimes happens when people get married, she actually became one of my best friends too and a good snowboard buddy. She listens to me talk about girl problems on the lift…

Nichole: I'm the "Other" of the group.

Gavin: When did the idea come about to start up a podcast and what was it like planning out how it would work?

Lydia: I had thought a long time about doing audio documentaries or commentaries, but it took the motivation of having a couple of partners to finally pull the trigger on something--this. There wasn't a whole lot of planning involved; it's been more of a fine-tuning process each time out.

Nichole: The first time we talked about doing a podcast was at a get together at my house. Drunk and laughing at our own jokes we decided that our collective wit and expertise was just what the movie podcast market was looking for.

Matt: We were drinking (surprise!) at Nichole's party and thought it'd be a great idea to start a podcast about Sex In The City (no joke!) as we are all fans. We were thinking of taking it episode by episode and doing a breakdown of each one. Then, we decided even that would drive us crazy and we'd have more fun taking in a broader sense and hopefully it would appeal to a wider audience. We basically wanted to sit around, have a few drinks and talk some shit about some celebrities. Oh, and the girls let me play whatever music I want so it's fun for me!


Gavin: What was the process like in figuring out the format of the show and how you'd record it?

Lydia: Basically we wanted it to be like Siskel and Ebert, but less informed, and like Mystery Science Theater, but less funny. We've succeeded brilliantly so far.

Nichole: With the less informed and less funny format in mind we developed a general outline for our first few casts. Over time, we've tried to build on what we feel like is really working like Lydia's "Clash Of The Titans" concept.

Matt: We generally try to record three or four at a time because of our schedules. That also gives us a lot of time to prepare and "research."

Gavin: How was it for you after the first few recordings? And what made you decide to push on?

Lydia: I was super scared and nervous the first recording. We even re-recorded a few. But I had so much fun doing it, and it gets easier every time.

Matt: Yeah, the first few were a little rough. We were all really nervous and unsure of ourselves. The sound quality wasn't too great. However, it was something we all new wanted to keep doing so we dug in and with the help of some great friends got this thing off the ground.

Nichole: It was a damn good time, that's what made me want to continue doing it.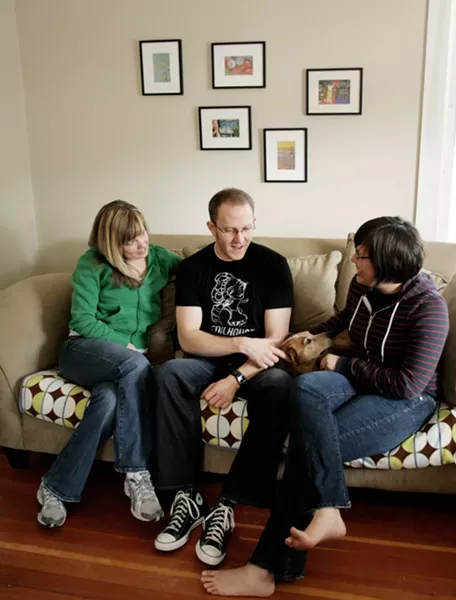 Gavin: Where did the ideas come from for segments like "Blast From The Past" and "Clash Of The Titans"?

Lydia: The Clashes were born out of our defending to the death our favorite actors and directors. I'm currently lobbying for the Haim vs. Feldman clash.

Matt: Trying to set our selves apart from other podcasts and at the same time keep things interesting. There are a lot of podcasts that get really deep into their subject matter and have expert-like opinions on them. One listen to our cast and you'll discover that's not the case so it makes sense for us to keep it as light and funny as possible.

Nichole: The 'Blast From The Past' shows were just us being nostalgic old saps. The three of us even cried in one of our "Blast" casts – in fact I'm tearing up right now thinking about the Haim/Feldman cast – saps indeed!

Gavin: Being a trio, how is it for you to interact with each other during a recording and balancing out the input and reactions with every show?

Lydia: It's basically a drinking game, when someone is talking the other two have to drink. So far it has worked.

Nichole: I have the alcohol tolerance of an eight year old and that's why I talk so much; more talking equals less hang over. We're a good mix and I can't imagine doing the show without both Matt and Lydia.

Matt: I, on the other hand, can imagine the cast without Lydia and Nichole and it makes me terrified! I like the dynamic it brings to the show. It takes the pressure off of one or two people. Lydia and Nichole are conversational juggernauts so I don't have to try too hard.


Gavin: Do you prefer the open conversational style or do you wish you had more time to edit it up like it were a more produced show?

Lydia: I like a more casual show, it's more realistic. Overly produced shows can have an informal feel; I like feeling like I'm sitting with some friends talking about movies.

Matt: Yeah, I definitely prefer a more relaxed atmosphere. You have to have structure to keep the show going but if it feels like we're rushing through something just to keep a format I don't think the show would work as well.

Nichole: I like some structure, but it's also important that the conversation feel natural and unforced, otherwise it'd be uncomfortable to listen to.

Gavin: Are there any plans down the road to expand the show or add more to what you've been doing now, or is everything kind of play-by-ear at the moment?

Lydia: It would be fun to have some local filmmakers on, to give it a local flare.

Matt: I want to do a road trip podcast, where we get on the road and talk about our favorite road trip movies. Then we stop at a rest stop and ask random people their favorite road trips films. It should work really well down in Utah County!

Nichole: I like Lydia and Matt's ideas. I have lots of ideas too, but we can only be as ambitious as our day jobs will let us.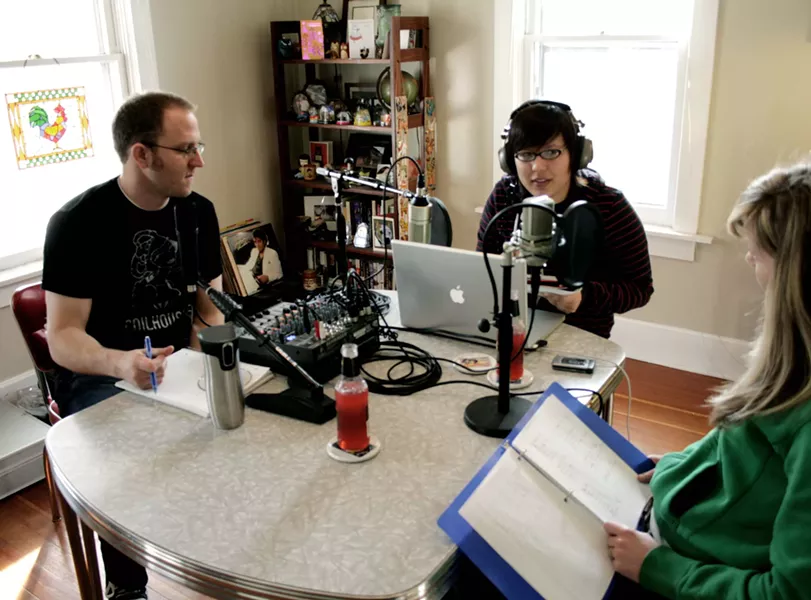 Gavin: Going more local, what are your thoughts on the podcasts coming out of Utah these days, both good and bad?

Lydia: There are so many podcasts right now, many of them based in Utah. I think it's great and try to listen to as many as I can. The potential to reach a wide audience is there, even if the podcast is based in Utah. The Geek Show is prime example, they get thousands of downloads a week.

Matt: There are tons of great podcasts that are produced locally. From podcast versions of radio shows that are better than most national shows (Radio West, Radio From Hell) to straight podcast shows (Geek Show). However, I feel that it's the more "underground" shows that are going to set the pace with what can be done with a "local" show.

Gavin: Do you have any favorite local shows you listen to and recommend?

Nichole: I listen to Tales From The Parent's Basement; it's a great podcast about comic books. The guys involved are coming out with their own comic book next month.

Lydia: I listen to Bill Frost's True TV podcast and the Awkward Hour.

Matt: The be all, end all movie podcast is A Damn Movie podcast. That's a great show. Tales From The Parents Basement is a fantastic cast about comics. They get pretty deep, they know their stuff, but they keep it interesting and funny enough that the layman can enjoy as well. I'm amazed at the interviews they get. Some really huge guys in the industry.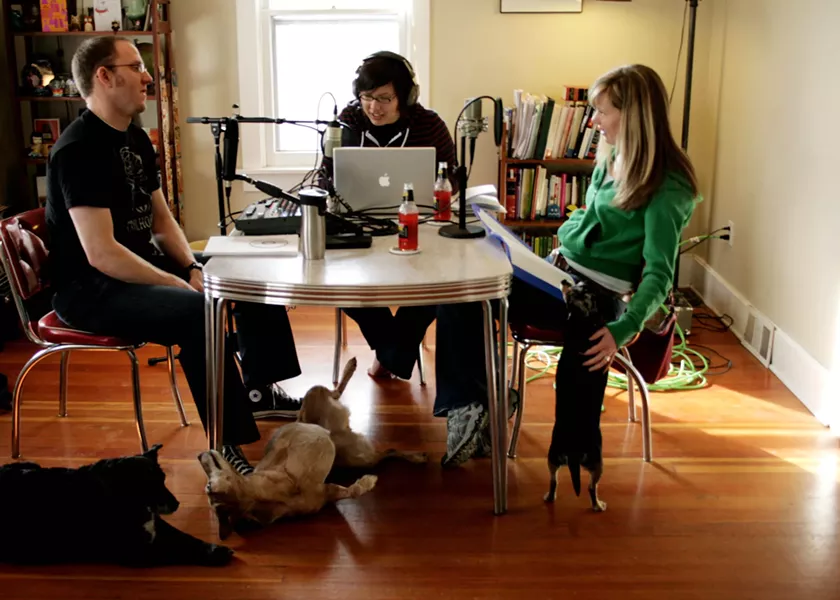 Gavin: Where do you see the medium going both locally and nationally over the next few years?

Lydia: I would like to see it supplant some of radios more deranged political talk jocks.

Nichole: I agree with Lydia. I expect to become a venue for people who just want to get their voice out there. It's a very accessible medium.

Matt: There is a "punk rock" aspect of the genre. As long as you have the ambition, you could take it anywhere and, as Nichole said, it's pretty accessible. It's going to slowly grow and get huge.

Gavin: What can we expect from the both you three and the show the rest of the year?

Lydia: We are planning more special guests and more clashes, and we want listener suggestions for the clashes (e-mail groundbreakingsht@gmail.com). We are also going to do a live cast the night of the Oscars, perhaps the first of many!

Matt: I'm very excited for our Oscar night podcast we are doing. It'll be different for us but really fun I think. However, I think at this point we may need to retain a lawyer to protect us from any impending lawsuits from slanderous comments made…

Nichole: We may get matching tattoos -- not really.


Gavin: Is there anything you'd like to plug or promote?

Lydia: Michelle Emerson Photography, Youth Impact Ogden, Nick Wheeler for doing our logo Weber School District's Christmas Tree Jubilee Foundation.