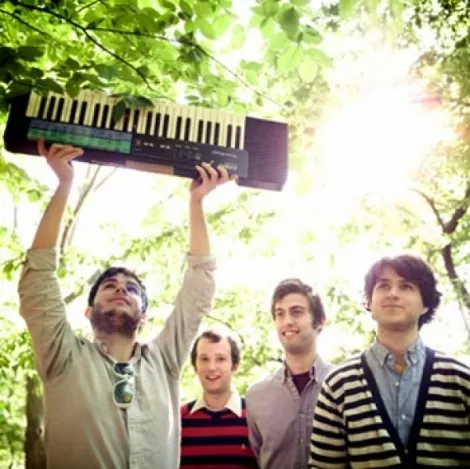 Vampire Weekend plays at In the Venue on March 18---

Not gonna lie- when I first heard about Vampire Weekend, I hated them before I'd ever listened a single song. It seemed like they were just four pretentious hipsters capitalizing off the Twilight-spurred vampire craze to gain a fan base when they got together in 2006. But, they soon seduced me with their song "Oxford Comma," as I listened to it and thought to myself yeah! Who does give a fuck about that stupid third comma? Then they had to go even further and put RZA, Lil' Jon and Jake Gyllenhaal in the music video for "Giving Up the Gun," and I just couldn't keep hating them. Although it took some effort to forgive them for the Joe Jonas bit. That brought me back to the whole capitalizing off teen obsessions thing for a second there.
Oh, right, Vampire Weekend actually plays music.
Led by Ezra Koenig, the four man band's said in interviews that they are influenced by African music, and that comes through on the percussion in many of their songs on "Contra." And Koenig's voice (except when they employ Auto-tune in "California English") is strong- he can actually sing, so he doesn't have to latch onto the whole 'you can tell we're cool and indie because our singer has a really whiny voice' gimmick.

My favorite thing about Vampire Weekend, though, is that they are impressive live. I haven't been to a show yet, but they performed on the Tonight Show with Conan O'Brien on January 11th (video below) and sounded completely together, even if the band was a little subdued. They also added strings in the background, which contributed to the overall sound even more. All that said, Vampire Weekend's show on March 18 at In the Venue should be a good one, particularly because they apparently have good onstage banter. Their last six shows have sold out, so if you're planning on going, get your tickets early. Even though they most likely won't bring Jake Gyllenhaal dressed in tennis gear, Vampire Weekend's unique brand of "Brit-pop/New wave/African" music will hopefully make up for that. If not, Jake clearly already taught Ezra Koenig the art of bedroom eyes:
Vampire Weekend @ In the Venue, 579 West 200 South., 801-359-3219, March 18.