Carolyn Barrani's work is featured at Lamb's Grill---
The needlework of Carolyn Fairbanks Williams Barrani is intricately designed on various pieces, creating a range of objects like framed mosaics, pillows and stuffed sheep. She uses bright colors and puns involving animals like "Ewe's not fat... ewe's FLUFFY!" to accompany her artwork, stitching words across the backs of most of her three dimensional pieces. Although some of the slogans featured on the backs of animal-shaped pillows can be a little corny, the art Barrani creates is elaborate, and it is clear how much time went into each piece.
Barrani was the first person to ever receive the award for Sterling Scholar in Art from East High School, a recognition that was well-deserved if Barrani's current works are any testament to her artistic skill. She's moved around the world throughout her life, which explains the global themes in some of her pieces, like "String Theory," a mosaic stitched in different shades of blues and purples that proclaims "We are all connected in variety and color."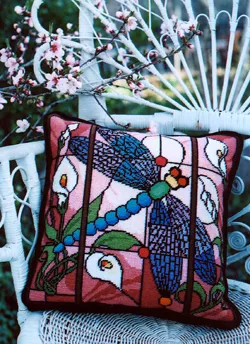 In perhaps her greatest accomplishment, Barrani led the creation of the "New Elizabethan Embroidery" project- an embellishment of the bed-hangings in George Washington's ancestral home in Sulgrave, England. Barrani is also the founder of
Tapistree
, where aspiring needlepointers can purchase kits to work on- though I wouldn't expect to come close to Barrani's level of expertise.
The intricacies of Berrani's work make the price tags worth it, but you aren't looking to spend up to $500 on one of Berrani's own pieces, she sells kits for around $50, which if they're done right look like something you could take home to mama when all's said and done. I could live without all the puns, but since most of them are stitched on the back of pieces, it would be easy to hide if you weren't into that. Oh wait, it's Utah. We love puns. In that case, I would go with the cow declaring "You're better than all the Udders." Nothin' wrong with a little self-esteem boost.
Carolyn Fairbanks Williams Barrani @ Lamb's Grill, 169 S. Main Street. www.tapistree.com
Call 801-583-2002 for a color brochure.