(to listen to the raw 10-minute interview with Chaffetz, click the play button above)

Utah Rep. Jason Chaffetz spoke with City Weekly this morning explaining why, despite his Nov. 30, 2009, call to bring the troops home from Afghanistan he voted against a resolution that would have directed the president to do just that.

In short, he says his criticisms of the war in Afghanistan are the same as they were in November, but he voted against this resolution in particular because despite "exceptions through the end of the year for safety concerns" the resolution was unpalatable because it called for a 30-day withdrawal.---

So it's not that he opposes a pull-out, he just opposes this particular version of it.

As you can hear in the podcast of our conversation, I had a hard time knocking him off his talking points. Those are:

The president has not defined what victory in Afghanistan looks like
The Afghanistan resolution called for a 30-day withdrawal, which he says is irresonsible
The United States should not be involved in nation building

That's where the interesting "Goldilocks" dilemma lies. If we're not going to "nation build" Afghanistan away from traditional tribal rule, but it's irresponsible to pull out now, what is the happy medium between those two things that Chaffetz wants to see happen?
In short, he doesn't know.

"I think we need to come up with a strategy to execute on that," was one answer he gave me.

Pressed again for affirmative recommendations to the president, he added,

"I don't have solutions for every bit of it. I don't believe war should be micromanaged by some member of Congress, but I think its the responsibility of Congress to ask difficult questions and hold the president accountable to answering. Our president has failed to do that."

So, to paraphrase, Chaffetz feels its his role--at least in regards to war--to ask difficult questions and criticize weaknesses in the president's plan, but it's not the role of a Congressman to come up with solutions or better ideas.%uFFFD

That's at least logical. But ultimately its the voters who decide what Congress's proper role is and can express their views at the voting box.

So, Utahns of the 3rd District,

What do you think?
Initial post from March 11, 2010

---
Nov. 30, 2009, Utah Rep. Jason Chaffetz spoke against the war in Afghanistan. He said, "Mr. President, it is time to bring our troops home." So why did Chaffetz yesterday vote against a resolution that would direct the president to end the war? ---
H.Con.Res.248,"Directing the President, pursuant to section 5(c) of the War Powers Resolution, to remove the United States Armed Forces from Afghanistan," failed in a vote of 65 to 356.
Utah's other House members, Reps. Rob Bishop, a Republican, and Jim Matheson, a Democrat, voted against the resolution also. The resolution was sponsored by Democratic Rep. Dennis Kucinich, of Ohio. Just five Republicans voted in favor of the resolution including Rep. Ron Paul, of Texas.
Democratic Rep. Patrick Kennedy, of Rhode Island, blames the national press corps for Americans' apathy toward ending the war. Nearly all the war opponents were even-tempered and calm during their speeches, but not Kennedy.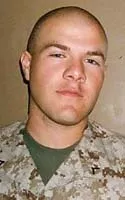 Since 2001, there have been
1071 American soldiers killed in operation Enduring Freedom
. That death list includes Carlos A. Aragon, 19, of Orem, who died in Helmand province of Afghanistan March 1.
He served as a Lance Corporal in the 4th Light Armored Reconnaissance Battalion, 4th Marine Division, Marine Forces . He died supporting combat operations according to the Military Times.
"This country is great because of people like Carlos who, at a very young age, step up and do the brave thing," Chaffetz said after Aragon's death.
Meanwhile, Chaffetz, 43, posted a press release on his official Website yesterday regarding his promise to seek no earmarks. There was no press release regarding his vote against the Afghanistan resolution. I placed a call into his office this morning; I was told the Congressman has meetings today but will call me to answer questions when he has time to do so. I'll update this post when that happens.

The operation in Afghanistan costs $3.6 billion per month (pdf) but that will increase as the Obama administration is projecting an 8 percent jump in military spending during 2010, a spending level that had been estimated by the Bush administration.
For more on Chaffetz's November recommendations regarding Aghanistan, click here.