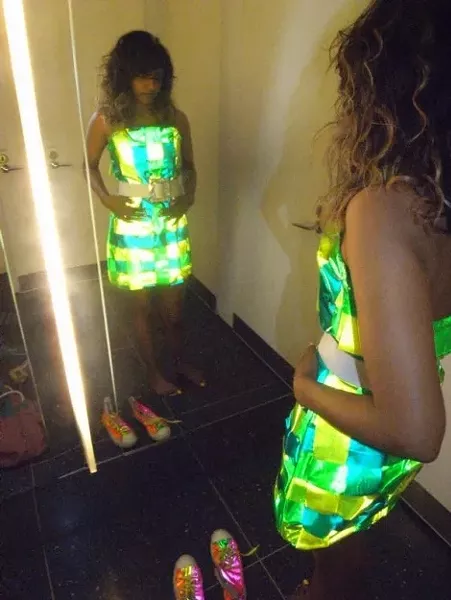 It was a sad day in 2008 when M.I.A. announced she would no longer be touring. But, perhaps unsurprisingly, she's back. ---
After the birth of her son last February, M.I.A. has recorded a new album that's rumored to be coming out as soon as June, and she'll be doing a festival tour this summer. Unfortunately, the closest M.I.A. will get to Salt Lake is Los Angeles, but she's worth that drive to see live. I saw her in November 2007, and it was probably one of the best shows I have ever been to- she was full of energy throughout the entire concert, even scaling stacked amplifiers to climb up to the balcony and dance with the crowd. Even if she hadn't been an amazing live performer, her outfit alone could have kept the crowd entertained through the set- if you ever want to hold people's attention, wear spandex leopard-print pants and a neon green shirt. In fact, pretty sure we'd all be a lot happier if everyone dressed like M.I.A., but I digress...
Considering the success of M.I.A.'s last album, Kala, which was intensified by the single Paper Planes being featured in the trailer for Pineapple Express, the next album could have a hard time reaching such heights. The album has been described by collaborator Diplo as having a heavier sound, with more singing and less rapping. Fine by me; M.I.A.'s originality should shine through no matter what genre people choose to put her new album in.