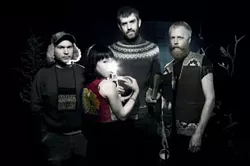 If you aren't dropping down towards Joshua Tree for the Coachella Music and Arts Festival, April 16-18, don't worry, because many of the killer acts are coming through town on their way, including last night's knight-slaying Little Dragon show.---


As can be the case when touring bands trek from Denver to SLC for back-to-back shows, the bus arrived late, so Little Dragon started late. This Swedish foursome is easily forgiven because of their funky, R&B/ Pop-dance repertoire. Earlier this year, their talent was recognized by joining forces on two numbers—"Empire Ants" and "To Binge"—with the Gorillaz on%uFFFDPlastic Beach.


I was told they skipped the opener—English, soul-singer VV Brown—for the time crunch (I also arrived late). Warming up ears, they played a couple of tunes before launching into "Never Never," off of 2009's Machine Dreams; it delivered surprisingly heavy drum lines. Drummer Erik Bodin rigs up an electronic drum machine onto his standard, cymbal heavy kit, thus incorporating echoed slaps—reminiscent of Dub—also dashing in some timbale flares to boot.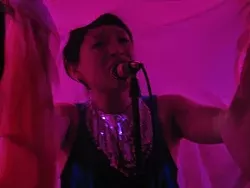 Frontwomen are always better barefoot, in turquoise, playing drums and dancing more than the audience. While that might sound like a backwoods hoedown, Yukimi Nagano—who fits the bill perfectly—is far from backwoods, with metropolitan dance moves and equal parts chic and confidence. She's surely a frontwoman to keep an eye on. She helped add an extra percussive layer by clacking on a wood block, banging on chimes, ratt-a-tatting on her tambourine and even busting out the drum sticks for a trippy outro to "After the Rain."


Her spell-binding voice, full of soaring soul, set in front of a truly tight synth and bass heavy band, especially got the crowd into songs, "Stranger" and "Looking Glass."



But, as the music began to escalate—just over an hour in—and the crowd reciprocating Nagano's energy, the short set ended. They closed with "Feather." Too bad it was such a short set, because many could have kept listening and dancing for hours. If you missed the show, they have an abundance of songs on their Myspace page, or you could always just break open the pink piggy bank and head to Coachella.