Kilby Court is a genuine staple and treasure to Salt Lake City residents. The all-ages venue tucked into a corner off 7th South and 300 West still impresses after all this time.---
April 10th saw local cats The Spins and Max Pain & The Groovies literally bringing the house down—people were falling into heaps from erratic mid-dance collisions. The crowd response to Max Pain and his Grooviness (whatever the hell that means) was the most aggressive I've ever seen in a place I've been visiting for at least a decade, especially for the type of music being played. One doesn't expect "slam dancing" to music that isn't punk or metal, but these younger Utah fans seem to ooze this kind of energy.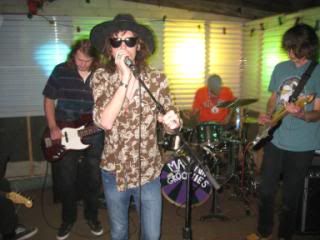 With two guitarists, a bassist, drummer and bespectacled lead singer, Max Pain & the Groovies made some excellent neo-psychedelia-inspired rock with touches of southern grit. One of the only critical bits to offer would be the need for some better mic control from lead singer Slave (or Slavid), and a bit more work on large stages, which these gents will be getting more experience with come April 17th, playing with CWMA 2010 winners The Naked Eyes at Snowbasin.
Talk about The Spins has been floating around City Weekly's offices for some time, and for good reason. This trio is solid and a bit more polished than the Groovies. Their set had some amazing straight rock moments, sans vocals and pretensions. Guitarist Mike Sayer really rips and does it consistently and convincingly; someone has been practicing scales.
These young bands are a challenge to the older folk in their genre. The kids have energy and great social-networking skills that some of their older teachers lack. The next few years will see these bands coming of age and playing in 21 venues. Start practicing more, longtooths; you're going to need it to compete with these young bucks. See The Spins at another all-ages venue, Mojos in Ogden, April 24th.