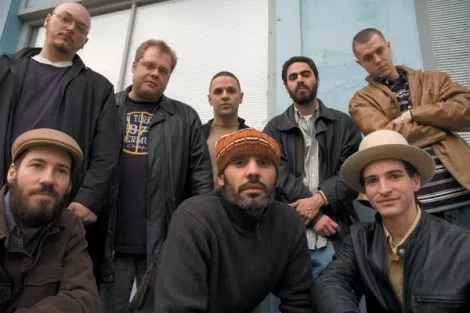 A bunch of white dudes from Cambridge, Mass. might not seem like they could get down on some traditional reggae, but lo, they create the infectious, feel-good vibe that outdoes should-retire acts like the Wailers.--- The opening act takes its name from John Brown, the abolitionist and freedom fighter; it was chosen carefully. "I saw John Brown as a paradigm and a paradox of American history. Someone who fights for justice and god's will using a gun…To me, he's a white man fighting for an African cause. And because we're basically a white group singing liberation music for black people, I see a real parallel there. He's an underground rebel, a freedom fighter." said former
John Brown's Body
frontman Kevin Kinsella once in an interview.
William Weston Patton's version of the Union marching song "John Brown's Body," starts, "Old John Brown's body lies moldering in the grave/ While weep the sons of bondage whom he ventured all to save/ But tho he lost his life while struggling for the slave/ His soul is marching on." Which is a mildly decent metaphor for a JBB concert. The "soul" is the marching, stomping and twirling of the audience; or maybe they are the "saved," the ones transformed, albeit for one evening, by songs of liberation and praise.
Either way, JBB knows how to put on a show. Frontman Elliot Martin was interacting with the crowd a lot and it looked like the band was having a good time. He kept saying that they enjoyed being in Salt Lake and was surprised and flattered at the turnout and the energy. Initially, I, too, was surprised at the turnout for a Monday night. Maybe the trustafarians and yuppies' sons and daughters didn't have to be at work, but the crowd was actually pretty diverse. Some of the highlights of the set included a couple new songs off of
Amplify
and
Re-Amplify.
Then they launched into some older ones like "33 RPM." They invited local Lady Omega up on stage as their set closed out. Praise Jah for bringing some good reggae and world music to town.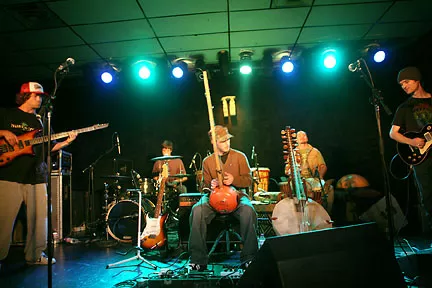 It would have been more appropriate to have Toubab Krewe play first. The crowd began to dissipate and folks were saying they just wanted to hear more Reggae. Unless you're familiar with TK's West African style—particularly Malian and Senegalese flares—it's hard to wrap your head around them. They also lacked crowd interaction, which lost points among the audience.
I used to see them in Knoxville, TN when they were just starting out; they'd go on small five-city tours out of Asheville, NC. And, tonight, despite others' reggae leanings, TK didn't disappoint my sentiments. They plunked at the beautiful Malian Kora (21 string harp-lute), the kemelengoni (12 string harp-lute that they crank distortion on) and pounded meticulously on numerous Western and African drums. Demonstrating their music capabilities (as if foreigners mastering West African music wasn't enough), they ran the gamut from traditional West African music, then played a down-home Appalachian cut where string plucker Justin Perkins sang, which was surprising. They showed versatility in covering some Dub, then moved into a more jammy, rockin' last few songs. As has been their custom, the encore was a full-fledged, all hands on deck Drumfest—sending everyone out into the streets with good vibrations.