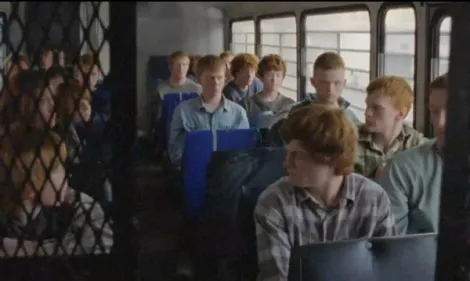 M.I.A's new video for "Born Free," in which red-headed children are rounded up like Cherokees, Jews, Armenians, Tutsis (pick your favorite victim of genocide) is violent, disturbing, scary and.... not too far removed from reality? ---
It's a brilliant video, though some may complain that's its violence is gratuitous and its message delivered with a heavy hand. I'll defend both those critiques. The violence is moving--in a disturbing way--allowing the viewership to share in a universal emotional experience. Once everyone is on the same page--that ginger kid genocide is obviously not OK--a serious conversation can begin from common understandings. It's then easier to discover one of the intended messages--no doubt--that there is no acceptable level of discrimination or harassment against "ginger kids" and other groups defined by arbitrary and ultimately meaningless characteristics like hair color, skin tone, religious beliefs, sexual identity or expression, etc etc. 
Warning: Not safe for work (violence, brief nudity) 
Where this really gets interesting is taking the message back to one source of that discrimination: Comedy Central's South Park. As reported in the well-done news video below, a 2005 episode of the show seems to have prompted some incidents of violence against red-haired children. I'm not going to blame South Park entirely--discrimination and violence seem, to some extent, human nature--but I believe they have some responsibility in this area (for more on that, read about the role of radio in the Rawandan genocide of 1994).
The South Park writers' responsibility is to be in touch with their audience--to the greatest extent possible for creators of mass media--and understand which jokes will be properly interpreted as irony and which are more likely to spur something really disturbing like "Kick a Ginger Day." It's my view that very meaningful and important comedy can be ostensibly offensive but basically funny at its core, but that requires the audience to receive the joke in the right way--and that requires a joke writer with savvy, nuance and good judgment. With great power (to create content for mass media) comes great responsibility (assessing the maturity and civility of your audience).