I have it on good authority that Comedy Central is canceling The Sarah Silverman Program, which sucks because it's the only show that features gay characters that actually look like me and my friends. --- (Take Brian and Steve, substitute "jazz," "classical," "prog rock" and "show tunes" for "metal," and you've pretty much got Dave and me.)
Not that I've got anything against the fancy-boy gays like Kurt Hummel on Fox's Glee (anybody who can belt out the finale number from Gypsy the way he can is just fine with me, even if we must point out that Ethyl Merman, Tyne Daly, Patti LuPone -- and even kinda Rosalind Russell -- managed it without a metric shit-ton of pitch-correction) or that hilarious Johnny Weir from the Sundance Channel (after all, aren't the travails of a twisted, narcissistic Olympic figure skater the stuff of which TV dreams are made?).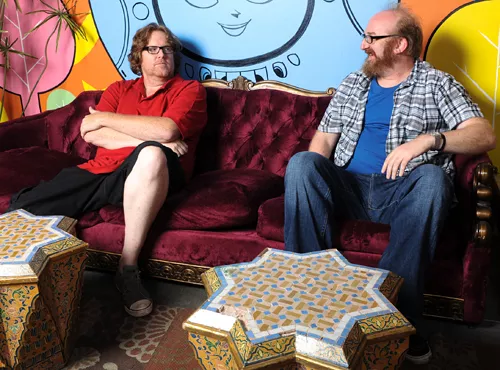 It's just that the amount of money, time and attention I'm willing to devote to hair products limits me to whatever I can pick up on sale at Smith's Marketplace. Right now, we're working our way through a matched set of TRESemmé bottles of shampoo and conditioner. Mind you, that stuff could set you back some during the '80s; not so much now. (There may also be an antique can of Paul Mitchell Extra-Body Sculpting Foam way back in our bathroom cupboard somewhere -- which is where it's likely to stay, since even though Mitchell mousse absolutely rocks on a permed-and-scrunched, cellophaned Reagan Era 'do, it's absolutely useless on lank, 13-inch hippie hair like ours.)
So, no -- I'll never be a fancy-boy, and I'll miss those geeky gay slobs on Silverman. They're gone now, and there's no sense getting all weepy about it.
On the other hand, Comedy Central has eased our pain by making full episodes of The Daily Show and The Colbert Report available on Comcast's On Demand service. Finally!
Eps may be a week old, but they're a goldmine if you missed something, and they come with relatively few commercials, which means the viewer can set down the remote instead of nervously thumb-twitching the fast-forward, play and rewind buttons every few minutes.
Of queer interest:
Andrew Sullivan on The Colbert Report.
Sullivan's political stances are often too reactionary for my tastes, but he's a woofy bear with one of the handsomest beards in the biz, and I watch him ardently. Also, I like the Terry Colon caricature he uses in his blog for The Atlantic because it reminds me of the good old days of Suck.com (not a porn site). In this episode, Sullivan and Colbert discuss the British elections. (I'd like to note, however, that Republicans who consider the British results a bellwether for November should note that Tories are rather to the left of American Democrats.) Navigate: On Demand > TV Entertainment | Comedy Central | Colbert Report | Colbert 05-06-10
"European Gaycation" segment on The Daily Show.
More evidence that homophobic right-wingers are hypocrites (it never gets old, does it?). This time, it's anti-gay activist George Rekers, who hired the services of a goofy-looking twink from Rentboy.com to, um, "lift his luggage." Also, Jon Stewart's main guest is Chef Mario Batali, author of Molto Gusto. Batali is likable and insightful, and pings my gaydar like a fiend. Jokey, homophilic references fly during the interview (including the Stewart quote: "This is the best cock I have ever had"). Navigate: On Demand > TV Entertainment | Comedy Central | The Daily Show | Daily Show 05-06-10