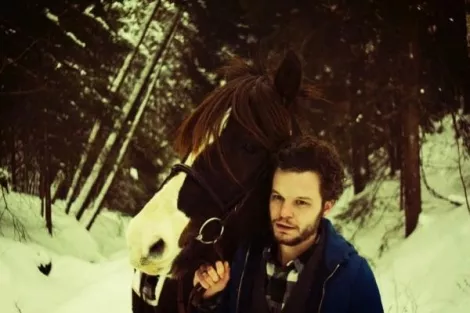 Several slabs of wood, tuning hardware, metal inserts along the neck—innately a guitar is very static object, but, when in the right hands, it can carry life far beyond a living, breathing thing. ---The Tallest Man on Earth's skilled fingers enlivened his six string in just that manner last night at Kilby Court.
Equipped with finger picks, Sweden's The Tallest Man on Earth—the nom de folk of Kristian Matson—picks a fine mix of rhythm and lead, generally at one volume, which is the same as his singing: loud. He seemingly screams his vocals in a haunting, off-kilter way that, at once, is warm, uniquely desirable, yet dissonant. It's like the sound of a train taking off; in another thought, it might be more like a raspy train-hopper's decanted howl after a couple years of chain-smoking Marlboro Reds, but still with some hints of youth.
Tallest Man had swagger emanating from every pore for his first performance in Salt Lake City, and the sold-out crowd wasn't disappointed (neither were the many who sat outside listening to whatever sonic waves would make their way through the rear door). Of the 15 tunes he howled, some of the highlights included set opener "The Wild Hunt." After a couple of tunes the heavily-strummed "The Gardener" made way for the more mellow "Love is All," all from his second LP, 2010's
The Wild Hunt
. Unexpectedly, then, he diverged into Paul Simon's "Graceland," which has a sing-along treat for many.
"With all this fever in my mind/ I could drown in your kerosene eyes / You're just a riddle in the sky" sang part of "Where Do My Bluebird Fly?" Lost love, lost friendship, just being lost ... loss could be what Tallest Man hinted at when he repeatedly told the audience all his songs were about the same thing, but each sounded different. That theme stands in opposition to his quirky on-stage demeanor and banter; he said, "Nah, I'm a happy dude. I'm so lucky. I feel good tonight." Then a lady in the front row said "He just got laid," to which he jokingly responded, "You gotta be a little classier," then mumbled something about a beautiful woman just flew into Salt Lake City to see him. Being the tallest man on earth must come with some perks.
The poppy, catchy "King of Spain" rounded out the set. As the set ended his guitar amp that was trying to quit on him, so when he appeared for the encore he said he wasn't going to let it win and if it was going to die, then so be it. He rocked that little amp and afterwards he said he won. The last song "The Wheel" has unplugged, standing on a box onstage, he loomed over the hushed crowd with his crunchy voice and picking, the only other sound were people's shuffling feet to inch closer to him. That was a beautiful way to say good-bye.
*Concert photo courtesy of Kelly Huster, visiting music junkie from Jackson Hole's public radio station 89.1 KHOL