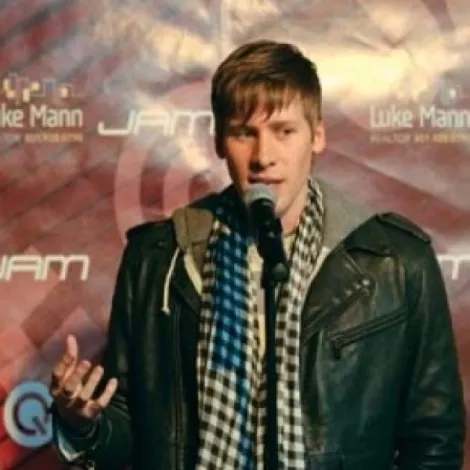 Utah's queer community is once again in a national spotlight after Oscar-winner Dustin Lance Black's piece in
OUT
magazine that he researched while in Utah pimping
8:The Mormon Proposition
, ---a film that he narrated and was shown to sold-out audiences at the 2010 Sundance Film Festival.
I interviewed Black about his research. During that interview, the former writer for HBO's Big Love said Salt Lake City reminds him of San Francisco of old. "[Salt Lake City] reminds me a lot of the divide and passion that I found when I was reading about San Francisco in the late '60s and early '70s. ... San Francisco was traditionally a conservative area that was going through a sea of change." He researched that era while writing the screenplay for Milk, which earned him an Oscar.
(at right, Dustin Lance Black speaks in Salt Lake City in January. photo by David Daniels)
Featured in Black's OUT article, "Pillars of Salt," are activist and KRCL producer Troy Williams; media maven Princess Kennedy; philanthropist Bruce Bastian; four members of the so-called "Gang of 5," Equality Utah exec director Brandie Balken, Utah Pride Center exec director Valerie Larabee, Jon Jepsen and Jim Dabakis; Utah's first gay state senator (now former senator) Scott McCoy and current legislators Ben McAdams and Chris Buttars; among clubs, Paper Moon, Trapp, and, as chosen by City Weekly readers, Utah's Best Gay Club, Jam, all got named dropped; local photog David Newkirk also got some OUT lovin'; among others.
Black interviewed me--me!?--for his OUT article--yes, really, me!--shortly after I interviewed him for City Weekly, but the only reference I got was this: "When we got [to a Salt Lake City party], the place was filled with gay men and lesbians: a photographer, a journalist, a political aid—a lot of different occupations, but one overriding theme. Everyone there was young and attractive" (italics mine). I now choose to believe that a very hot Oscar winner thought I was young and hot. Hey, that's plenty mention for me!
If you never got around to reading The Nation magazine's take on Utah's queer politics, check their June 2009 article as well for lotsa more local names dropped. Headline: "What's Right With Utah."
Final note: if you missed 8:The Mormon Proposition at Sundance, it will be released nationally June 18.