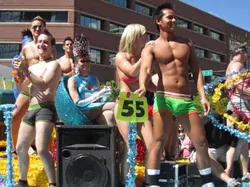 It's Sunday morning in Salt Lake City, but it may not be what you think. The streets of downtown are lined with drag queens, teenagers dressed in an assortment of rainbow colors, parents with children and yes, the occasional gay cowboy. ---
The diverse crowd at this year's Pride Parade, ranging from tiny tots to "Grannies for Gays," was testament to the long way Utah has come to become more accepting of the LGBTQ community.
This year's parade featured LGBTQ-related organizations, local and national companies, religious and non-religious groups, universities in Utah and politicians, many of whom were booed for being in the parade, except for special guest Sarah Palin – perhaps only because the banner behind her read, "She's Not Our Future."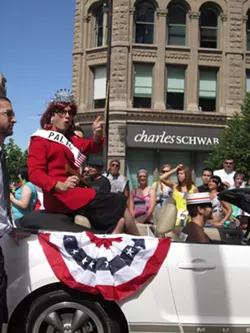 Some crowd members felt like local Utah politicians participated solely for publicity, while others were grateful for their presence.
Educational groups such as Planned Parenthood also made an appearance in the parade to pass out condoms and hold up signs saying, "Keep Abortion Legal" and "Birth Control, Not Bans."
Signs held up by other groups challenged onlookers, asking, "What is the difference between gender identity and gender expression?" noting that in 2005, "53% of queer street youth attempted suicide," and stating, "Transgender: Engendered Species."
While some parade floats were educational, others were entertaining. A group of swimmers in Speedos danced a routine to Rihanna's "Rude Boy" and cowboys in denim short shorts worked it on top of a float. Other entertainers featured actors, pole dancers and circus performers.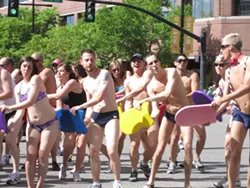 Up and down the streets of downtown Salt Lake City, crowd members showed overwhelming support for each group that participated in the parade, cheering for those who performed as well as those who had a simple message to send, including statements such as "All Families are Forever" and "Straight but Not Narrow."
At the end of the parade, people were given an opportunity to donate money to the LGBTQ cause by throwing cash and change onto a long, rainbow-colored flag.
Local resident and active member of the LGBTQ community in Utah Rhett (who said that he, much like Cher and Madonna, goes by a first name only) declared that one day, that flag would be draped over the Temple. His idea garnered a wide fan base, as fellow supporters up and down the streets began catching on to the idea and passing it along.
Susie McCarty of the McCarty Talent Agency in Utah said that she was impressed with how far along Utah has come.
"One of the things that has been so great is the community, which has relaxed and just let people be themselves," she said. "There's a great turnout here, and people are being more supportive."
Rhett, who has attended every Pride festival in Utah "since the beginning of time," said that he noticed the difference as well. Although he did not march in the parade this year, he said that he led the very first Pride Parade in Utah, which he said was "tucked away and hidden."
Among men in booty shorts and strippers in glitzy outfits, it's fair to say that nothing about the 2010 Pride Parade was tucked away or hidden.