Two
local roller-derby bouts in one weekend--well, technically three, since one is a double-header: ---The Salt City Derby Girls play at the Salt Palace on Saturday, then Wasatch Roller Derby plays at the Taylorsville Rec Center on Sunday morning (!).
Saturday's bout sees SCDG's all-star Salt City Shakers taking on the Microbruisers of Fort Collins, Colo.'s FoCo Girls Gone Derby, followed by a home-teams bout featuring the undefeated-since-who-can-remember Leave It to Cleavers vs. the upstart Bomber Babes. Tickets are $12 in advance, $16 walk-up; doors at 5 pm, bout begins at 6 pm. Tickets available through SmithsTix.com and SLCDerby.com.

The 2010 SCDG season promo video: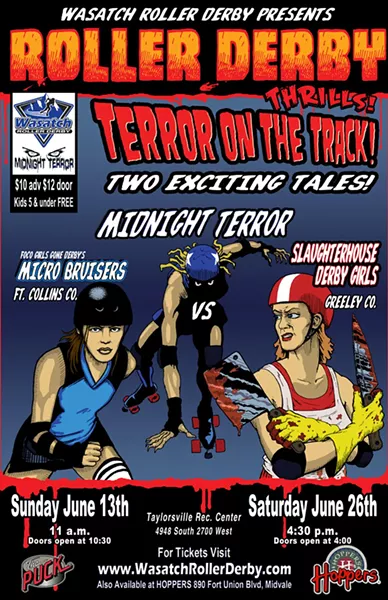 Sunday morning at 11 at Taylorsville Rec (4948 S. 2700 West), Wasatch Roller Derby's all-star Midnight (Mid-Morning?) Terror face off against--that's right--the FoCo Microbruisers, who apparently want to get
both
of their Salt Lake beat-downs out of the way this weekend. Tickets are $10 in advance, $12 walk-up; doors at 10:30 am. Tickets available through
WasatchRollerDerby.com
.
WRD's Midnight (Mid-Afternoon?) Terror will play again at Taylorsville on Saturday, June 19, taking on Greely, Colo.'s Slaughterhouse Derby Girls at 4 pm.
Full local league schedules: Utah Roller Derby: 2010 Preview.