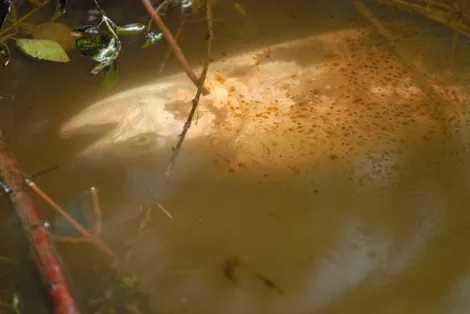 Chevron officials discussed twice yesterday the possible cause of the oil spill being a Rocky Mountain Power fence post that was inserted into the ground within inches of the pipeline. ---While that focuses attention on the power company's role in the spill, Chevron officials say they inspect the pipeline every week and Rocky Mountain says the fence was installed in the early 1980s.
So if the fence post's proximity to the pipeline was unsafe--but was unsafe for nearly 30 years--who's to blame?
photo by Dan Gorder
Spokesmen from both companies and government officials say the theory of the cause is preliminary but Salt Lake City Fire Department Deputy Chief Karl Leib says his department subscribes to the preliminary conclusion that the fence post was somehow electrified Friday night causing a quarter-size hole in the pipeline, which then leaked approximately 33,000 gallons of crude oil into Red Butte creek, which flowed through Miller Park and Liberty Park before flowing to the Jordan River.
Rocky Mountain power says a tree branch touched a transmission line under high winds, and that's what caused the power outtage. Leib says it's unclear how the fence post became electrified--the damaged pipeline buried three feet deep showed signs of charring.
The fence post, Rocky Mountain says, supports a fence that protects a transmission wire as it transitions from overhead to underground. Rocky Mountain spokesman Dave Eskelesen could not provide the exact year of its construction but said it was installed in the early 80s. The pipeline is much older than that.
I've put in a call to the Pipeline and Hazardous Materials Safety Administration (USDOT). I'll update when I hear back from them.

I asked Chevron spokesman Mickey Driver about the fence post situation at last night's Town Hall meeting. Below is our conversation, only minimally paraphrased, mostly to eliminate Mr. Driver's redundant comments about the preliminary nature of the investigation.

JF: When was the last time that area was inspected?

MD: What kind of inspection are you talking about?


JF: Just sight, just look at it, or any kind of inspection.

MD: We have a fly-over every week.

JF: [A resident] raised a question about 'blue stake violation,' you know, 'call before you dig,' that sort of thing. The fire department at least thought the fence post may have either been touching the pipeline or within just a couple inches of it. My question is, did that scenario exist for 30 years?

MD: Our investigation will capture all that stuff and look at it. We don't want to go by hearsay or somebody just saying something. We will actually look at documents to look at a timeline of when what took place and anything else that was taking place at that time.


JF: I understand there's a federal agency that's also in charge of pipelines, but what is the responsibility of the company to, say, just walk along the pipeline every once in awhile?

MD: We inspect the pipeline visually every week.

JF: But one particular stretch of it, how frequently is one particular stretch of it inspected?

MD: Every week, every week, every week.

JF: By helicopter or airplane?

MD: By airplane.

JF: Do you think there was a safe way of having the Rocky Mountain Power facility with the pipeline there, was there a safe way of doing all of that?

MD: Well, that's a highly speculative question. We haven't finished our investigation. So we at this point in time don't have any comment on that. All we've said is what we found when we investigated our section of pipe that had the leak in it. And, so that's all we said right now.
Set aside for a moment the question of how valuable flyover inspections are when the problem in question happened three feet underground. Instead think about what Chevron, Rocky Mountain Power and regulators could see, even from an airplane. They could see a 7-foot chain link fence surrounding an electrified power line moving from overhead wires to underground in the immediate proximity of a crude oil pipeline that happens to lurk beneath one of our most beloved natural spaces that is connected by waterway to several other cherished, natural spaces. According to the preliminary investigation, that's what they could see.