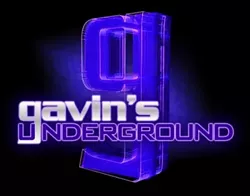 No matter what fun, exotic or particular taste you may have, chances are there's an organized community devoted to it in town. More specifically today we're venturing into the gratifyingly gory topic of zombie culture. And while the city has its own Zombie Walk (check back with us in August), beyond Halloween related events there isn't much in the public view. Unless you slowly crawl to the computer and glance your undead eyes over here...



--- Salty Zombies was started up as a way for fans of the horror genre to chat and socialize, eventually leading to the planning of events and parties, even weekend-long celebrations, all in the spirit of the ethereal incarnation. In fact you can join in the celebration Saturday night as they host the Zombie Pub Crawl. And yes, costumes are highly recommended. Before the event kicks off we sit down and chat with the founder of the group, Zed Bailey, as well as the person who will officially take over as he departs his role, Samantha Burraston. Talking about their contributions to the community as well as the group, plus a few other topics. Along with some pictures to give you ideas.

Samantha Burraston & Zed Bailey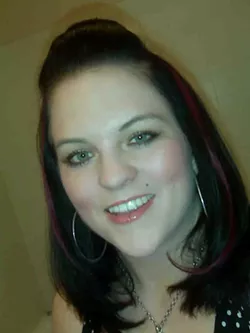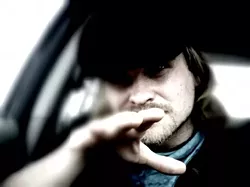 http://saltyzombies.com/

Gavin: Hey Samantha and Zed! First off, tell us a bit about yourselves.

Samantha: I'm a 29 year old rocker who refuses to act my age. I grew up in a small town with virtually no night scene. Once I moved to the city I made it a point to get involved and explore all the unique sides of Salt Lake City. As a result, I'm very involved in local culture including music, zombies, mountainboarding, skateboarding, art, and DIY Punk Rock. I especially like the Rockabilly scene in SLC.

Zed: I have been living in the city of Salt for over five years and have always loved sharing in the DIY culture and community.


Gavin: How did both of you first take an interest in horror, and more specifically the zombie mythos?

Zed: I have always enjoyed a good scare, specifically a good zombie scare. Why? Because as George Romero once said in an interview, "They are us." What is more scary then having your third grade teacher, Mrs. Hanson a rotting corpse lumbering forward? Zombies aren't some removed far off notion, no they are us.

Samantha: Living in a conservative community, I didn't get to watch a lot of slasher and horror flicks, so the "off limits" intrigue was strong for me. Once I realized how fun the adrenaline from the fear is, and that it eventually goes away, I was hooked! I grew up hunting, camping, and learning survival techniques. Like Zed explained, they are us. It could happen at any moment. Zombies are a fun way to keep up with survival preparation while having a good time. Are you prepared?

Gavin: Zed, you're probably best known as Tall Bike Jesus. How did you first start constructing the bikes and become that figurehead in the cycling community?

Zed: I gained a passion for the bicycle in the lonely streets of Provo, Utah back in 2001. From there my love blossomed and grew into the Salt Lake City organization Salt Cycle. I wouldn't consider myself a figurehead, I hate that idea - one person running everything. Rather, I would consider myself an advocate among advocates that advocates cycling culture.

Samantha: He kinda looks like Jesus with that long hair. Yes, he is a leader. Most good leaders are advocates. He just does a damn good job of advocating.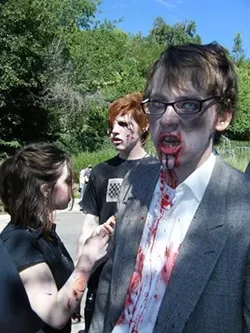 Gavin: How did the idea come about to start up Salty Zombies?

Zed: It was a natural extension of my other Salt project Salt Cycle. I enjoyed the zombie walk in August, but felt it was limited to figureheads organizing the events. It seemed a natural step to bring the organization back to the people, allowing everyone and anyone to post their horror events onto Salty Zombies.

Samantha: He's right. There is enough interest in the valley, we just needed to "Organize and Rise".

Gavin: What eventually led to planning out events? Also, what was the first event and how did it go for everyone involved?

Zed: I started planning events back in October. I didn't wanted to add flavor to the SLC by pushing forward a zombie event. The result was the Salty Zombies Crawl. It went very well. Not a huge number of individuals attended, however the walk felt more fluid and exciting than other previous zombie walks. I decided to mimic it in the style of the bicycle event Critical Mass - no leaders, directions - just the zombie horde mindlessly gravitating towards various destinations. We wound up at the Gateway at some point, a perfect place for mindless wanderings.

Samantha: I asked Zed if Salty Zombies would present the First Annual Zombie Pub Crawl this Saturday. He was on board, and now the horde is growing restless. It's easier to walk like a zombie when you're drunk, anyway.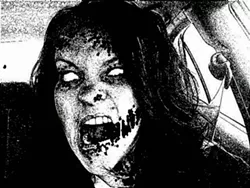 Gavin: The website quickly turned into a community-based forum. What did you think of the response you started getting?

Zed: It is still very young, around 40 members. The response, however has been great and there is anticipation to grow it larger and larger with each event. People want to be involved in the horror scene. They just need a reason, a location. The Salty Zombies Pub Crawl will do this and more for the website.

Samantha: Creating events that bring awareness to the forum will help the scene grow faster by facilitating communication. There are a lot more than 40 people in the zombie scene. For example, the first Zombie Prom had over 200 people in attendance. The Zombie Walk had nearly 300. We just need to organize and communicate. The member based forum Zed created is doing that for our scene.

Gavin: Where did the ideas for all the events comes from and how did they start turning into charity events?

Zed: The Salty Zombies forums are often the place where individuals bounce ideas off each other before committing to them. The charity end of it seemed natural, open and was Samantha's idea.

Samantha: Brainstorming sessions are fun. It was a group decision to start doing charity work. We chose to accept donations for the Utah Food Bank at our first stop on Saturday, (The BayLeaf Cafe 6PM at 159 South Main). We don't need canned food anymore, we eat brains.


Gavin: Zed, What eventually made you decide to move on from leading the website?

Zed: I outgrew Salt Lake City and needed a larger city to take on with a new set of adventures. My love for Salt Lake still remains, but my heart is elsewhere. It was only practical to give it to someone so motivated, and inspirational as Samantha.

Samantha: He made it clear that he wanted to hand the project off to someone who would not let all his commitment and hard work fade. I plan on staying in Salt Lake City and raising a family. Zombies will eventually attack, so why not help the valley get ready?

Gavin: Samantha, you originally started up the Extreme Sports Club out in Tooele. How did that idea come about and what was it like running it?

Samantha: I was president of several clubs and understood how to manage a group of people. My high school sweetheart had asked me to help lobby the city to build several skate parks. I felt it would be easier to lobby with a backing from the student body. I created the club, taught people how to work together for the common goal, then stepped out. The drafting class created plans and the lobbying was successful. Three skate parks went up in our community because of the efforts of our group.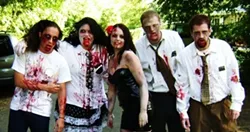 Gavin: Since that time you've had a stint at 2News, you've become heavily involved with localized extreme sports, even taken part in the hip-hop community. What made you want to take part in so many different aspects of local culture?

Samantha: I was producer for our high school television station "Buff News". I approached 2News about internship, and they allowed me to come learn their equipment and systems. I helped my high school sweetheart build and show a low rider Chevy S-10. That got me into rap music. I hated the negative lyrics and the harsh words that rappers used to describe independent women. When I moved to Salt Lake City, I met a professional mountainboarder named Halston Rhodes who taught me about hip hop and action sports. I learned that hip-hop has the bass and beats of rap, but with a positive vibe. I started exploring the hip hop scene, even competing in a rap battle. Haa ha. I'll try anything ONCE. I liked the core values that Halston and the DirtStar Army shared, especially community involvement. They host free learn to rides to teach kids how to ride mountainboards every summer, including the venture outdoors festival the morning of Zombie Pub Crawl. You can meet him at the Pub Crawl later that night. You can check out more via Venture Outdoors Festival at Canyon Rim Park, 3100 South 2900 East. The venture activities from 8AM-3PM and the festival is 3-10PM.

Gavin: When did you originally hear about and get involved with Salty Zombies?

Samantha: Halston Rhodes sent me a link.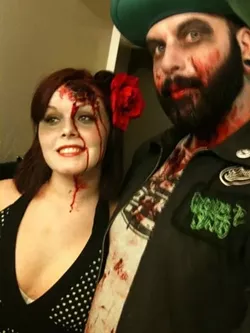 Gavin: How did you meet zed and how did the idea come up about taking over?

Samantha: Zed sent out a mass email asking if anyone was interested in working with him on the site. I volunteered. After several brainstorming sessions, Zed taught me how to run the website and communicate with members.

Gavin: Now that you'll be running things, what plans have you got in store for Salty Zombies?

Samantha: Salty Zombies will still be a community forum. Whatever the horde wants, We'll organize. We are planning to host the Zombie Pub Crawl annually. Our members are hosting more events this year, including; Strankenstein's Zombie Prom, Summer's Dead Festival, and Night of the Running Dead 5K Creep and Crawl. I am really excited for the 5K where the living run from the dead. Clever.


Gavin: The big thing to talk about is the Pub Crawl on Saturday. Tell us a bit about the event and why you chose the Utah Food Bank as the supporting cause?

Zed: This is going to be an insanely great event that will push horror culture forward in ways never realized before. Just think of its simple nature: Zombies, Beer. That in of itself is a recipe for awesomeness.

Samantha: We start the night out by dining at the BayLeaf Cafe. This event is free admission for ALL AGES. This gives the horde a change to mingle and moan. Dinner specials available if you would like to eat the food of the living. Here we collect food donations for the Utah Food Bank. We then send the kids home and move over to Cheers To You for $2 cocktails while the bands interview with Helmut Von Schmidt on KBER101 from 6-8PM. We end the night at Burt's Tiki Lounge with a huge after party. Simian Greed takes the stage at 11PM to rock the dead. Giveaways, including free music downloads and stickers from the stage. The first 100 zombies get a Die Monster Die album when they enter. Costume contests include Best Moan and Best Leg Drag. During the Die Monster Die performance, we will be crowning Miss Undead 2010. There should be a great turn out for hot zombie chicks for the Miss Undead contest. This is a party worth leaving the grave for.

Gavin: Going a bit local, what's your take on the community-built events around the city, both good and bad?

Zed: There is a great need for events, so if you have an idea and run with it, the response is often very positive. However, often events and organizations are very figurehead oriented. We need a DIY culture similar to Portland, Oregon. There they tell you, "Fuck you, do it better," and mean it. In the city of Salt we often end up pushing our energies into leaders and hope that they will carry us forward. As a result, when someone leaves the community, events often die. With organizations that are less top down and across the boards like Salty Zombies, it is my hope that a wide range of individuals will organize and rise horror events in SLC.

Samantha: I agree with Zed. Having one person organize the group effort is important, but the group has to be the one making the effort to be sustainable. We've found that community involvement is what drives a successful event. Sometimes, when the figurehead is responsible for everything, they start to burn out and can't keep the event going. Having a city based event allows people to attend planning meetings, meet in person, and work together. On the bad side, it's hard to find sponsorship for city wide events. Sponsorship funding for national events are easier to find. We find ourselves being resourceful with our limited resources for community-built events. Our generous sponsors, SLUG Magazine and Coors Light have been amazing.


Gavin: Is there anything you believe these groups and organizers could do to make them bigger?

Zed: Most of the organizations need less hierarchy and more encouragement from contributions from everyone. When everyone contributes the events don't belong to one individual, the community owns them.

Samantha: Again, I agree with Zed. Delegation of duties to responsible people allow the events to grow. Sometimes it is challenging to find people you can count on. That's why a community run event is important. When volunteers approach the organizer and want to be involved, they are more likely to come through. If I ask for volunteers and assign responsibilities, only half of it tends to get done. Let the event unfold, instead of trying to make it happen. It may be different than you intended, but it will be a successful group creation none the less.

Gavin: What's your opinion on the annual Zombie Walk every August? And will you be participating in it this year?

Zed: Amazing event that got Salty Zombies rolling. However, like most people I feel the first walk was much more better orchestrated than the second. The biggest problem with this event is, according to my understanding, ran mostly by a single individual. So sustainability issues arise. Which is why we are pushing for a community in Salty Zombies. Its not about me or Samantha, its about the entire Salt Lake City horror culture. If you want horror events to keep occurring in Salt Lake City, contribute. A post, a comment, a blog, a event. Anything. Its that simple.

Samantha: I think the person running it has a lot on their plate. If you want to see improvements, reach out and volunteer to support the zombie events by posting on the website. The zombie walk is an awesome event. Do your part to keep it going. Don't touch pedestrians, Stay out of the street, don't leave blood on buildings or sidewalks, and respect the public. It's a game, not a take over.


Gavin: Over the years there have been attempts to do a Halloween parade with little success. What would be your suggestions to formally have that happen?

Zed: There needs to be excitement grown about it. While key figures need to be involved in orchestrating the event, it needs to be carried by the community and the local businesses of Salt Lake City to be a success.

Samantha: The horror culture in Salt Lake City must grow before the Halloween parade can be successful. Attend small events, tell your friends, and keep participating. I'd be down to organize a parade in a few years when we have more forward momentum.

Gavin: What can we expect from both of you and Salty Zombies throughout the rest of the year?

Samantha: You never know what to expect. Events pop up based on community suggestions. Get online and tell us what you want!

Zed: Whatever the community wants. You have an idea? Post it. You want a Halloween Parade? Talk about it, get the ball rolling.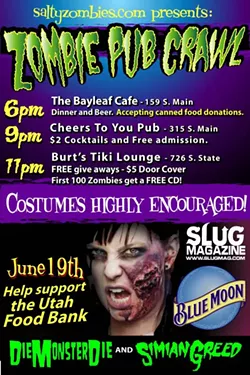 Gavin: Aside the obvious, is there anything you'd like to plug or promote?

Zed: SaltCycle.com will forever more be my first love of Salt Lake City Culture. If you like bikes and live in Salt Lake City, check it out.

Samantha: My first project and ongoing love is the mountainboard scene: DirtStar Army. Professional Dirtboarders Van Dewitt and Halston Rhodes, Van@dirtstararmy.com or hbomb@dirtstararmy.com, (801) 949-5013. And WidowMaker Hill Climb (Motorcycle), Friday and Saturday June 25/26, 2010.