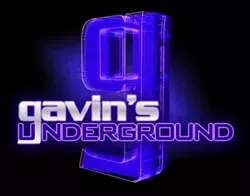 On average when people look at illustrations, not much thought is put into the idea of the time and effort behind those pieces. Whether it be a political cartoon, product advert or even a children's book, the truth is a great deal of planning is put into every piece, sometimes down to fine details only see up close in the original. The idea behind it set up so that every single picture could stand alone as its own work of art.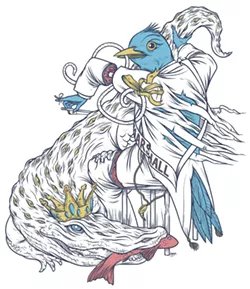 --- David Habben has been showing off his brand of illustrated work out for nearly four years, establishing himself with a number of publishing companies before moving on as a freelance artist for hire. By which he's been able to work with and be showcased by The Wall Street Journal, Nike and Xango just to name a few on his impressive portfolio. I got a chance to chat with David about his works and career so far, plus his thoughts on our local art scene.

David Habben


http://www.habbenink.com/

Gavin: Hey David! First off, tell us a little bit about yourself.

David: Ha, hate this question. Um, I'm 29, spent most of my life in Idaho and have been living in Utah off and on for six years. Got a BFA at BYU in '06. I've been illustrating and designing since I was 16, in one capacity or another, but have been freelancing full-time for two years now.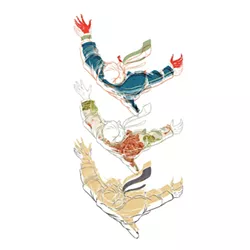 Gavin: What first got you interested in drawing, and what were some of your early inspirations?

David: I've always loved to draw and have been blessed to have encouraging friends and family. My mother's very creative and though she won't admit it, she's a fabulous artist. Classic books like Curious George and anything Dr. Seuss were great inspirations when I was younger, as well as cartoons like "Thundercats", "Voltron", "Batman: The Animated Series", etc. Eventually I gained an appreciation for "fine art", but those early influences never really left.

Gavin: Originally you went to Boise State for your degree. What made you choose Boise and what was their program like?

David: The original choice was based on proximity and cost, but after working with the faculty there I counted myself lucky to be in the program. Boise State opened up my mind artistically and allowed me to try my hand at things I hadn't thought of before. I'll always be grateful for that experience and the influence of great instructors there.


Gavin: What made you decide to switch over to BYU and what were the differences between the two programs?

David: There were a lot of reasons for the transfer down to BYU, but a big part of it was the arrival of the opportunity. It seemed like a challenge and a change, two things I tend to chase after in my life. The program at BYU was much more focused on a classical approach.

Gavin: What was it like for you jumping into illustrating as a line of work, and how did you get your first gig with Robert Neubecker?

David: Working with Robert was a great experience. He's done just about everything you can do within the world of illustration, so learning from his experience was a wonderful opportunity. He had advertised through the school that he was looking for an intern and I was lucky enough to sign up for it. As for illustrating, I'd done that on different levels for some time, but working with Robert helped me to see more opportunities to make it a living.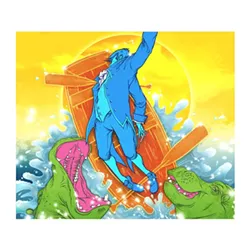 Gavin: You've worked for a number of companies over the years. 8fish, Struck, most recently Chronicle Books. What made you change so frequently, and how is it for you adapting your style of work to their clients and projects?

David: It's funny that people look at my job changes as "frequent", whereas for me they're more of a natural progression. I've been really blessed with some great opportunities and I think its just in my nature to try new things. The process of adapting is what keeps me on my toes and has allowed me to stay progress artistically. Working at Struck was a good example of that, as each project required a different approach and helped me to learn a variety of techniques.

Gavin: How did the idea come about for you to simply become a freelancer? And how was it for you building your own contacts?

David: I had always had freelancing as a goal. The idea of picking your own hours is a hard dream to shake. Then after working with Robert Neubecker and Alex Nabaum, I realized it was actually attainable. After working for Chronicle, I didn't really have a place to go, which was a new experience for me. I thought, now's as a good time as any, let's give it a shot.


Gavin: What's the process like for you in creating a piece from idea to final product?

David: It varies, but for the most part it revolves around information. I try to get as much information from my clients as possible, because the more I read over it, the more imagery comes to my mind. From there its as simple as sketching it out, getting client feedback, making adjustments and moving on to final artwork. My personal work is a much more fluid process, there's less, in any revisions, and I try to allow myself to express the imagination that is often limited in client-based work.

Gavin: Is there any set plan as to what the final product will look or more touch-and-go drawing?

David: With my commissioned work, there's more of a plan. My personal work is much more open. A good example of this is to compare my advertising work to what's in my sketchbook.


Gavin: Who are some of the publications and other businesses you've done work for?

David: PowerSpeak, Denizen Magazine, Worship Skateboards, SuperTopSecret, Chronicle Books, Struck (Nike, Pergo, The Wall Street Journal, Alltel Cellular, Toyota, John Deere, SkiUtah, Utah Office of Tourism, Corsa Motorsports, Deer Valley Resort, Xango, Specialized, Worldways), Threadless Clothing, Sasquatch Music Festival, WeLikeSmall, Air Supply, Utah Business Magazine, The Friend Magazine, Bain Capital, Iniciativa Colectiva Art Magazine, Marriott Alumni Magazine, Harpoon Market, Speakerdog, Core Knowledge Publishing, SLC Children's Theater, Inscape Magazine, Defiance Clothing, Blakbook, Catalyst Magazine, Leatherwood Press, The Daily Universe and The Arbiter.

Gavin: How is it for you hearing reactions to your work, whether in exhibition or just a simple flyer?

David: Its fun. I am just grateful to be able to create artwork that people enjoy and I hope I get to keep doing that.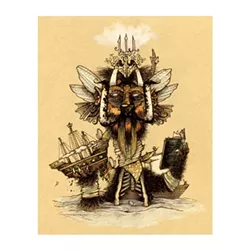 Gavin: Are there any major projects coming up for you or more commercial material?

David: I'd like to have a show before the summer is through that focuses on my sketchbook work, so I'm currently looking for a location for that. I do have a few more commercial projects happening as well and I might be heading back to school for an MFA this fall.

Gavin: Moving to local for a bit, what are your thoughts on our local art scene, both good and bad?

David: The SLC scene is moving in a great direction. The efforts of local galleries as well as places like the Salt Lake Art Center have made a huge difference. I think Utah has a really unique artistic vision. We shouldn't worry about comparing it to anywhere else, because its our style that sets us apart. The limitations we face as Utah artists make us stronger and more focused.


Gavin: Is there anything you believe could be done to make it more prominent?

David: I think the artist and patrons need to meet each other halfway. Both artists and patrons need to be willing to compromise a little if Salt Lake is going to become the artistic hub we'd like it be, but we shouldn't feel that we have to be New York or LA. Let them do their thing and we'll do ours. That being said, finding patrons who support newer artistic expression is always helpful, which is why finding ways to open the minds of Utah art-buyers is always at the forefront of a gallery owner's thoughts.

Gavin: What's your take on Gallery Stroll as a whole and what it's done for the art community?

David: I love the Stroll, especially the area around Kayo Gallery that has has street vendors and fashion shows. It brings people from all walks of life together and is a great opportunity for artists to present their work. One of the challenges of the Stroll is the distance between the galleries, but even that encourages greater exploration of the city.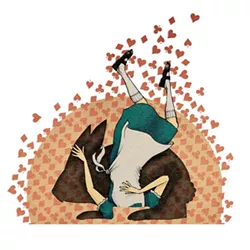 Gavin: Speaking of, what's your opinion of our local galleries and how they promote artists?

David: We've got some great galleries here that represent a wide variety of artistic expression. As I mentioned, they have their work cut out for them in Utah. What I feel they do best is that they provide an experience rather than just a viewing. Using events like the Gallery Stroll or organizing artist lectures, brings people into a shared experience with the art. Its part of our cultural progression that most people differ to the internet or, at best, a book to see art. The galleries provide an essential alternate to that by bringing people into direct contact with everything about the artwork from sight to sound and even smell. The personal experience makes the difference and our galleries are making great efforts to provide that.

Gavin: What can we expect from you throughout the rest of year?

David: This year has been a little quiet so far, but I'm hoping to put together a show soon. I do have some secret projects in the works, you'll just have to wait and see!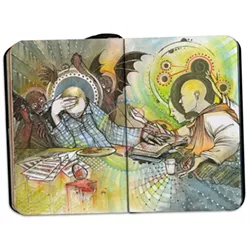 Gavin: Is there anything you'd like to plug or promote?

David: Be sure to visit my site and blog for all the latest info and links to purchase prints and skatedecks. Also, be sure to visit your local galleries. We've got some great shows coming up in SLC this summer including the complete mini-golf course open at the Salt Lake Art Center that will blow your mind.