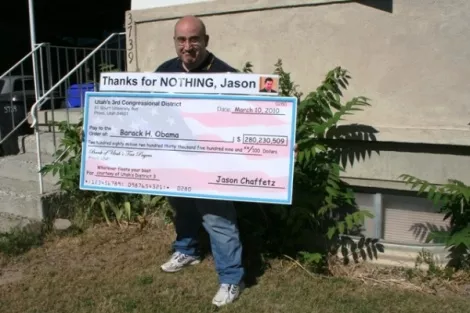 Part 1 of 5
Joseph Puente is an independent candidate running for Utah's 3rd Congressional District against incumbent leg-wrestler/cot-sleeper Rep. Jason Chaffetz.
---
The candidate very plainly locates himself smack-dab in the center of the political spectrum, but on the Libertarian side of the fence. Puente's major campaign goals include: 1. the implementation of publicly funded elections; 2. ending the wars in Afghanistan and Iraq; 3. ending corporate welfare, especially farm subsidies; and 4. reworking U.S. trade policies with an eye toward job creation.

Puente seems to realize that, despite the GOP's hopey-changey, cut-taxes-on-the-rich campaign ads, Republicans are no advocates for small government. Pictured, Puente holds a giant, Publisher's Clearinghouse-size check made out to "Barack H. Obama" in the amount of $280 million or so. This is the amount, Puente says, that Chaffetz claims to have "saved" in "earmarks" -- but what the incumbent doesn't seem to realize is that no money was saved; it got spent anyway, except at the White House's discretion instead of Chaffetz'.

Over the course of our correspondence, I've found Puente to be likable, with a self-effacing sense of humor uncharacteristic of the egomaniacal style rampant in American politics. Yet, his political approach is direct and frank: He'll tell you what he likes and what he doesn't like, with no waffling -- and, if undecided, Puente studies the issues until he knows one way or another.

I asked him five questions, and he took the time to thoroughly respond to each one. His responses appear in a series of posts on this blog. Here's the first:
Brandon Burt: What are the responsibilities of government toward veterans? How has Congress succeeded or failed in ensuring these obligations are met?
Joseph Puente: No one works harder and sacrifices more for their country and their families than those who wear the uniform of the United States military. As such, the government owes it to those individuals who put their lives on the line to ensure that when they transition back into civilian life they be given every advantage to obtain employment, education and housing.
This should not be confused as an entitlement. These men and women have earned our respect and our assistance in any capacity we can offer it through their personal sacrifice. This is not an abstract concept for me as I am a veteran of the U.S. Navy and have witnessed firsthand the struggles of veterans and active duty personnel.
The U.S. Congress, and the government as a whole, has fallen quite short of meeting its obligations to our active-duty military and our veterans over the years. There are active-duty enlisted personnel who are married with children who -- despite extra pay and allowances -- still qualify for food stamps. It could be years before an enlisted person with a spouse and children can earn enough money not be considered living below the poverty line.
This is unacceptable! A professional military should be paid like professionals. The No. 1 priority when it comes to defense spending should be to our active-duty enlisted personnel. When someone decides to swear an oath to defend this nation and put on a uniform, they should be paid a wage that is worthy of their sacrifice, especially when they join with the understanding that their duty may put them in harm's way.
As a vet, I've had my share of difficulties with the Veterans Administration. In the last 10 years, there has been a great deal of improvement, but things could be a whole lot better -- particularly where health care is concerned. I think that our veterans, after dedicating years of their lives to voluntarily serving their country, shouldn't have to navigate the mess that is our civilian healthcare system. I propose that all veterans, upon completion of their service in the military, be automatically enrolled into the VA health-care system with full medical and dental coverage. No veteran should have to be placed on a waiting list to be able to receive healthcare after all they have sacrificed in the service of their country.
Veterans applying for service-connected disability benefits also need a break. We need to reform the process by which they are evaluated and make these determinations of eligibility while they are still on active duty so that there is no gap in their treatment when they're discharged.
---
Supporting our troops doesn't just mean supporting those who still wear the uniform. We need to give them every advantage when they take off the uniform and come home.
---
The plight of homeless veterans is also a testament to the failure of our government to take care of their own. Whenever I see a homeless person, I remind myself that there's as much as a 1-in-4 chance that they are a veteran. I've struggled at times myself since I got out of the service with my housing situation. A couple of times, I almost found myself homeless, so this crisis hits especially close to my heart. The VA has been doing more in the last few years to combat homelessness among veterans but they can always use more help. It is not right that someone who swore an oath to defend this nation should be forced to sleep on the streets.
In addition to allocating more resources to the Veterans Administration to fight homelessness and improve the VA medical system, I would like to see a voucher program implemented to offer veterans subsidized housing similar to existing programs managed by the Department of Housing and Urban Development.
Another veteran benefit that is sourly in need of improvement is the GI Bill. When it was first implemented, the GI Bill didn't just cover education costs. A veteran had enough money through the GI Bill to cover their living expenses as well as their higher education. Thanks to inflation and the failure of Congress to ensure that the GI Bill kept up with rising costs, today the GI Bill can only cover part of the costs of a secondary education. When people join the service for education benefits, they often serve a four-year enlistment. In reality, their contract extends beyond that four years. After discharge, many veterans are in an "inactive reserve" status, which means that they can be called back into active duty at any time until that reserve status expires. I think if these individuals decided to go to school full time then the GI Bill should be updated to offer them enough money to meet all their needs outside of school especially if they are still eligible to be called back into active duty with little notice.
Of course, a lot of people are going to criticize these ideas because they cost money. The fact of the matter is, we spend too much money on "defense" as it is. We can easily find the money to take care of our veterans by pulling out of Afghanistan and Iraq and shutting down overseas bases that are not needed. Politicians like to talk a lot of "supporting the troops" but their actions make it clear that they are mostly supporting special interests and corporate welfare through no-bid contracts to companies that are little more than war profiteers.
Supporting our troops doesn't just mean supporting those who still wear the uniform. We need to give them every advantage when they take off the uniform and come home. It's unfortunate that when so many in our country talk about our "heroes," they seem to refer only to those who are in uniform or inside a flag-draped coffin. Anyone else is just a veteran and they don't seem to matter as much to those writing and manipulating the policies.
Next: In Part 2, Joe addresses the government's role in health care.