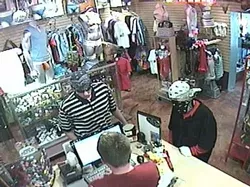 On Thursday afternoon, the Salt Lake City Police Department sent out a press release, asking for the public's help in apprehending two armed bandits (both white adult males, one thin in a striped shirt at about 6 foot 4, the other with a medium build at about 5 foot 7). --- The duo entered Cahoots Cards & Gifts at 878 E. 900 South on July 7 around 3 p.m. with the shorter man wielding a rifle/shotgun. After making demands for money, the thieves left the store through the back door to a waiting vehicle (thought to be a white four-door Ford, possibly a Contour) driven by a third suspect.
The police attached clear images with their press release, showcasing the pirate-like attire of the robbers, with Cahoots' colorful adult merchandise in the background.

A few hours later, the police department recalled its press release with no explanation.
One can only guess that the images of Cahoots' novelty merchandise were too racy for prime-time news, as the story did not run in other media, except on ABC4 which ran the story with the photos, blurring the naughty bits.
Even though armed bandits are standard fare for news broadcasts, banks and convenience stores must be the preferred backdrops.
In any event, if these pirates be mateys of yours, you know what to do: Call 801-799-3000. We don't need no gun-toting robbers tearing up the 9th & 9th.