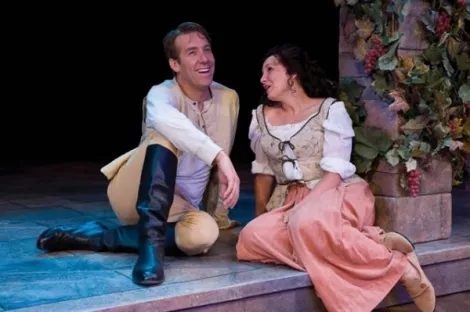 Many Shakespeare productions rely on the Bard's genius to carry the actors through, but once in a while, a cast can elevate his words to new heights.---
So it is with this year's Utah Shakespearean Festival production of Much Ado About Nothing. The romantic comedy might lack the gravitas of some of Shakespeare's other plays—the title even acknowledges as much—but the cast on display in Cedar City Thursday night made it a must-see for fest-goers for the rest of the summer.
It starts with the two leads (of sorts), David Ivers as Benedick and Kymberly Mellen as Beatrice. The two are both anti-marriage wiseasses who enjoy a long-running verbal battle of wits before being tricked into realizing they're in love with each other by other, more outwardly optimistically romantic characters surrounding them. Both actors tore into their parts with verve, eliciting roars of laughter from the crowd throughout their micro-level battle of the sexes.
That humor drawing the audience to Benedick and Beatrice paid off all the more when the characters had to react to the seemingly tragic end to another relationship in the play, that of young lovers Claudio (Matt Tallman) and Hero (Sara J. Griffin). Ivers in particular displayed an impressive knack for comic timing, pacing his words and exaggerated physical movements for maximum effect. It was something to behold. Hard as it was to keep your eyes off Benedick and Beatrice whenever they were on stage, their magnetism did not distract from the larger vision of the play, and credit for that goes to the rest of the stellar cast.
The plot for Much Ado is relatively simple. Benedick and Claudio are returning military heroes who toil under the leadership of their friend and mentor Don Pedro (Gary Neal Johnson), the prince of Aragon. Together, the three visit Leonato (Robert Ramirez), mayor of Messina, father to Hero and uncle to Beatrice. That is where Claudio and Hero meet and fall in love, and Benedick and Beatrice re-engage their contentious relationship.
Claudio and Hero are so anxious to be married, they plan a wedding for the very next day. But when Don Pedro's brother Don John (Ryan Imhoff) hears of the impending nuptials, the self-described "plain-dealing villain" decides to throw a wrench in the works. You know, just for kicks. Don John has a couple of his minions fabricate a ruse questioning Hero's virtue, which in turn causes Claudio to call off the wedding and besmirch her once-good name. Thankfully, a couple of barely competent cops hear Don John's lackeys bragging about their deed and bring them to justice, ultimately saving the day and leading to two weddings, those of Claudio and Hero, and Benedick and Beatrice.
The players around the couples are roundly excellent. Imhoff's Don John is the picture of villainy, clad in a long, black leather duster. Don Burroughs performance as the lead bumbling constable Dogberry (below) was hilarious each time he took the stage; imagine a manic Jack Black in the role of an army drill sergeant and you have some idea of Dogberry leading his small police squad.
Still, even when scenes like the wedding finale or the heroes' welcome at the beginning brought a slew of characters on stage, it was impossible not to focus on Benedick and Beatrice. Their collective, electric presence made the wit of Shakespeare's words come to life in ways unimaginable in lesser hands than Ivers' and Mellen's.
Much Ado About Nothing runs at the Utah Shakespearean Festival through Sept. 4. Visit the USF Website for more information and show times.