This year's Utah Shakespearean Festival is offering a world premiere of a new musical production of Great Expectations, but it's a show only Dickens fanatics could love.---
In fact, the story behind how it came to the stage in Cedar City is far more inspiring than the show itself.
This musical adaptation started as the passion project of an Iowa schoolteacher named Margaret Hoorneman, who taught the novel to high school freshman in a town called Le Mars. The way her students reacted to the tale of Pip and his unrequited love for Estella inspired her to try her hand at making a musical, a project that she undertook when she was 92.
Four years later, through the help of a grandson in the biz and various parties—composers, lyricists, etc.--jumping on board along the way, her musical Great Expectations made it through a Los Angeles theater workshop to be picked up by the Utah Shakespearean Festival. Now 96, Hoorneman was on hand for Friday's premiere at the Randall L. Jones Theatre, seeing her vision come to life—an adaptation that had been attempted before by others, only to fail.
So this version of Great Expectations is already a success on one level, but how does it work as entertainment for a modern audience? That question depends entirely on how much you love Charles Dickens, and how much you enjoy musicals. For me, those answers are "he's okay" and "hardly ever," and this adaptation of Great Expectations didn't change my mind on either score.
Hoorneman and her collaborators do manage to capture the vast expanse of the novel through the 22 original songs (penned by pop songwriters Richard Winzeler and Steve Lane, doing their first musical) and some brief rounds of traditional dialogue, and that's no easy task.
The performances are generally strong, and include some familiar faces. Magwitch, the escaped con Pip meets at the story's start and who turns out to be a benefactor to Pip, is done by Max Robinson, a veteran of dozens of productions at Pioneer Memorial Theater. Miss Havisham is played by Ellen Crawford, a veteran of many TV roles, including a long-running stint on ER, and her ghoulish appearance and delivery is campy fun—she'd fit well in one of Tim Burton's gothic tales, methinks.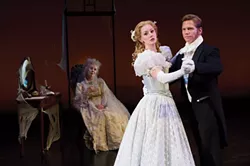 The duo of Pip (Jack Noseworthy) and Estella (Emily Trask) had the tough task of making likable what I find to be generally unlikable characters. Estella is designed to be cold, thanks to Miss Havisham's influence in making Estella a heartbreaker designed to destroy men's hopes. But Pip is the protagonist we're supposed to root for, even while he turns his back on his roots in becoming a "gentleman." True, he finds redemption of sorts eventually, being welcomed back by his childhood friends Joe Gargery (Dave Barrus) and Biddy (Melinda Pfundstein), but I still can't find Pip as worth caring about as I'm "supposed" to. But that's an issue with Dickens' character, not this production.
Musically speaking, the songs veer from hummable and poignant to sappy and saccharine—typical for musical theater in my experience. If you can handle that in other productions, there's nothing here you won't find appealing. And if you love Charles Dickens' novel, you'll certainly want to check out this version, whether for the novelty of it, or to find a renewed appreciation of the original. Just don't go in with too great of expectations.
Great Expectations plays at the Utah Shakespearean Festival through Aug. 28. Visit the USF Website for more information and show times.