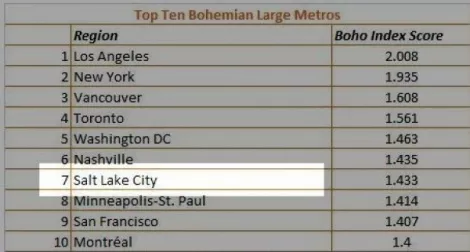 Richard Florida, author of the oft-cited The Rise of the Creative Class, says Salt Lake City is among the Top 10 Most Bohemian Large Metro Cities in America for our super-special concentration of artists, writers, musicians, entertainers and designers.---
SLC being ranked as the seventh-most boho' major city in America "may come as a surprise to some," Florida notes. Uh, yeah.
As City Weekly managing editor Josh Loftin wrote in Hits and Misses,

Although outsiders may be surprised, anyone hitting the gallery stroll, attending one of many concerts or theatrical performances around the valley or cruising the farmers markets can attest to a burgeoning bohemia.
I always tell people: the trick in life (and real estate) is to do those things which are really, really cool that almost no one else thinks is cool at all. That way, the costs are low, the lines are short and you actually earn the true spirit of the word cool, which had a very counter-cultural connotation before it evolved into yet another banal synonym for "good."
Personally, I've either lived in or spent a little time in seven of the top 10 cities, and I don't want to live in any of them except for SL,UT. In part, that's because the other cities have undisputed reputations for the bohemian-ness, which seems to be related to the fact that they're all more expensive to live in than Salt Lake City (Nashville might be comparable?). Those cities are also already so aware of their own specialness that their artistry is often over-shadowed by artistic pretentiousness, which Salt Lake City mostly lacks.
I've covered some of this territory before in my I Love You Salt Lake City blog post.

(hat tip to @DowntownSLC for providing the link via Twitter)