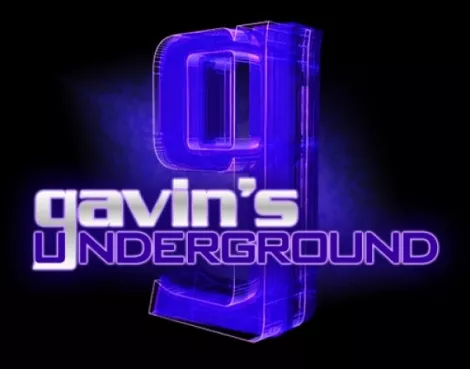 Today we're delving back into comedy, and the only way I could think to start this was to tell you a story. I've met Cody Eden on several occasions, but aside the special with Marcus at Kingsbury Hall, the last memorable moment was at a Halloween party last year. The picture below this paragraph shows him coming dressed with a beret and a cardboard cutout of a t-shirt behind his head. Can you guess what he was? ...He was posing as Che Guevara, in the only way most people under the age of 40 know of Che Guevara. And that's just the start of his comedic wit.


--- Cody has been busting his ass in darkened halls and bars for the past few years now, trying to escape the mundane world of the postal service and provide local audiences with a smile or two with his uncensored comedy. I got a chance to chat with the man himself about starting out and working on material, plus his thoughts on the local comedy scene and a few other topics.

Cody Eden


http://www.codyeden.com/

Gavin: Hey Cody! First off, tell us a bit about yourself.

Cody: I'm a 26 year old male born and raised in Salt Lake City and its surrounding areas. I've been doing stand up comedy since roughly early '09. Before that I was in some bands, but I got sick of splitting door money with four other dudes. I live in the Sugarhood, I'm married to a lady who is funnier than I am, I'm the proud father of multiple cats, and I have a day job at the United States Postal Service zipcode farm.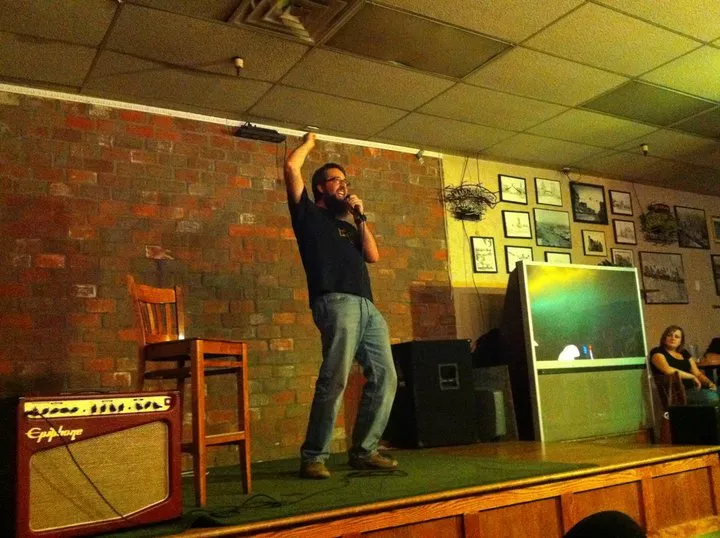 Gavin: What first got you interested in standup comedy, and who were some of your favorites comedians growing up?

Cody: Growing up standup comedy seemed kind of like magic to me. I loved it, but it seemed like such impossible wizardry for these guys to come up with jokes that weren't even about a guy walking into a bar. Some of the comics who most captured my imagination were Bill Cosby, Richard Prior, George Carlin, Lewis Black, Mitch Hedberg and Steven Wright.

Gavin: How did the decision officially come about for you to attempt it as a career?

Cody: It was kind of a tough thing, because again, even though I had a lot of love and respect for comedy, I never thought it was something I could do. I was the type of guy growing up who was the quietly funny/clever one, but by no means the class clown. The tipping point probably came from my boring post office job where I listened to a lot of podcasts, things like Adam Carolla's show, where I heard comedians talking about their careers and how they got started. That was when I realized, "Hey, these guys are just a bunch of sad, socially awkward sacks of shit like myself who crave some combination of public attention and abuse." I finally got the nerve to hit up the open mic at Wiseguys; the atmosphere was just the right combination of hopeful and pathetic to get me hooked.


Gavin: What was it like for you breaking into the local lineups and getting gigs?

Cody: It happened fairly quickly for me, at least initially. I was somewhat comfortable being on stage, I wrote semi-decent jokes, and the local talent pool is small enough that the folks who put on shows are always looking for new faces to mix things up. That's been the blessing of starting in a place like Salt Lake; the competition isn't as fierce as somewhere like LA or New York, so it's allowed me to develop and come into my own surrounded by supportive, helpful people.

Gavin: When you first started out, what were some of the lessons you learned about performing?

Cody: I quickly learned that pacing on stage was distracting, and because I'm pretty fidgety I almost over-corrected that to a fault. If I so much as walk to the edge of the stage during a set I'm out of breath and dizzy. Really, though, there is so much to learn, yet there are very few hard-and-fast rules, most of it is figuring out what works best for you both on a technical and philosophical level. There are, of course, the basics: Slow down, enunciate, speak directly into the microphone, all things that seem obvious but can elude anyone who isn't used to public speaking. The key thing I've learned, though, has been to believe in your material and in your act at all times. Own the stage from the moment you walk out to the moment you finish, and most importantly, if you have a joke or two that doesn't go over, don't get shaken--stick with your delivery and don't start half-assing it. That's the real challenge of stand up: it's a medium that lends itself to neurotic people with self-esteem issues, yet keeping one's confidence is the most important element.


Gavin: What's it like for you personally coming up with material and decided what works and doesn't?

Cody: Writing jokes can be tough, the best things always seem to come to me out of the blue. When I sit down in front of a blank page and just try to write material, I always come up with the "trying too hard" stuff--things that take so many twists and stretches and leaps of logic that the audience can't keep track of where I'm going. I believe in the rock and roll ethos when it comes to jokes--keep it as simple as you possibly can while still conveying your idea. Of course, it's important to also try to be creative and fresh and come up with things that no one else has, but I think if any creative person is being true to their own point of view that will come naturally. I just try to be vigilant and observant of my world and the things that interest me or strike me as curious, and try to figure out what the truth of that thing is from my point of view. Truth is the heart of every good joke! Even if that truth is purely subjective. As far as what works and what doesn't, it's purely trial and error. I'm a terrible judge of my own jokes until they're stage tested.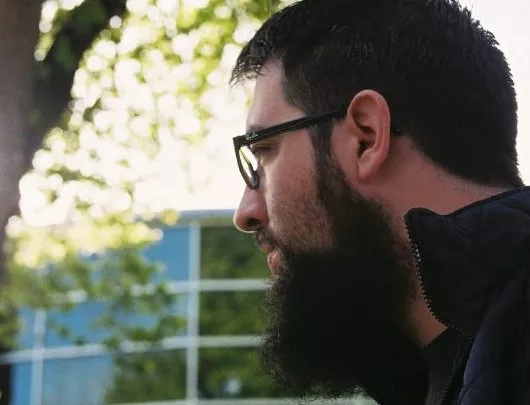 Gavin: How is it for you interacting with other local comedians, both as friends and competitors?

Cody: The local scene right now seems very friendly and supportive, at least among comics. I've heard in the past that there used to be a lot more politics and bad blood going around, but most of that seems to have really subsided, aside from occasional petty disagreements between guys here and there. From my point of view, since it is a small scene, folks have sort of banded together. I think people have realized that if you're not going to play nice, no one's going to work with you, and no one does much of anything in comedy without the support of a scene. I don't look at other local comedians as competition at all. It's like any other art or music scene--what's good for one comic is good for everyone. The only thing that really matters is getting audiences to shows and making them aware of what's out there. If a comic like, say, John Hilder has a show that goes well and draws a big crowd, I don't get jealous (as much as my neurotic side would automatically like to), I'm glad because I know that venue will be more likely to have shows with guys like me in the future.


Gavin: Recently you've opened up for some bigger names coming through town, even did Marcus' taped special. What's that experience been like for you earning that kind of billing?

Cody: It's very nice to work with talented professionals when they come through town, both to see how they work their craft, and to get to talk a little shop. Comics in this town are lucky to have a place like Wiseguy's where you can get the stage time necessary to develop your voice, but also have a chance to work alongside some big names. Again, that's something that's not as available to comedians in bigger cities. As far as Marcus, first of all, Marcus has supported me like no one else since I've started doing comedy. I owe so much to him both in terms of the gigs I've done with him and the kind friendship he's shown me. He's a big supporter of local comedy, and has gone out of his way to do good things for the scene. Opening for him at Kingsbury Hall was really a treat, albeit a strange and surreal night. Going from performing at clubs and bars for mostly small audiences to being in a big beautiful theater in front of 700 people was a little like owning a Ford Taurus and then getting to drive your buddy's Ferrari. I was probably out of my element, but it was an absolute blast.

Gavin: Are there any plans for you to tour down the road or are you looking to stick to home for now?

Cody: I'm always looking for opportunities to get out on the road. Of course it's tough when (a) you have a day job and (b) no one outside of Salt Lake has any idea who I am, but it's something I plug away at in the hopes that I will one day be able to tell jokes for money as a career. The experiences I have had going out on the road have been mostly positive, and I've been able to meet some really good people from other places.


Gavin: Going a bit local, what's your take on the standup scene, both good and bad?

Cody: Again, I think we're in a good place as far people guys being supportive and encouraging to one another, and I think that has resulted in better shows. The local comics I've seen over the last year or so have really upped their games, which is exciting to watch. My biggest criticism of the stand up scene is that we don't have a lot of female comics, or really not a lot of any type of comics who aren't straight white males in their 20's or 30's. Of course, I guess it's fitting that the comedy scene should reflect the stereotypes of the area, so in that sense we're nailing it. Lady comedians, get back to having babies, and ethnic comedians, we'll continue to pretend you don't exist.

Gavin: Is there anything you think could be done to make it more prominent?

Cody: I think more could be done to really band together and publicize things. We're comedians, not managers or promoters, so that type of thing doesn't come naturally to us, but if we can pool our resources and work at it collectively, we could do a better job with publicity than we have in the past. We are taking steps in the right direction. The SLC Comedy Scene facebook page could be a great tool for people, and guys like Jose Bacio are working hard to find more venues and promote shows. Also, I think a lot of it just a matter of continuing to put on good shows, and doing it often enough that the word spreads. Salt Lake has a young, hip, smart population of urban folk who like to go to out to events and have fun--that's obvious when you go to out to concerts, or go to something like the Big Shiny Geek Show night at Burt's. Right now, a lot of those people aren't going to comedy shows regularly, and I feel like it's because they just don't know how good some of our talent is here. If we keep putting out good things, they will come.


Gavin: Aside yourself, who are some of your favorites you like to check out around town?

Cody: We have a nice mix of new, creative voices--guys like Ryan Doud and Byron Stout--and guys who have been at it for years and have really come into their own. Christopher Stephenson, Levi Rounds, and Blake Bard are some of my favorite dudes ever. Arthur Carter's new material has been killing me every time I see him. Dave Ackerman came here fairly recently from Chicago and really blew me away with how funny and off-beat he is. Aaron Burrell and Spencer King are both Wiseguys favorites who write clever jokes and find a way to have an edge about them despite being fairly clean. By the way, the "clean vs dirty" issue drives me insane, but it's impossible to avoid in Utah. Too much to get into here. Toy Soup is an improv pair that are riotously energetic and inventive. There are some guys I mentioned earlier and really I could go on for a disgustingly long time, sorry to any comics I left out. Just know, dear reader, that there are quality, experienced comics out there for you to check out.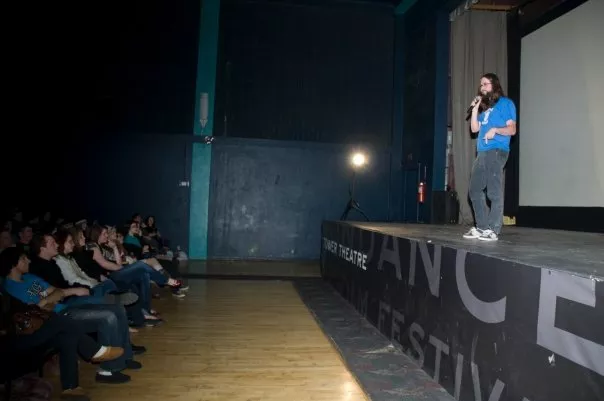 Gavin: What are your thoughts on the clubs that provide standups a forum to perform, and the work they do to help bring in audiences?

Cody: The main comedy club chain in Utah is Wiseguy's, owned and operated by Keith Stubbs. Wiseguy's is a really great experience for comedians--a legit club with good sound, audiences that come specifically for comedy, and legit national headlining acts to work with. It's been such a help for me to be able to stretch my wings and try new things in a real quality comedy club, it's not something comedians everywhere get a chance to do at an early stage. The other long-standing comedy venue in Salt Lake is the Sunday night show at Mo's at 350 So. West Temple, which if any of your readers haven't been to, they should go check out immediately! After all, it's free to get in--Sundays at 10:30. Mo's is an uncensored show. Rare for Utah, and for lack of a better term, it serves as the "alternative" comedy outlet in Salt Lake. It's a showcase format—five to ten local comedians doing 10-15 minute sets--and it's really been instrumental for me to develop my act and meet a lot of great comedians and friends. Really, I'm about to get all gushy just talking about it, which is silly because it's essentially just a bunch of drunks who meet weekly to bitch about their lives. It's kind of like Alcoholics Anonymous, only the opposite of Anonymous.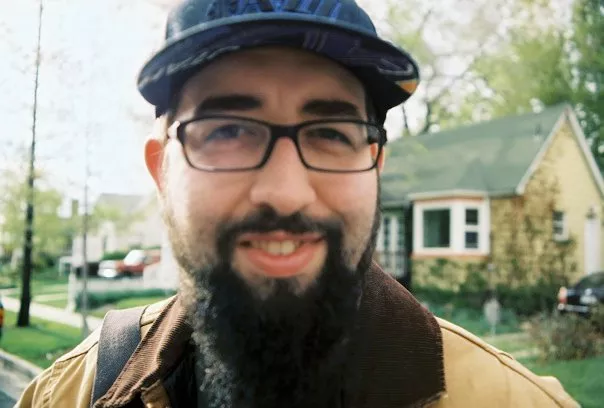 Gavin: Whats your opinion of national standups coming through town and what that does for the local scene?

Cody: It's great! Even comedians who I'm not necessarily a fan of, it's great when they come here and get people's attention and just remind folks that a standup comedy show is a viable entertainment option.

Gavin: What can we expect from you over the rest of the year?

Cody: I'm perpetually thinking of recording a CD, just wanting to polish up a little more material, but I would like to have that process underway by the end of the year. The things I'm focusing on the most are to get out on the road when I have opportunities, and to keep writing jokes and keep pushing myself to try new things. To find out about shows I'm doing, look me up at my website or Facebook and I'll bother you incessantly until you show up at something.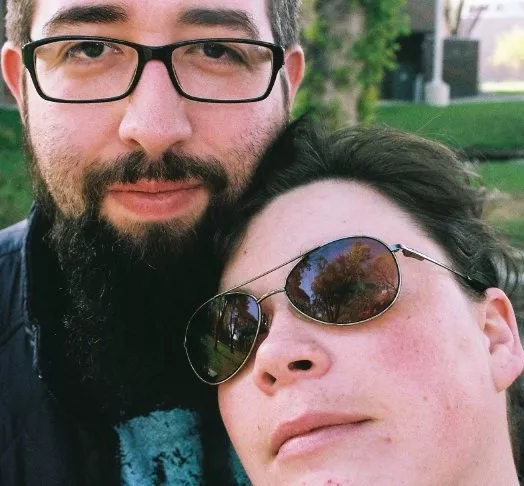 Gavin: Is there anything you'd like to plug or promote?

Cody: The aforementioned Mo's shows people should definitely support. Again, people should look me up on the internets to stay posted about what I'm doing in the future. Also, even though I won't be performing, people should go see Brian Posehn and Maria Bamford when they come to Wiseguy's in August. They're two of my all-time favorites, especially Maria, who I think is a genius and a national treasure. And good turnouts for those shows will ensure that Wiseguy's keeps bringing back the creative, smart comedians that I love so much, and not just more Rob Schneider. ...I mean, nothing against Rob Schneider, just, y'know... he's Rob Schneider.



| | | | |
| --- | --- | --- | --- |
| Follow Gavin's Underground: | | | |
%uFFFD