Clean up HTML
Please select from the following cleaning options...
A good majority of designers make their way through a bit of formal training prior to starting up their own brand-name, let alone a solo line. But the gal we're chatting with today went from patching her own designs together for hew own personal use to making TWO different lines for local customers to throw on. Not to mention continuing to expand on the newer title.


--- Suzanne Clements started up Drop Dead Designs back in 2005 with an appeal to the punk rock crowd and anyone looking for a beyond normal t-shirt. But as times and tastes change, so did hers, and formed the new Sorry Clementine line to fit they type of clothing she would purchase herself, while also reaching out to those looking for a slightly fancier brand. Today we chat with Suzanne about starting out on her own, both sets of clothing she's designed, thoughts on local fashion and a few other topics. Along with some pictures of her stuff for you to check out.

Suzanne Clements


http://www.sorryclementine.com

Gavin: Hey Suzanne! First off, tell us a little bit about yourself.

Suzanne: My name is Suzanne Clements, I'm turning 27 this month and I live here in Salt Lake City! I grew up kinda bouncing back and forth between Massachusetts and Idaho (confusing!) and when I was in my early teens my family moved here to Utah. I did a brief stint back in Mass when I turned 18 but since then I've called Utah home. I'm married to an awesome dude that keeps me laughing and live a pretty crazy full life. I have a day job, my own business, full time student, and three handfuls of various hobbies that I try to squeeze in as well.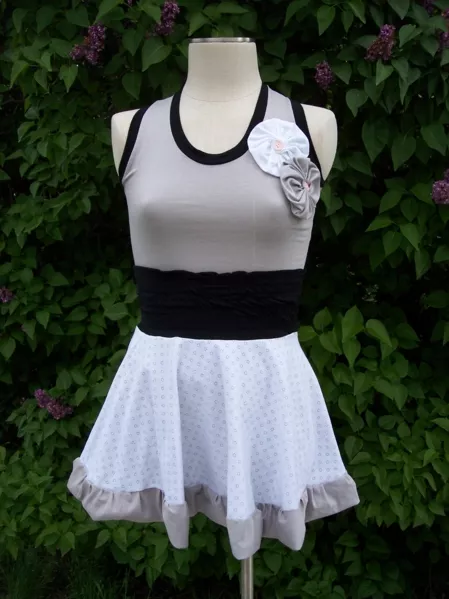 Gavin: What first got you interested in design work and fashion?

Suzanne: I would have to say the thing that really got me interested in making and designing clothes was the inability to find clothing that I liked. I was into the punk rock scene in junior high and high school and I think that definitely ignited the love for all things DIY which eventually led to me making my own clothes. I was always making stuff when I was younger and it just kind of naturally evolved into actual designing and making clothing.

Gavin: Did you seek out any education for it, or was it more trial and error on your part?

Suzanne: The only formal training I have is a few home EC classes in high school. Those classes are kind of a joke but they definitely helped me realize that I liked creating things. A few years later when I really started trying to create clothing it was totally trial and error. The first stuff I ever made was super scary and ill fitting, I had no idea what i was doing. Gradually I started to figure out different ways to cut all of the pieces to get them to fit together the way I wanted them too. I don't use or make patterns of any sort, I just start cutting!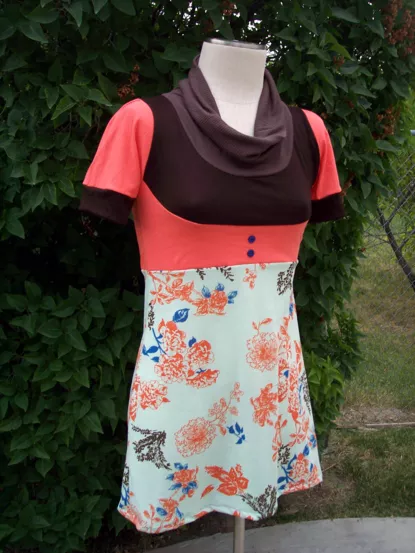 Gavin: What were some of your early products like, and do you still have some around?

Suzanne: My early designs are very different than what I make now. They were very DIY and mostly reconstructions. When I first started making stuff to sell it was a lot of cut up band shirts and vintage clothing. I still like the idea of making a simple band shirt into something much cuter than a t-shirt but it is so limiting. I didn't like being confined to using a t-shirt as the basis for everything I made. I don't have any of my early stuff, I sold it all! I have photographs of almost everything I've ever made and its very humbling to see how far I've come since the beginning. Makes me wonder what I will be designing in five more years!

Gavin: How did the idea come about to start up Drop Dead Designs?

Suzanne: I've always been a crafty girl and creating things was never even really a conscious choice, it was just something that I did. I was working as an assistant manager at a CD store during the decline of the CD store business in general, and my store was no exception. I had been designing and sewing clothes here and there but when I was told that my store was closing down I started thinking about my options and what I wanted to do next. All I could think about was trying to do my own thing. The thought of going and logging in forty hours at another job I wasn't passionate about didn't appeal to me so i decided to just go for it! Drop Dead Designs ended up being my full time job for the next five years.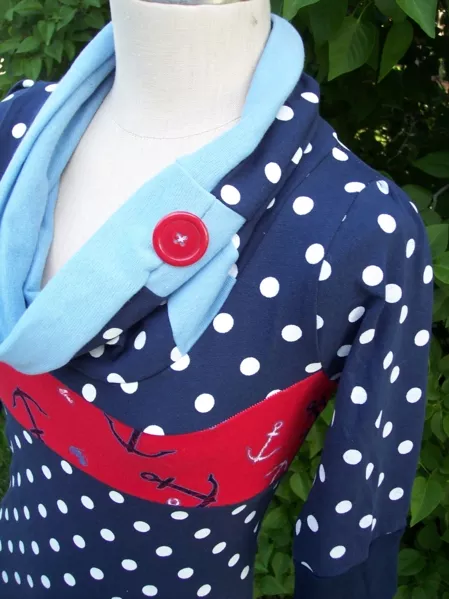 Gavin: When did you first start putting your own designs out for public sale, and what was the reaction you got from people at first?

Suzanne: I started selling my designs relatively quickly after i started seriously doing it. I really lucked out that the whole DIY scene was being really embraced and it gave me the opportunity to really work on my sewing skills. The reaction was unexpected. I had no clue what i was doing, I was just making things that I thought were cute and people were actually buying it, it blew my mind that someone could actually make a living selling things that they made.

Gavin: In the process of creating something, how is it for you deciding on how it will look? And do you usually stick to the plan or improvise as you go?

Suzanne: Totally depends. I don't have a set method as to how I design things. I have a whole book of sketches and ideas, very lo-brow sketches and basic ideas. For me, everything comes alive with the fabric. I don't buy fabric with any particular design in mind. I just have a whole bunch of ideas and a whole lot of fabric and it all just works itself out.


Gavin: Most of the Drop Dead line are tops and t-shirts. What made you want to start doing dresses and accessories?

Suzanne: I like pushing myself! Tops are great, and they are fun to make but only making one thing can be really limiting, and I don't like feeling limited! I feel like dresses and accessories were a natural progression.

Gavin: Why did you move onto doing a totally separate line for Sorry Clementine rather than incorporate them into Drop Dead?

Suzanne: Drop Dead no longer even exists actually. I started working under that name when I was 20 and for the type of clothing I was designing the name was very fitting. Early Drop Dead stuff was super DIY, edgy, punk rock, and dark. Pretty much like me at that age. As I got older my style evolved and grew up. I still feel like my designs have an alternative twist to them, but its more quirky, whimsical, and interesting. I just felt really confined by the entire Drop Dead name and what I had built it to be since I didn't feel like it reflected who I was anymore.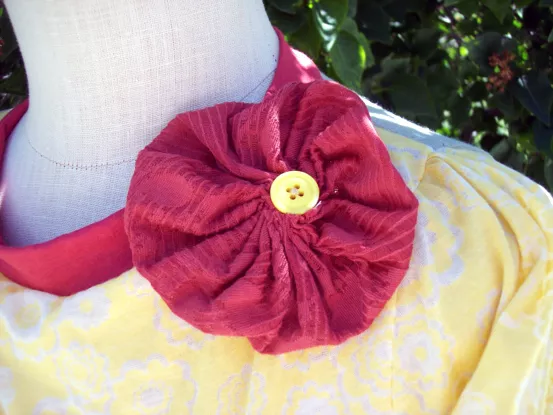 Gavin: What's the reaction been like to the different lines since you started it up last year?

Suzanne: I feel like it has been great! It was a huge decision to make, I had spent almost six years building up that brand and then to totally abandon it was terrifying. I definitely feel like it was the right decision though. I still find that a lot of people didn't realize that I had switched names, or I get those confusing looks like "this looks familiar." I got a lot of emails from long time buyers saying that they loved the name switch. I love the new name and that's the most important thing!

Gavin: Are there any plans to add more or change up what you're doing, or sticking to the two formats you've got going now?

Suzanne: Well, there's only the one format right now, and I'm really focused on just expanding it as much as i can. I do feel like there is a limit to how far I can go, and its both a blessing and a curse. I think a lot of the appeal of what I do is the handmade, one of a kind aspect. As one person, I can physically only make so many things. I love the entire process, from sketching, to fabric choices, to the actual construction of the garment. The thought of outsourcing any part of the process just doesn't feel right. So for now, its gonna stay a one woman show and I'm okay with that!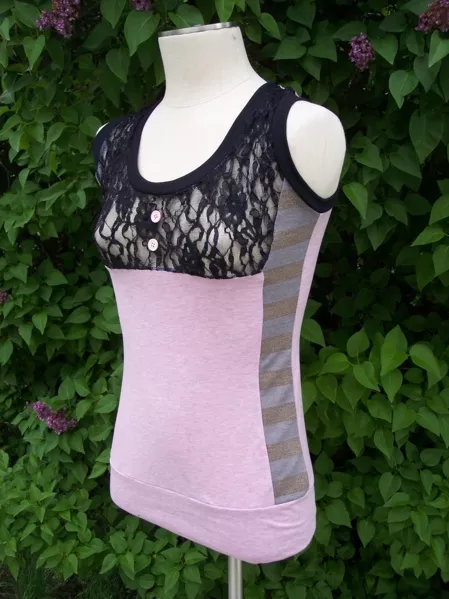 Gavin: A little local, what are your thoughts on our fashion scene, both good and bad?

Suzanne: I don't have anything bad to say about fashion in Salt Lake City. I think we are a city that dances to our own little unique beat. I hear people comparing Salt Lake to other cities and I just think that's silly. I love that we aren't like other cities. One great thing about fashion here is that we are an open book. So many different styles are embraced, and represented through all of the different people that call this city home. Its so interesting to see the different types of people that are excited about what I do and buy pieces from me. My customers are all over the map, its awesome!

Gavin: Anything you believe could be done to make it more prominent?

Suzanne: I don't know if it even needs to be more prominent. Are we ever going to be home to events on the scale of New York fashion week? I don't know... I don't really care. I love the different things that we have, Fashion Stroll is a perfect example. Its not trying to be anything, its just its own special thing.


Gavin: What are your thoughts about local retailers and how they deal with local products?

Suzanne: I can only speak from my own experience but I feel like local retailers want to sell local products. If anyone can understand the importance and need for our money and our business to stay close to home it is local retailers. I have had some great experiences and some not so great experiences in dealing with some local businesses. I just think its all about finding the right combination where both parties involved are getting what they need and want from the arrangement. You might have to look hard, but the right situations are out there!

Gavin: Do you have any favorite shops you like to work with or shop from?

Suzanne: I've worked with a few shops in the past, but right now I'm really excited to start getting some of my stuff into SLCitizen. Its a great store, located in the library downtown. Everything in there is local, I think that's amazing!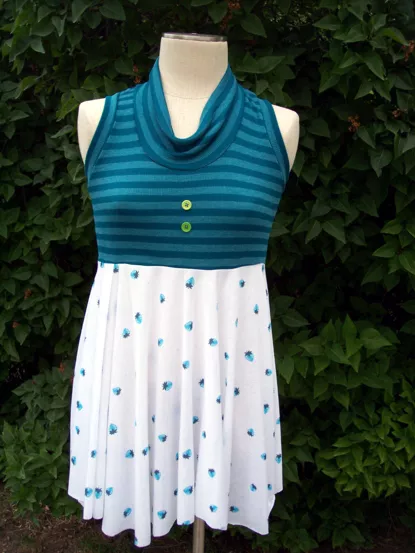 Gavin: What's your full take on Fashion Stroll and the part its played recently?

Suzanne: I love Fashion Stroll! I have only participated once, this spring, and it was an awesome experience. It was neat to see everything that was shown by other designers. I think designing and sewing can be kind of isolating and so for me, it was great to be around a bunch of other people that do what I do. Very inspiring! It was great to see all of the people that came out for it, and the people that just stumbled upon it and stuck around to see the shows.

Gavin: What can we expect from both you and Sorry Clementine over the rest of the year?

Suzanne: More cute clothes! We are headed in to my favorite time of year, fall and winter which are my favorite seasons to design for. I am also hard at work on an entirely new screen printed line of tops and t-shirts. I have about half of the designs done and will be working hard to have them all available at Craft Lake City in August!


Gavin: Is there anything you'd like to plug or promote?

Suzanne: I'll be at Craft Lake City this year, on August 14th at the Gallivan Center and I spend the first Sunday of every month with a group of insanely talented artists at Craft Sabbath. The August Craft Sabbath will be the last one at Nobrow and then in September we will have a new home at the downtown library! If you have never checked out Craft Sabbath before you are in for a treat, definitely check it out! You can also check out my website.



| | | | |
| --- | --- | --- | --- |
| Follow Gavin's Underground: | | | |