At first glance the newly published Enigmatarium looks to be your average gritty graphic novel with an intense, mind-boggling story behind it. But once you get a hold of the book and flip through its pages, you find the content to be very little of what you expect. On the contrary, the illustration and writing to be found within takes a much deeper and often darker tone that touches on reality more often than fantasy. As the old saying goes, another reason not to judge books by their covers.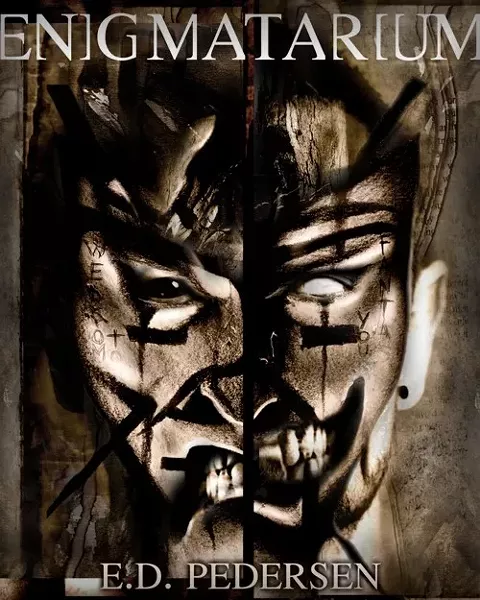 --- Enigmatarium is much more than a simple graphic novel or a collection of poetic works put to imagery. Its core is a story of love, surrounded by the complications and emotions that follow the characters within to the end, expressing the emotional ware through hand-drawn insights and reflections of what those feeling it would appear like. The book itself reads like nothing else in the genre it comes from, and that's what's helped it stand out from the rest. I got to chat with author E.D. Pedersen about the book and its relation to his life, plus some thoughts on other local writings, growing up gay in Utah, and other topics.

E.D. Pedersen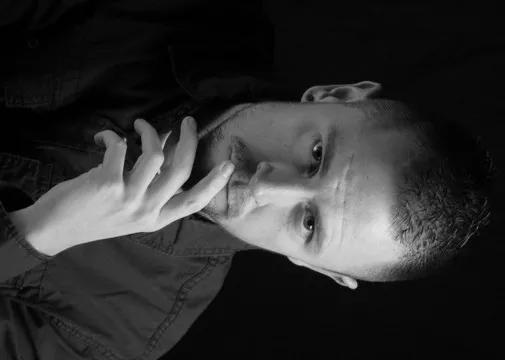 http://www.enigmatarium.com

Gavin: Hey E.D.! First off, tell us a little bit about yourself

E.D.: I was born Edwin Delaney Pedersen on May 25th in Nephi in 1980. I grew up in Spring City and lived there for twenty-one years. After realizing a high school drop out didn't have much chance in this world, I went back to night school and took my G.E.D., after that I worked as an assembler in Ephraim. My next realization was that was not the place for me after a couple years. I then decided on an art degree through Snow College, graduated in 2003 and moved to Salt Lake City.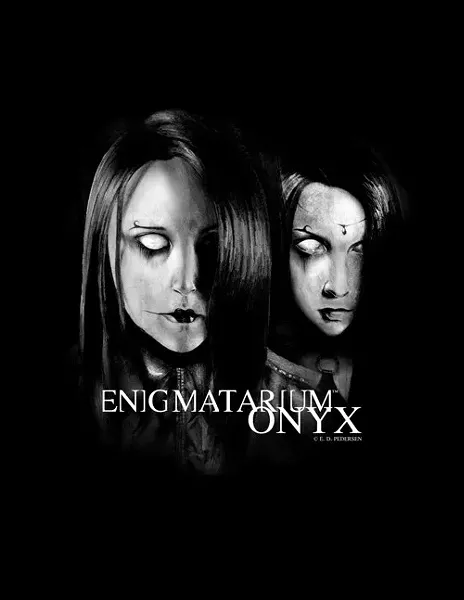 Gavin: What first got you interested in poetry and writing in general?

E.D.: Well, in the early 90's I was what you could call a class "A" geek when it came to video games. And when "Sonic & Knuckles" came out for the Sega Genesis, and left out Tales, I was livid! So the fist long story I had ever written was a story about Tales leaving and finding a world where he was appreciated. I must have been fourteen years old. However, that childhood story was about to take a sharp turn in the coming months. Fourteen was the age I first fell in love. And for a small town hick-teenager who discovered that this love was for another man, those feelings had to go somewhere. They went into crying, cutting and thankfully, for my life, they went into writing. I wrote a few letters to him that were never sent. I wrote a few letters to myself that I hated to read. And the only way I found that I could release those emotions powerful enough was through the brief explosion of emotions that poetry can offer. I never once sat down and prepared to write a good poem. It was never about writing at all. It was about maintaining my sanity and trying to understand the human heart. At that point, I had no idea it would evolve into this book. I never started out by sitting down to write a book. I wrote to keep me in a safe, fantasy world that shielded me from the harsh reality I was trapped in.


Gavin: How did you develop a talent for artwork and what influenced you to do more illustration work?

E.D.: I am first and foremost and artist before a writer. As soon as I was able to pick up a pencil, I was drawing. And when that fateful age of fourteen rolled around, as with the writing, I discovered it was another outlet. And so I drew. Where personal work is concerned, even at a young age to today, my work tends to be very cryptic. There is meaning behind every strange, out of place subject in my work. My emotional illustrations tend to be a composition of what is around me at that specific space in time. And as I began to get older, my illustrations funneled down into more stable pieces that were mostly portraits. As my love for characters grew, (a strange list consisting of He-Man, My Little Pony and Mortal Kombat) I realized I wanted one of my own. So I created a little character in high school named Wierdo. He had a raccoon sidekick named Wiley. I had a whole world set up for him and many adventures planned. But, as I grew older and began to come to a realization of just how different I was, I realized I had no one to talk to. So I created someone to talk to. His name was Ralph. He was a smartly-dressed, wooden ventriloquist puppet. I spent the next few years drawing and painting him. He was a role model for me. He was the fine, upstanding man I was going to become as long as I survived this life. When I turned eighteen I realized he needed a villain. All characters need a villain. So one night, as I sat alone staring at this puppet, I decided the bad guy had to be another puppet. But he had to be different. He had to be a marionette. With the jester from "Puppet Master" in my head, I began to draw. While Poe sang in the background, I stared at my finished drawing. He looked insane, he looked psycho. I thought that, just as Poe sang, "Can't talk to a psycho like a normal human being, trigger happy Jack is gonna' blow." Thus, Happy Jack was born. He was designed to be the opposite to Ralph. But it wasn't long before I realized that his hideous smile was forced and fake. He was not the bad guy. He was in pain. So, now I had two good guys, I needed a bad guy. So I had a jester with a smile, of course the bad guy would be one with a frown. He was nameless for a long time until I sat up late watching Conan O'Brian. I took Conan, wrote it backwards and Nanoc was born. After that, I thought, what fun would it be to have a female jester? So not long after, Liera was born. I had a few characters I loved now and a foundation for story. I had my good guy, my bad guy and a chick. Isn't that how it always goes? But I came to realize that Ralph had no place. And so Ralph sat quietly with his cane and hat and waited while Happy Jack began his story.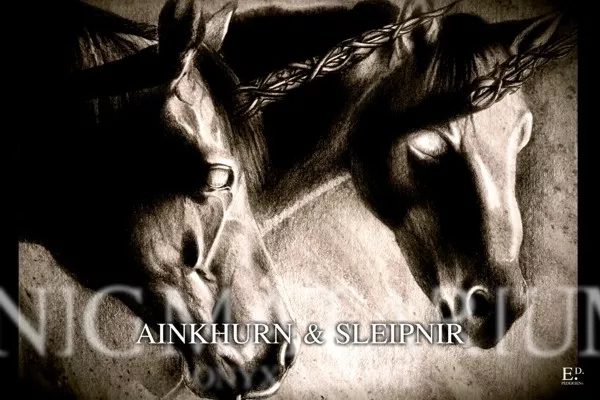 Gavin: Did you seek out any college for art or was everything you did more self-taught?

E.D.: Self taught for the most part growing up. My first real art class was in High School. I have to say I learned a lot. I did most of my practicing re-drawing movie covers from our Disney VHS tapes and other cartoons. I moved into drawing and painting realism portraits by drawing musicians from their CD covers. At twenty-one, I decided I wanted to pursue a career drawing and illustrating, so I went to Snow College. Though I learned more there than imagined, after graduation, I found out I didn't want to work in the field. I didn't want to draw other stuff for other people. It became monotonous and boring. It took what I loved and turned it into a job. So my degree is for me and not for working in the field.

Gavin: How did the idea come about for Enigmatarium when you were just fourteen?

E.D.: Here is where it all begins to strangely tie into place. I was too young to understand why I was creating these characters. But as I grew older, I realized each character was side to my own personality. That even though I was writing a story, I was still venting through these characters in their fictional world. It was hugely apparent when I hit twenty one years old. Music was a huge part of my work and I listened to Enigma much of the time to get inspired to write. So there I was, still alone, no one to talk to, I was twenty one and I still didn't have a concept of a kiss or what it felt like to have my hand held. I was trapped in this torturing world that I couldn't get out of. To me, it was a sanitarium. I sat in my "Closet", my rubber room and fought for the will just to stay alive long enough to see the end. I noticed my characters were trapped as well. All of my emotions that came with this went into my writing. And at twenty one, I had a name for this place we were all trapped in. It came to be known as the "Enigmatarium". It wasn't until later that I realized I had been writing this book since I was fourteen. This huge puzzle was now beginning to fall into place and take shape.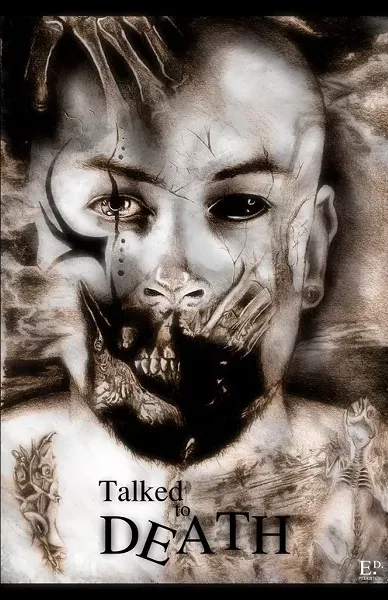 Gavin: Growing up a gay teen in Spring City, what kind of influence did that have on your writing for the book?

E.D.: I knew at 2nd grade that I was gay. When any of us small town queers discover this and hear the word "Faggot" for the first time, that day, that hour, that second becomes that precious moment where our closets are created and we had better get into them fast if we know what's best for us. That is the moment where we lock away who we are and create this other person that the world is more comfortable being around. Looking back, that's a pretty tall order for a 2nd grader. So, to read Enigmatarium and see the patterns of black and white, good and evil, opposites, one or the other, you can see the duality that a person is capable of. On top of being a Gemini, it all seems perfect. As I went into my teen years and eventually fell in love for the first time, much, if not all of those feelings were channeled through Liera. She is my heart. Though this story is dark and can be graphic at times in terms of horror, it is built on the foundation of love. And first and foremost, Enigmatarium is about love as well as loss. And as much as we spend creating this other person for the world to love, the day comes where that closet disappears. The day where we come out, is that day, that hour, that second where, without warning, the person we created dies instantly. And you are left with wondering who in the hell were you in the first place.


Gavin: What was the process like for you over the years? Were you frequently coming back to write piece of it, or was it more constantly editing it until you liked what you had?

E.D.: As my characters spent years fighting their way out of the Enigmatarium, I too was in my own prison. I can't count how many times I had written and re-written this book. There were also some very harsh realizations. As the book was taking the format of "twos" I knew it had to be in two parts. To keep with the theme of opposites, it's just how it had to be done. However, I had finished Onyx around the age of twenty-four I believe. By this age I had caught on to the patterns and phases I was going through in life. And I knew that the "me" at twenty four was far different than the one at eighteen. Knowing that I was going to change and knowing that the second part of the book had to be completely different, I knew I had to wait a few years to grow up enough to write it. Onyx is written by an emotional young adult. Pearl is written by a mature adult who has learned from all those emotions the young adult had to endure. I'm the embodiment of the intellect and the dreamer. My time frame was to have it completed by the age of Thirty. At twenty-nine, in October of 2009, I wrote the final chapter.


Gavin: From a personal standpoint, what do the two characters in the story represent in your writing?

E.D.: That's a difficult one. There are so many characters in this book representing so many different facets of my life and personality. More than anything, they are a representation of balance. I am a firm believer that one cannot exist without the other. That in order for balance to maintain itself, the good must be accompanied by the bad equally. And keeping a firm understanding that good is not always good and bad can sometimes be just what you need. My life has had parts that were so bad, I had to believe that there was an equal good out there for me, somewhere.

Gavin: Starting it at an early age, how many changes did it go through between the original idea to the final product?

E.D.: It has gone through many! As I grew and changed, so did the story, right up until the very end. Originally it was Ralph vs. Happy Jack. Then it went from Happy Jack vs. Nanoc in the original title of The Legend Of Happy Jack. After that, there was a second book with Liera and Happy Jacquelyn called Rise Of The Queens. I had these plans for all of these smaller stories. But later realized it was part of one huge story. Even still, it was only planned to write Onyx as a single book and then Pearl. But the years progressed and I knew that they were two sides to the same coin and had to be in the same book. There has definitely been a significant evolution.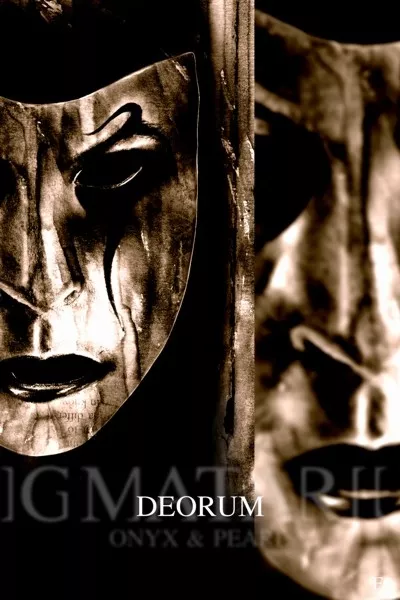 Gavin: What made you decide to make it a graphic novel instead of a book of poetry?

E.D.: This is a great opportunity to clear up many misconceptions I have had since the book's release. Enigmatarium is a novel based on my character illustrations. There are only my illustrations on the cover. Inside are no illustrations, it is 655 pages of words. Writing has been the biggest secret of my life. No one knew how much I wrote. My artwork had been seen by many over the years, creating a valid assumption that this book is a graphic novel instead of novel. As for the poetry, there are only approximately twenty poems in last part of the book. Enigmatarium comes in three parts; Onyx, Pearl and 2084. Onyx is my youth, Pearl is my Maturity and 2084 is that moment where my youth and maturity merge. All of the poetry is word for word copied from my originals I wrote as a teenager. The poems are used in a story written entirely by me as an adult. I don't have the emotional roller coaster to live as I did being a gay teenager. I wrote those poems fueled by that pain that I no longer have. Because of that, I have not written a poem since.

Gavin: How did you feel once you finally finished it to look the way you wanted it?

E.D.: Relief more than anything. Sadly there was no jumping for joy or huge smiles. I was so very tired, as you can clearly read in Matthias' final speech. I was so done being trapped inside the Enigmatarium that by the time I made it out alive it was like being released from prison. I was standing outside of a facility free to do what I wanted. I realized I didn't know what I wanted. I had no plans for life after thirty. For the last fifteen years this book was all I knew. I had to sacrifice so much for this project, for this promise I made to myself that I was not a quitter and that I would finish what I started. In doing so, I have had to say goodbye to a lot of people over the years. Some of them I still go everyday thinking about wishing I never had to. But, as my readers well know, not all stories have a happy ending. It would have been much different if I had written this book just to write a book and publish it, but I don't even look at this as a book, this was my therapy and it just happened to take the form of a book.


Gavin: Did you show it to anyone prior to publishing? And what did they think of it?

E.D.: My best friend growing up was the first to know anything about the book. He was the first person I came out to and we were like two peas in a pod, still are even today I am happy to report. When I was nineteen I put the illustrations of Happy Jack on t-shirts and sold them around the state. They were doing well, but everyone kept asking if there was a story behind him. I had barely begun writing Enigmatarium and I knew it was going to be years off. So, I took all the shirts, locked them into storage and focused on making the book and the artwork satisfactory. As the book was completed, I needed to turn to the other pea in my pod, who was my roommate in college. This was a guy that had a gift for detail. So much that it could be annoying at times at the redundant things he could manage to point out. But as annoying as it could be, it was a gift that I didn't have. So his attention to detail as he read my book was invaluable. He was able to point out and nit pick everything I had missed which made the book far more enjoyable for readers. That is why there is a special thanks to him, T. R. Henrie, in the beginning of the book. Enigmatarium would not be what it is without his help.


Gavin: Why did you choose to self publish rather than find a company?

E.D.: Since the book was written as a self journey, used as a therapeutic tool, I have never attempted nor entertained the idea of selling it to a traditional publisher. I told myself that fifteen years of pain was not worth handing it over to someone who could change, butcher or sell to anyone else where I would only receive something as measly as money. A huge deciding factor was watching interviews of some of the greatest influences in my life. I have watched too many interviews where Stan Lee is asked how he feels about the Fantastic Four today and you can see the change in his face when the idea pops into his head about someone else taking over what he had spent so much of himself creating. Then I see Clive Barker talking about how sick to death he is of talking about Hellraiser. Am I headed for a spot in life where I will have that same look on my face, the same disdain for my own work? Self publishing is great in the sense that I still own my work in its entirety. But then I have to ask myself, had they not done what they did, would they have ever became my idols? How long do I want to be the miser and keep my work under lock and key? When I am dead and gone, who will ensure my characters remain in this world? Then it became a deeper thought, just like parenthood, I created them, but, are they mine to keep? So as it stands now, I own them, but for how long, I can't say.


Gavin: When it finally came out, what was the public reaction to it?

E.D.: The reaction seemed to be confusion. Many believed it to be a graphic novel, some thought it was a book on photography due to my background working as one for a few years. No one knew I wrote, so the idea of a full novel didn't seem to register. The public reaction, as it seems to be with most my work, was a little uneasy. They would see the cover and assume it to be a slasher story. Others liked it for that assumption. But again, overall, this book is about love and loss. This is one book being judged in many ways on its cover. But readers that have finished it, have been pleasantly surprised. I have heard only great reviews (to my face) and people tell me they cried through it more than anything. It has been amazing to see just how many people have identified and bonded with the characters. I am always excited to hear from those who have finished it.

Gavin: Do you have any plans for a follow-up to this or a brand new book?

E.D.: As this book is formatted on opposites and twos, a sequel is inevitable in order to keep balance. I have already begun writing on Enigmatarium: Masquerade. I am extremely excited to write this one due to the fact that I get to freely write it. It already has a foundation, a history. I don't have to live it anymore, now I get to have a little fun with it! And those who have finished the first one and can't possibly imagine where it is headed next, they are in for some sweet surprises I assure you. After that, I am working on a more toned down novel that is apart from the series, but I am keeping that title to myself for now.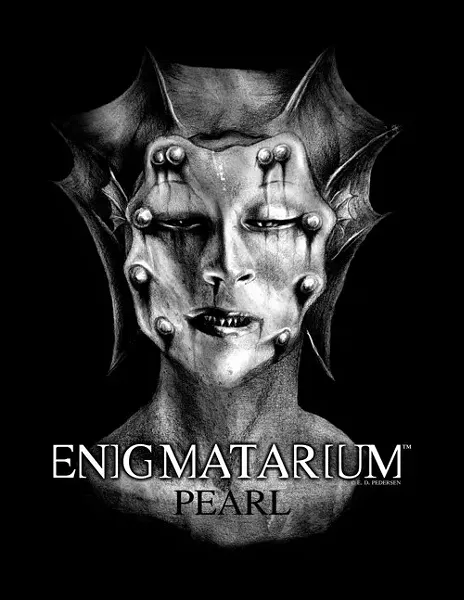 Gavin: Going a bit local, what's your take on our literary scene, both good and bad?

E.D.: For me and my style of work, it gets pretty harsh judgment in Utah. With this stage that the country is currently in with what is popular, of course I get asked a lot about the Twilight series. I personally have never read nor seen the movies as of yet, so I can't make much of an assumption. But locally, at signings, I get a lot of people that want to move onto the next big series and so by default, that's the comparison. I do wish locally the scene would branch out more, but it seems to be a Utah trend to just go with what is popular and what everyone else is doing. My work is a bit heavier and not intended for younger crowds. I am not sure if that helps or hurts in my case. Utah is a tough, unpredictable crowd I do have to say. The majority of my readers are those I would not have suspected actually. I have had mothers that love the book due to understanding a maternal bond with a daughter. I have had fantasy fans, horror fans, drama fans that all love the book for different reasons. Personally, I feel there is something in this book that everyone can identify with. And I say it is not meant for younger readers, but I wrote it and lived it at fourteen, so who am I to judge what people read and when?

Gavin: Is there anything you believe could be done to make it more prominent?

E.D.: There is so much going on in this book that spans hundreds of years. It is difficult to decide who or what crowd it is going to stand out for most. There are shirts with character artwork available as well as posters. Some like the book just for the artwork and never read it, which is great from an illustrators side. It is not common for a writer to also be the illustrator. Keeping with the theme of twos, I guess it's the dual life I have to deal with. I would like to do more showings of my artwork and love doing signings of the book. But I think overall, with the complexity of this book, the best way to achieve prominence is talk and communication. This is one story where you just can't sum up what it's about in a paragraph. And with as many twists and turns as the story takes, there is not much to talk about without ruining all the page-turning surprises.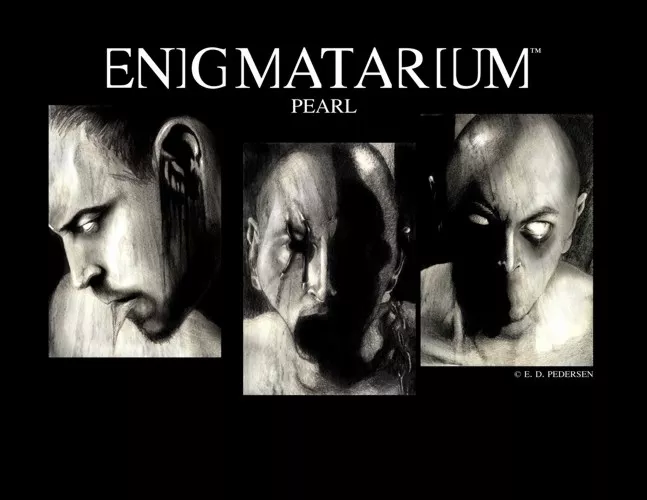 Gavin: Who are some of your favorite local writers and illustrators?

E.D.: I have to first off start by saying I don't get out much. And strangely enough, I rarely read. I can write for six hours straight but an hour reading isn't always so successful. So locally, I am really not all that familiar with writers. As far as illustrators, it is difficult to find art in Utah that appeals to my darker appetites. My head is easily turned by H. R. Giger which is not a popular genre here in Salt Lake City. I have always believed that art is born to create a reaction. If you love it, that was a reaction, if you hated it, that was a reaction, if you thought it was so stupid that someone was making money doing something your five year-old niece could scribble that you became enraged, well that piece caused a reaction. To me that is art. If I walk past a piece and simply walk past without remembering it at all as I look at the next piece, then it created nothing inside for me. I view artists as visual story tellers and writes and literate painters. I get little reactions from paintings of old barns. And having said that, to me, and artist of any medium is simply the host to a virus. We cannot be easily infected. However, we are what we are and that is to use our work to infect those around us with either love or hate or everything in between. We are the carriers who bring this beauty or horror to the world. We are what we are.

Gavin: What can we expect from you over the rest of the year?

E.D.: This year is more of a slower time for me since I am not working on this huge project anymore. There are a few plans floating about with directions I am headed. So far, we'll just have to see. I am sure we have all experienced what a difference a day can make.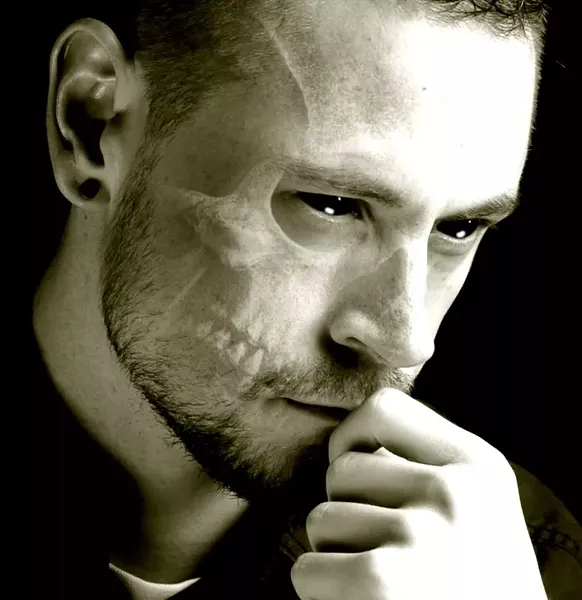 Gavin: Aside the obvious, is there anything you'd like to plug or promote?

E.D.: I do have my official website. This is where to go for updated information on news and projects. There is also an E.D. Pedersen page on Facebook.



| | | | |
| --- | --- | --- | --- |
| Follow Gavin's Underground: | | | |