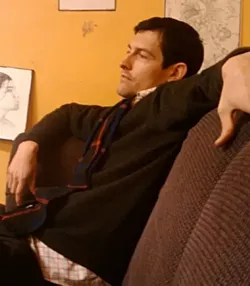 As I was writing a blog post yesterday that mentioned an FBI raid of a vegan household in Salt Lake City earlier this year, I was unaware that the same household had been raided by the FBI again earlier that day.---
Local animal rights activist Peter Young was targeted by the FBI in March, after which property was taken from him and several of his roommates in connection with the prosecution of Scott DeMuth, a Minneapolis activist accused of ransacking an animal research laboratory in Iowa in 2004, and releasing hundreds of animals. This time, Young and roommates were suspected of harboring suspected Animal Liberation Front "Lone Wolf," Walter Eugene Bond, the man accused of burning the Tandy Leather in Salt Lake City and Tiburon Fine Dining in Sandy, as well as another animal enterprise in Colorado, where he's been charged. Young denies that Bond lived in their home on his blog, where he also posts the search warrant.
Here's how it went down, according to Young:
Every member of the house was taken outside by an FBI agent individually and asked if they wished to "cooperate." As every member of the house responded with some variation of "no comment," an FBI agent asked questions including: if they had information to provide about Walter Bond or the "Lone Wolf" arsons, inquiries about other roommates, and offers to have seized items returned quickly in exchange for informing on Walter Bond and others. One female at the house was told "you could really help us" by accepting an informant role and secretly providing information about me.
Bond recently received a Animal Enterprise Terrorism Charge in addition to the arson charges he initially received.

Young is a fringe character. I wrote extensively about him and his allies in a recent cover story, wherein they complain that because they are the most adamant and vocal advocates for animal rights around, they are frequently suspected of aiding "terrorists," though they deny any direct involvement in criminal activities. More than that, however, many activists across the country fear that the Animal Enterprise Terrorism Act enables prosecutors to jail activists who merely voice support for lawbreakers, not merely those directly engaged in criminal activity. That worries them, in part, because while they deny direct involvement, many of them see animal liberation as akin to the Underground Railroad. If anyone in Utah will be charged with aiding terrorism simply by documenting and reporting on various acts of the Animal Liberation Front, Young is likely to be the guy. He was, after all, once convicted of releasing mink from mink farms, though he says his days of direct involvement in criminal activity are behind him and evidence to the contrary has never been provided to me by any law enforcement agencies.
Very much aware of this potential, Young's tone on his blog is decidedly journalistic in the "just the facts ma'am" sorta way. There may be some exceptions here and there, but most all the posts I read are neutral in tone. The feds have provided no evidence since the last raid that any of the roommates are involved in criminal activity, leaving me to wonder whether they regret that raid, or are they still waiting to file charges against one of them? (It seems that it should be on or the other, no?)
Moreover, activists outside of animal advocacy are also complaining about federal law enforcement agencies. Appropriately, the Conspiracy Tour rolls into Salt Lake City tonight, an event hosted by the Boing Collective to learn about the RNC8, a group of activists arrested in advance of the Republican convention of 2008, accused of conspiracy to riot.