Kicking off September with a special release and a new full-length album, in a month that looks sparse at the moment. --- First off we have a split release from ExUmbrella Records as VCR5 and 1H86335 share a full album. Dividing the album in half, the two artists are re-releasing tracks from earlier in their careers, spanning from 2003-2007. Most of the material is unavailable, you're lucky if you can find any of it at a Graywhale these days, so to have them back in circulation is a techno blessing. Right now its only a digital download with a limited physical version on the way. PLUS, added bonus, the label is doing a "Pay What You Feel Like" system for the album. Charging as little as $1 and as much as $6. Taking into consideration the content here, I say give them the full $6. You're getting a full album with two bands at half the price, which is quite a deal. Click here to download the album.

And then this Saturday comes the release show for
Arsenic Addiction
. Just in time for the fall and haunting season, the group has been playing around the city the past four years with their own brand of funeral metal with a touch of steam punk. Their 2009 EP
Requiem Of The Fallen
made its way around with high hopes but got little attention from metal heads. The Victorian mourning rockers look to rectify that with their first full-length: An Undertaker's Lament. The album assuredly hits every dark note on the scale, backed by lead singer Haley Grow's silky vocals, switching between power chorus chants and blood curdling screams. The music and their stage presence are definitely a league apart from the rest and worth at least checking out. You can catch them tomorrow at Club Vegas with the album on hand to sell, playing along side
Dead Vessel
and
Adjacent To Nothing
. Just $8 starting at 8PM. And if you can, wear your Victorian funeral best.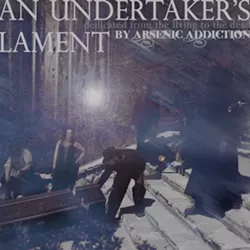 Head out, love music, buy local!