Even before ski season, Deer Valley attendees freed their heels and boogied from side to side to the the sounds of The Avett Brothers and Gov't Mule this Friday.---
The Avett Brothers
Due to an accident, combined with rush hour on I-80, I missed about 30 minutes of the Avett Brothers set. I arrived to what sounded like "It Goes On and On" from afar. It was a packed on stage and in the lawn. Touring drummer Jacob Edwards, helped with the upbeat songs, albeit odd to see a drummer with the boys. And, almost-member cellist Joe Kwan added his bow strokes for the set. The show picked up for a few minutes with "Distraction #74" and their newer "Slight Figure of Speech" from I and Love and You. Things quickly settled down again with Emotionalism's "Will You Return?" followed by Mignonette's "Swept Away," one of the set highlights.
The setlist lacked consistency and flow—one minute fast, the next slow. Years ago, seeing the band live was an all-out hoedown, even as recently as their High Sierra Music Festival set, they delivered with a repertoire of their high-energy tunes. Not so tonight. Annoyingly, it seemed they couldn't find a pace and stick with it. Additionally, Seth Avett's new look kept throwing me off. A fresh haircut and a deeply Southern mustache, he morphed from rock star to looking like someone named "Slim" that works on old Fords and country line dances with hicks—country-punk to country bumpkin. Appearance aside—although difficult to overcome—he still sings and play guitar and piano with adept skill.
For the slow numbers, Seth and his brother Scott played with eyes closed. The others would sing sweetly, whether into a mic or not (Kwon sings most songs, although never audible to the audience). Then, up with "Kick Drum Heart" and back down again with the evening's audience favorite, their latest single, "I and Love and You." The set ended with "Telling Time." Those that petered out before or during the Gov't Mule set missed out on the evening's better half.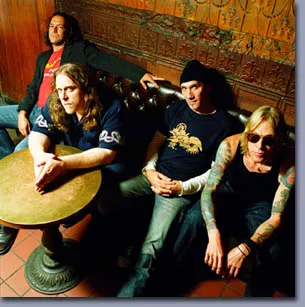 Gov't Mule
Gov't Mule opened with lead singer/ guitarist Warren Haynes's voice—sounding as if filtered through barrels of Bushmill's, boxes of nails and Asheville, N.C.'s humid air.—belting out "Hammer and Nails." Then, "Banks of the Deep End" was a highlight. Gov't Mule and Haynes' solo work offers a wide assortment of covers as they demonstrated tonight. The crowd became fervent with a Beatles medley of "She Said, She Said" and "Tomorrow Never Knows." Later on, they sprinkled verses of "You Can't Always Get What you Want" over "I'll Be the One," then oscillated between Prince's "When Doves Cry" and their own heart-wrenching love ballad "Beautifully Broken." Jam fans freaked out with 10-minute "Thorazine Shuffle" jam.
Despite a large, die-hard fanbase, Warren Haynes knew that much of the audience came to see the The Avett Brothers, and offered his appreciation to old and new fans alike and both sects were pleased. Haynes dedicated "Mule" off their first CD, 1995's Mule, to those die-hards. In 2003, Rolling Stone named Haynes 23rd in their Top 100 Guitarists list, and it showed. Haynes' beautifully crafted licks and improvisational jams come mostly from his '58 Gibson Les Paul Reissue with some intermittent work on a Gibson Firebird. And, with that fierce shredding he wiped out picks quickly, tossing them into the crowd like an endless Pez pick dispenser.
Being 50-years-old, married to Sirius radio DJ, Stefani Scamado, and looking like a roadie, he's still charming, with an amazing musical prowess, which caught the eye of Deer Valley cougars, who lined the front row within feet of Haynes. They charmed back, smiling and bouncing. Although he seemed pleased, he was undeterred. Frankly, this guy will make ears melt on his deathbed. The band encored with "Going Out West," which ended a two-hour set of about 18 songs. For a complete Gov't Mule setlist, check out Mule.net.