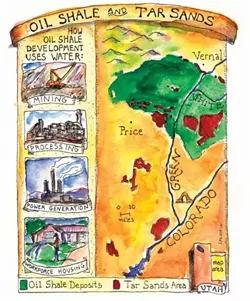 Tar sands and oil shale would require too much water and destroy too much of Utah's scenery and yet would contribute very little to the nation's supply of fossil fuels, according to a new report announced today from the Western Resource Advocates.---
The report is posted below for you peruse, but none of its conclusions are shocking. WRA says both tar sands and oil shale have been around as ideas for many decades, but no one has been able to find a way to make it profitable. Even if the processes became somewhat profitable, would those profits offset the damage done to Utah's tourism industry, which generates $7.1 billion annually and employs 113,000 people?
So, if you're feeling wonky, go below to read the report.
But first: For many of you, just seeing what a similar project looks like in Alberta, Canada, might be enough to make you chuck your Cheerios. If you're into that, check out this awesome aerial/helicopter video I ran across several months ago. Shot in May 2009 by KAIROS Canada, a Christian group working toward "God's call for respect for the earth and justice for its people," it shows that tar sands aren't like any other mine you've seen before. My father worked in a strip coal mine in North Dakota (for North American Coal Corporation) most of his life--I drove by it hundreds of times growing up--and that Falkirk mine is an environmentalist's green dream compared to the tar sands catastrophe in Alberta.
Can you imagine this fitting in just west of Canyonlands National Park?

Fossil Foolishness - Utah's pursuit of tar sands and oil shale
Follow Me: